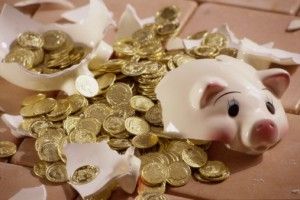 While it's important to always have money aside just in case you were to ever fall upon desperate times, be sure to not forget about it! Inactive bank accounts can be taken control of by the Australian Securities and Investment Commission (ASIC) after seven years of inactivity. Before the most recent federal budget was announced in May, ASIC could claim dormant accounts after only three years. This was extended back to seven years in the latest budget after a reported surge in fraudulent applications on unclaimed bank deposits.
Other amendments included tightening access to account information through freedom of information requests, reining in the publication of lost account details and ensuring that children's bank accounts are never transferred to the government.
What is an inactive account?
To backtrack, the government, via the Australian Securities and Investments Commission (ASIC) has always been able to collect bank accounts which have lain dormant for certain periods of time. Essentially an inactive account is one that has not received a deposit or a withdrawal for three years. You may be receiving bank statements, earning interest and paying fees but if you haven't made any deposits or withdrawals, then your account may become inactive.
Finders keepers: Accounts seized after only 3 years of inactivity!
The previous three year claim was allowed under the Treasury Legislation Amendment (Unclaimed Money and Other Measures) Act which was passed in December 2012, giving a handy boost to the government's Consolidated Revenue Fund. ASIC advised that the federal government received more unclaimed monies in 2013 than the total amount combined over the past fifty years – around $360 million over a twelve month period to be precise.
This angered many, with some saying that pensioners and retirees have lost their deposits. It spurred a Treasury discussion paper on the issue last year, citing several reasons why a three-year period of inactivity was unsuitable. The government listened and the former seven year period was reinstated in May 2015.
So, you have more time to do something about your forgotten deposits – but that's not an excuse to forget them in the first place!
How do you get your money back?
If you have had an account closed due to inactivity – you can get the money back. And the good news is, there's no time limit on when you can retrieve it. ASIC's Unclaimed Monies Unit regularly data matches the unclaimed money database and sends letters to people and companies who may have unclaimed money. The easiest way to do a search is via ASIC's Unclaimed Money Search. And remember: it's free. If anyone offers to find your lost money for a fee – say no.
There is other unclaimed money out there too.
Don't forget there is more unclaimed money "out there" than just your inactive bank accounts. According to ASIC, there is approximately $80 million in unclaimed life insurance, waiting for a rightful owner. There is also a staggering $16 billion in lost superannuation. (Click here to do a lost super search). Then there is money held by state governments. This can include the proceeds from deceased estates, share dividends, salaries and wages, proceeds of sale and more. Click here for a link to the various state offices.