With Easter fast approaching, one Australian pet insurer has warned pet owners about the dangers of leaving chocolate unattended.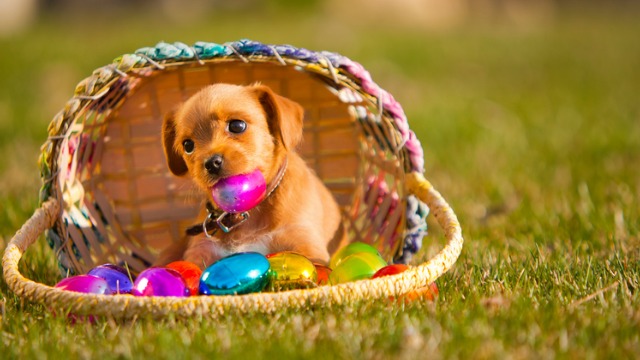 Don't let this happen.
Pet Insurance Australia spokesperson Nadia Crighton says that while Easter was a time for joy and celebration, it was also a time of year where there was an increase in pets being poisoned – chocolate poisoning in particular.
"Chocolate is highly toxic to dogs," Ms Crighton said.
"Plus, being natural scavengers, they can sniff out these delights even if well hidden."
"If you suspect your pet has ingested chocolate, it's important you seek veterinary treatment quickly. Dogs will also tend to ingest the entire box, including the wrappers, plastic and ribbon."
"All of this can wreak havoc on their systems and cause your pet to become very ill."
According to Pet Insurance Australia data, over 1,000 pet insurance claims in 2017 were the result of chocolate poisoning.
"Chocolate poisoning is the most common form of claimed toxicity in Australia, so it's very important the message is out loud and clear about this dangerous and common issue," Crighton said.
"The actual figures could be much higher, as this number only relates to those Australian dog and cat owners that have pet insurance.
"The danger of chocolate is being severely underestimated by unsuspecting owners."
The top 5 toxicity claims – Pet Insurance Australia
Chocolate
Toxin exposure
Rodenticide (rat poison)
Grapes/raisins
Ibuprofen
Are you covered if your dog eats chocolate?
According to Canstar data, 76 of the pet insurance policies we rate offer cover for toxicity through ingestion, which, depending on your provider, can include chocolate poisoning. Some costs are likely to be covered under Accident & Illness or Accident, Illness and Routine care policies.
The table below displays a breakdown of these policies per policy type. Note that 'toxicity through ingestion' excludes snake bites.
Number of Pet Insurance Policies that Cover Toxicity from Ingestion

Profile

Percentage of Policies

Accident and Illness-Large Dog
88%
Accident and Illness-Medium Dog
88%
Accident and Illness-Small Dog (1 to 3 years old)
88%
Accident and Illness-Small Dog (4 to 7 years old)
90%
Accident Only-Large Dog
62%
Accident Only-Medium Dog
62%
Accident Only-Small Dog
62%
Accident, Illness and Routine Care-Large Dog
82%
Accident, Illness and Routine Care-Medium Dog
82%
Accident, Illness and Routine Care-Small Dog
82%
Source: Canstar
Canstar's Group Manager of Research and Ratings, Mitch Watson, said it paid to be aware of what your dog had eaten and to contact your local vet if you suspect they've eaten chocolate.
"The effects of dog poisoning can be severe if not fatal – dog owners should take active precautions to make sure their loved pets don't get access to chocolate this Easter," Mr Watson said.
"A majority (88%) of accident and illness pet insurance policies will cover the impacts of a dog ingesting chocolate.
"However, on an accident only policy you are more likely not to be covered (only 62% provide cover). When it comes to toxicity cover that usually only extends to snake bites on accident only policies."
According to Mr Watson, how much you're covered for will depend on your policy inclusions – particularly the annual benefit limit and percentage of vet costs reimbursed.
"If you are unsure of whether you are covered, review the product disclosure statement or get in contact with your insurer to give yourself peace of mind."
How to recognise if your pet is suffering from chocolate poisoning
Unfortunately, we at Canstar speak from experience when it comes to chocolate poisoning. Canstar's Editor, Nina Tovey, lost her dog Layla (left) several years ago after Layla ate a bag of Easter eggs.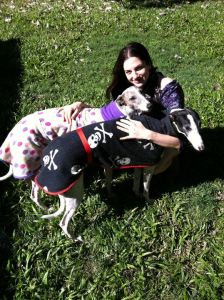 "My beautiful greyhound Layla (a retired racer) passed away far before her time at the age of seven after eating a bag of Easter eggs brought over as a gift," Ms Tovey said.
"I remember waking up in the morning and seeing chocolate wrappers strewn over our backyard, and later that day when we went to check on her she had quietly passed away on her dog bed.
"It was a horrendous shock and one of the worst days of my life given she was like a child to us, and so hard to accept given we'd had no warning signs she was ill."
Nina said she didn't realise just how poisonous chocolate could be, even for a 24-kilogram greyhound.
"I try and tell as many people as possible about what happened to Layla so they can realise how important it is to keep chocolate away from their dogs, particularly during festive periods like Easter."
If you're concerned your pooch is suffering from chocolate poisoning, common symptoms include:
Vomiting
Diarrhea
A high body temperature
Rapid breathing
Seizures and muscle rigidity
An increased heart rate
Any abnormal behaviors