Which Australian pet insurance providers offered outstanding value to consumers in 2021, and which one had the most satisfied customers?
There's no doubt that Aussies are a nation of pet lovers. According to the most recent figures from the RSPCA, we have one of the highest pet ownership rates in the world, with nearly two thirds of households having an animal companion to keep us company. It will surely not be that much of a surprise to learn that dogs are the most popular pet, with cats not too far behind.
It's more than likely that this number is even greater now thanks to the huge spike in dog adoptions during the COVID-19 pandemic. In 2020, at the height of Australia's first major lockdown period, shelters around the country found themselves emptying out, as many of us adopted dogs for companionship while we spent more time at home.
If you've added a dog or cat to the family recently, you may well be wondering about pet insurance. With an increasing number of providers and products to choose from, how do you know which ones offer the best value for money and the most comprehensive cover?
To help pet owners find value for money, Canstar's experts compared 173 pet insurance policies from 27 providers on our database as part of our 2021 Star Ratings and Awards.
We also asked Aussie pet owners how happy they are with their insurance, and discovered which eligible providers had the most satisfied customers for 2021.
How were the Star Ratings & Award winners decided?
Canstar's Pet Insurance Star Ratings use a unique ratings methodology that compares both price and features across a range of pet insurance products.
A product's price score considers how much a policyholder would likely pay in either monthly or annual premiums, and what excess they'd pay in the event of a claim.
The feature score for each product is based on six categories: the ease and accessibility of the application process, the product's payment process, its level of cover and inclusions, customer service available, the claims process, and how easy it is to cancel the policy.
When assessing pet insurance products, Canstar considered 32 consumer profiles, based on the following factors:
The type of cover (accident and illness or accident and illness with routine care)
The type of pet (small dog, medium dog, large dog or cat)
The age of the pet (less than one year old, two to three years old, four to five years old and six to seven years old)
Policies found to offer outstanding value for at least one of these 32 profiles received a 5-Star rating. Awards were then given to the pet insurance prodivers with the most consistently strong performance across the board.
To be eligible for an Award in the Accident and Illness category, a pet insurance policy must provide for three of the following illnesses:
Spinal conditions / intervertebral disc disease
Hip dysplasia
Cancer
Ear/eye conditions (excluding cataracts)
Skin conditions
In addition to the above, to be eligible for an Award in the Comprehensive category, a policy must also provide cover for a minimum of five of the following:
Teeth cleaning
Desexing
Microchipping
Vaccination/health check
Flea/tick/worm control
Controlling heartworm/heartworm testing
2021 Award-winning pet insurance providers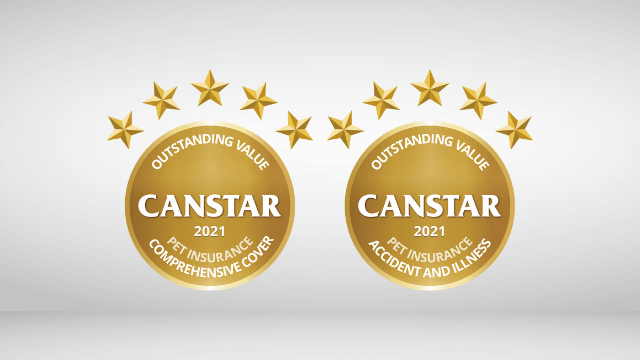 This year, three insurance providers won an Outstanding Value Award for their Accident and Illness cover, while two were recognised for their Comprehensive cover. Of the four insurance providers in total who won Awards this year, Petcover was the only one to win in both categories.
Outstanding Value – Accident and Illness Pet Insurance
The winners of the Outstanding Value Award for Accident and Illness cover were Coles, Knose and Petcover. Petcover and Coles retain their places in this category from last year, while Knose is a new recipient as of 2021.
Coles Insurance has retained an Accident and Illness Award for another year. Coles offers to cover 100% of the cost of eligible vet bills, or 80% of the cost for a lower premium, and offers options such as paying vet bills in advance for approved procedures. Canstar's researchers noted that its cover stood out in the areas of treatment, accident and illness inclusions. While policyholders will now be required to pay a $200 excess contribution at the time of claim, at 100% back the policy offers low out-of-pocket costs for a competitive premium.
Knose keeps its coverage simple by offering one insurance plan with an annual benefit limit of $25,000. It allows consumers to choose a percentage benefit limit of 70%, 80% or 90% to cover that portion of vet bills, with no additional excess or charges. Its cover also includes optional extra benefits for dental illness, behavioural problems and alternative therapies. Canstar's researchers noted that its competitive pricing this year was another factor that led Knose to take out an Outstanding Value Award for Accident and Illness cover.
Petcover retained an Accident and Illness Award this year, continuing to offer a high level of cover consistently across each different type of pet and age group. Petcover promises a short waiting period for illness and injury cover, and a straightforward and fast claims process. In the features category, its top performing policies offer 100% back on vet bills and provide cover for the majority of illness, treatment and accident inclusions considered.
Outstanding Value – Comprehensive Pet Insurance
HIF and Petcover were the joint winners of the Outstanding Value Award for Comprehensive Pet Insurance this year.
HIF's pet insurance offers consumers a competitively priced product including cover with protection against specified accidental injuries and cover for a selected course of routine care treatment. In addition to offerings such as emergency boarding for your pet, it also offers dew claw removal, prescription diets and teeth cleaning. Canstar's research team determined that, as a result of its extensive offerings and competitive price, HIF has earned its Award in the Comprehensive category.
This year, Canstar's researchers determined that Petcover's new expanded offerings and higher percentage benefits made it eligible for the Outstanding Value Award for Comprehensive Pet Insurance. It offers a wide range of features for a competitive price, covering dogs for up to $20,000 of vet fees annually, and cats for up to $15,000, also offering coverage for such things as boarding fees, quarantine expenses and holiday cancellation. As a result of its extensive offerings, Petcover has also taken out the Comprehensive Award.
For more information on how our Star Ratings & Awards work, you can read the methodology.
Which pet insurance provider has the most satisfied customers in 2021?
Canstar also likes to hear from Aussie pet owners themselves about the things they most value and appreciate in a pet insurance provider. As part of our Most Satisfied Customers Award for 2021, we surveyed 732 pet insurance policyholders, with respondents asked to rate their satisfaction with various aspects of their experience with their insurance provider, including cost, communication, customer service, the claims experience, comprehensiveness of cover and value for money.
Of the pet insurance providers considered for the award, one stood out and scored highly across the board.
Bupa has won Canstar's Most Satisfied Customers – Pet Insurance Award for 2021
Bupa might be best known to Australians for its hospital and extras insurance, but it also offers coverage for the health care needs of dogs and cats. Bupa pet insurance offers three levels of cover, with an annual benefit limit of $20,000 and up to 80% back on eligible vet bills.
Bupa offers cover for services such as emergency boarding, pet overseas travel and essential euthanasia, and its optional benefits for routine care include services such as desexing, microchipping, heartwork control and prevention, flea and tick control and preventions, teeth cleaning and dew claw removal.
What were the main drivers of satisfaction?
The results of our survey showed Bupa performed well across the board with Australian pet owners. According to Canstar's research, its customers were especially satisfied with the comprehensiveness of its offerings, as well as its customer service and the overall ease of communicating with staff.
For more information on how our Customer Satisfaction Awards work, you can read the methodology.