Aussies are keen pet owners – but apparently we're increasingly treating our fluffy friends more like humans, than pets…
How human is your pet? The answer, according to pet insurance specialist Petsure, is "quite a lot" with millions of Australia's pampered pooches and fluffy felines undergoing human-like health procedures as their owners strive to keep them happy and healthy.
"With 63% of Australian households owning a pet, it's no doubt we love our animals. But more than ever, Australia's pets are becoming an integral part of the family unit, and the health procedures being performed on our pets certainly prove that," said Dr Magdoline Awad, PetSure's Chief Veterinary Officer, and former Chief Veterinarian of the RSPCA NSW.
"Petsure have seen the claimed amount for diabetes increase 600% since 2010. This shows that Australian pet owners now have a more holistic approach to pet wellness and are more open to managing chronic conditions with ongoing treatment," said Dr Awad.
"We are seeing more pet owners focusing on their pets' health needs and opting for human-like procedures for their pets, such as MRIs and CT scans. These latest diagnostics are now commonplace in veterinary referral hospitals."
On the plus side, the uptake of preventative healthcare for pets has also increased, with total claims for tick paralysis approximately 30% less than forecast.
Health treatment aside, what are some other signs that might indicate that you're treating your pet just a little bit too like your best (human) friend?
1. You spend more on your pet's food than you do on your own
You might read that and think, No way. But according to online pet product retailer Pet Circle, some everyday pet foods cost upwards of $35 per kilo. Or in other words, the food that you toss in your pet's dinner bowl each night could be costing more than your salmon steak, premium eye fillet, or rack of lamb.
"We sell pet food and some brands are over $200 for a 5 kilo bag," said Pet Circle CEO Mike Frizell. "We sell a lot of it – tens of thousands of dollars a month. It can be excellent food – New Zealand lamb and venison, no preservatives, no fillers, no corn, grain free, natural and organic."
Sounds good enough to eat really!
It seems that many of Australia's pampered pets have their owners on a culinary leash. According to Roy Morgan research, almost 1 in 4 dog owners surveyed described their pooches as "fussy eaters". These doggy divas are more likely to be offered fresh meat or fish and other gourmet dog treats, with table scraps and dried food biscuits being out of favour.
Interestingly, the research showed that owners of fussy-eating dogs are also likely to be selective with their own food intake. Compared to the average dog owner, they are:
55% more likely to avoid dairy foods
55% more likely to be vegetarian
24% more likely to buy organic food
Perhaps it really is a case of like dog, like owner.
Even so, there are twice as many fussy felines, with the Roy Morgan research finding that 52.1% of cat owners agree with the statement: "My pet is a fussy eater." Compared to the average cat, fussy felines are 40% more likely to be fed pet food rolls, sausage packs, fresh meat and fish and less likely to be offered table scraps.
2. You buy clothes for your pet
There's justification for a warm coat in winter – especially if your dog sleeps outside – but a Santa hat, reindeer ears, feather boa or tutu are really not up there on the list of canine essentials.
"Australians probably spent around $50 million last year on dog clothes; that's based on our sales volumes plus Google data," said Mr Frizell. "We sell a lot of coats. It's very mainstream now, particularly in the cooler states."
3. You spend more on your pet's holiday than your own
"Kennels and house minders are no longer good enough to care for pets, with pet owners sending their loved ones to pet resorts and spas, as if they were going on an overseas holiday. Some couples have even been known to perform rigorous interview processes to choose an adequate babysitter/minder for their dogs," said Mr Frizell.
There are some big pet resorts, particularly on the North coast.
"There's a cat pet resort that is booked up a year in advance, where each cat gets their own room, which is themed," said Mr Frizell. "The demand for that really high end type of pet resort is really taking off, and they're not cheap."
So how much are you looking at for a trip to a resort? Well, the Divine Creatures Pet Boutique (finalist in the Telstra Business Award) offers a range of accommodation styles, including an Oriental Suite for $53.50 per day, an African Safari suite for the same price, The Ritz for $78 per day and – when nothing else will do – a Penthouse Suite for $105 per day. Currently, they are fully booked up for Christmas 2016.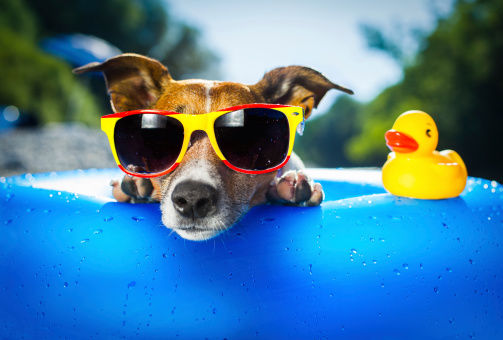 4. Your pet is overweight!
"Often owners have the best intentions but don't realise dogs have different nutritional requirements to humans, so [they] may inadvertently be feeding their pets a poorly balanced diet by cooking at home," said Mr Frizell.
"Modern high quality pet food has come a long way over the years and now has all the proper nutrition dogs need for a balanced diet."
Mr Frizell also notes that people love their pets and love feeding them a treat – just a bit too often.
"Sometimes people can end up feeding their pets treats as though they were food, rather than something to have occasionally," he said. "There is also probably a little bit of indoor pet syndrome too, with pets sleeping on the beds and leading a bit more of a pampered life. Same as humans: if we lead a pampered life and eat treats all the time, we're going to put on weight too."
The trick, if you love spoiling your pet, is to choose a low-calorie treat!
5. You buy pet bling
There is some truly amazing pet bling out there – crystal dog leads, tiara and diamante dog collars. "You can easily spend four or five hundred dollars on a crystal dog lead if you want to," observes Mr Frizell.
"Or you could opt for a designer pet pod; it's not just accessories now, it's about design that fits into your decore as well."
Does my dog know I love him?
In case you're reading this list and thinking: "what a waste of money", Mr Frizell makes a good point that animals pick up on the mood of their owner. Happy owner often equals happy pet. So if pampering Fido or Mittens makes you happy, it will probably make them happy as well.
And letting your dog or cat know that you love them is not a bad thing for them, as long as you show it in healthy ways. Remember, more food doesn't always equal more love, but it does equal spoilt rotten pets.