Melbourne-based fintech startup
CanYa
has sold $1.8 million of its cryptocurrency in less than 24 hours in a market pre-sale this week.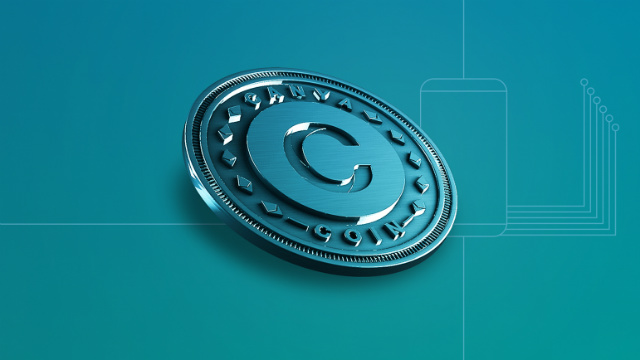 CanYa is an online peer-to-peer (P2P) marketplace that enables users to broadcast job requests to local providers and make and receive payments instantly using blockchain technology.
Over 4,000 service providers have already signed up to the platform including a crocodile wrestler,drone pilots, babysitters, handymen and a range of tradespeople.
This initial sale achieved the funding target for the business with an additional coin offering commencing in November aiming to sell $20 million worth of "CanYa" coins to support a global launch.
CanYa co-founder John-Paul Thorbjornsen said the plan was to create a global P2P marketplace of services where users can engage, book and review providers in an easy-to-use platform.
"Now with cryptocurrencies and blockchain technology, we can fully decentralise the platform and remove the central profit-making entity behind it, instead creating an ecosystem that is entirely user-owned and operated," Mr Thorbjornsen said.
"We believe that a main factor preventing the mainstream adoption of cryptocurrencies is merchant adoption, so we are creating an ecosystem which allows services providers to invoice and receive payments in cryptocurrencies.
"We're offering a coin at a discount to our early adopters, and they're going to walk with us on this journey over the next three to five years to build this platform up."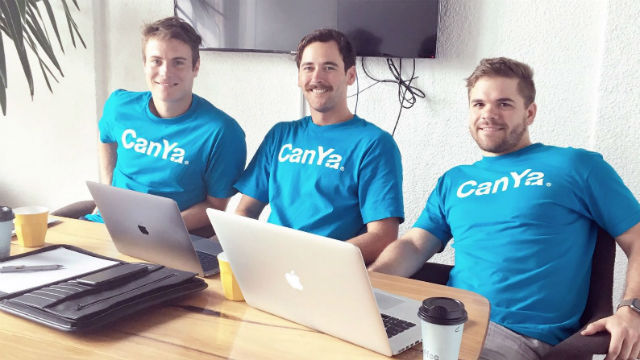 Blockchain in Australia
This initial success for CanYa is the latest boost for blockchain technology in Australia, which has also included Sydney start-up AgriDigital last year conducting the world's first live blockchain settlement of a physical commodity trade in wheat.
Australian banks CBA and Westpac have been involved in the global collaboration of banks that have collectively invested $US107 million into the R3 project aimed at developing the technology, standards and procedures.
The development of the blockchain technology has also been supported by the Australian Government with the formation of the Parliamentary Friends of Blockchain in August and announcement in the 2017-2018 Budget that GST of digital currency would be aligned with standard currency.
The Australian Digital Commerce Association (ADCA) welcomed the formation of the parliamentary group with CEO and managing director Nick Giurietto saying small countries will take advantage of blockchain technology to renew and strengthen their economies.
"Commercialisation of blockchain solutions almost always requires a rethinking not just of existing processes but of the architecture of existing systems," Mr Guirietto said.
"This requires deliberate collaboration between policy-makers and industry."
Mr Thorbjornsen said the Australian Government's approach to cryptocurrencies helped make Australia a "crypto-friendly" jurisdiction that will encourage adoption of the technology.
"Cryptocurrencies are no longer double-taxed and ASIC's position on ICOs is measured and easy to interpret," he said.
"Blockchain is about to disrupt almost every vertical we know of, so the faster we move to this technology and adopt it, the better-placed Australia will be as a leading global player in this space.
"Cryptocurrencies exceed the potential of plastic currencies in almost all facets – and the faster we adopt an AUD Tether, the faster we can realise those potentials with our public money."
[table_embed header="" header_type="h2″ description="" change_search_url="" design="" state="eyJiYXNlX3VybCI6Imh0dHBzOi8vd2lkZ2V0cy5jYW5zdGFyLmNvbS5hdS93aWRnZXRzLyIsImZhY2V0ZWRfc2VhcmNoIjp7ImRpc3RyaWJ1dG9yIjoiY2Fuc3RhciIsImNvbXBhcmVfZW5hYmxlZCI6ZmFsc2UsImNvbnRhaW5lciI6ImNvbnRhaW5lcl9jb21wb25lbnQiLCJjcmVhdGVfc25hcHNob3QiOmZhbHNlLCJhcGlfdXJsIjoiaHR0cHM6Ly93aWRnZXRzLWFwaS5nbG9iYWwuc3NsLmZhc3RseS5uZXQvd2lkZ2V0cy8iLCJyb290X3VybCI6Ii9jb21wYXJlL29ubGluZS1zaGFyZS10cmFkaW5nLyIsImRldGFpbHNfZGlzY2xhaW1lciI6IiIsImRlZmF1bHRfcHJvZHVjdHNfcGVyX3BhZ2UiOiIxMCIsImVuYWJsZV9zZWxlY3Rvcl9tb2RhbCI6dHJ1ZSwiZW5hYmxlX2ZlYXR1cmVkX3Byb2R1Y3QiOmZhbHNlLCJlbmFibGVfZW1lcmdlbmN5X2Rpc2NsYWltZXJfYmFubmVyIjpmYWxzZSwic3BvbnNvcmVkX3Byb2R1Y3RzIjp7ImVuYWJsZWQiOnRydWV9LCJlbmFibGVfb25lX3RhYmxlIjp0cnVlLCJvbmVfdGFibGVfdjJfbm9uX2V4cGVyaW1lbnQiOnRydWUsInRhYmxlIjoib25saW5lc2hhcmV0cmFkaW5nIiwiY2F0ZWdvcnkiOiJPbmxpbmUgU2hhcmUgVHJhZGluZyIsInNlbGVjdG9yX3ByZXNlbGVjdCI6W3sibmFtZSI6InByb2ZpbGUiLCJ2YWx1ZSI6IkFDVElWRSJ9LHsibmFtZSI6InRyYWRlcyIsInZhbHVlIjoiNiJ9XSwiZGV0YWlsc191cmwiOiIvZGV0YWlscyIsInByZXNlbGVjdCI6W10sInByb3ZpZGVyX3ByZXNlbGVjdHMiOltdLCJzdGVwcGVkX3ByZXNlbGVjdHMiOltdLCJhc3luY19sb2FkX3Byb3ZpZGVycyI6dHJ1ZSwidmFyaWFudF9tYXAiOlt7ImlkIjowLCJtb25ldGlzZWQiOnsidGVtcGxhdGUiOiJsaW5rdG9fcHJvY2VlZF9idG4iLCJjbGFzc2VzIjoiYnRuLXN1Y2Nlc3MiLCJsZWFkX3RleHQiOiJHbyB0byBzaXRlIiwibGlua19sb2NhdGlvbiI6IkNPTVBBTllfTkFNRSJ9LCJub25fbW9uZXRpc2VkIjp7InRlbXBsYXRlIjoiZ29sZF9sZWFkX3Byb2NlZWRfYnRuIiwiY2xhc3NlcyI6IiBidG4tcHJpbWFyeSIsImxlYWRfdGV4dCI6Ik1vcmUgZGV0YWlscyIsImxpbmtfbG9jYXRpb24iOm51bGx9fV0sInRyYWRlcyI6IjYiLCJwcm9maWxlIjoiQUNUSVZFIn0sImZhY2V0cyI6eyJmYWNldHMiOlt7ImF0dHIiOiJmYWNldHMucHJvdmlkZXJfbGluayIsImVvcCI6ImFuZCIsImlvcCI6ImFuZCIsInNvcnQiOnsiYnkiOiJ2YWx1ZSIsImRpcmVjdGlvbiI6ImFzYyJ9LCJjdXN0Ijp7fSwidmFscyI6WyJObywgc2hvdyBhbGwgcmVzdWx0cyAtIHdpdGggYW5kIHdpdGhvdXQgbGlua3MiXX1dfSwibnVtUm93cyI6IjEwIiwibW9uZXRpc2VkT25seSI6ZmFsc2UsInNwb25zb3JlZE9ubHkiOnRydWUsInNlbGVjdGVkUHJvZHVjdHNPbmx5IjpmYWxzZSwic2VsZWN0ZWRQcm9kdWN0cyI6W10sInVuaXF1ZUJyYW5kcyI6ZmFsc2UsInRhYmxlVXJsIjoiL2NvbXBhcmUvb25saW5lLXNoYXJlLXRyYWRpbmcvP3RyYWRlcz02JnByb2ZpbGU9QUNUSVZFIiwic29ydHMiOltbIlN0YXIgUmF0aW5nIiwiZGVzYyJdLFsiQ29tcGFueSIsImFzYyJdXSwiZGVza3RvcENvbHVtbnMiOlsiQ29tcGFueSIsIlByb2R1Y3QgTmFtZSIsIlN0YXIgUmF0aW5nIiwiQXBwbHkiXSwibW9iaWxlQ29sdW1ucyI6WyJDb21wYW55IiwiUHJvZHVjdCBOYW1lIiwiU3RhciBSYXRpbmciLCJBcHBseSJdLCJhbGxUYWJzIjpbIk92ZXJ2aWV3IiwiTWFya2V0IERhdGEiLCJNYXJrZXQgUmVzZWFyY2giXSwiaW5zdXJhbmNlQW5kV2VhbHRoVmVydGljYWxzV2l0aERhdGUiOlsiSGVhbHRoIEluc3VyYW5jZSIsIlRyYXZlbCBJbnN1cmFuY2UiLCJIb21lIEluc3VyYW5jZSIsIkNhciBJbnN1cmFuY2UiLCJQZXQgSW5zdXJhbmNlIiwiRGlyZWN0IExpZmUiLCJMYW5kbG9yZCBJbnN1cmFuY2UiLCJJbmNvbWUgUHJvdGVjdGlvbiBJbnN1cmFuY2UiLCJGdW5lcmFsIEluc3VyYW5jZSIsIk92ZXJzZWFzIFN0dWRlbnQgSGVhbHRoIENvdmVyIiwiU3VwZXJhbm51YXRpb24iLCJBY2NvdW50IFBlbnNpb25zIiwiT25saW5lIFNoYXJlIFRyYWRpbmciLCJNYW5hZ2VkIEZ1bmRzIiwiTWFyZ2luIExvYW5zIl0sImNvbHVtblNvcnQiOnRydWUsIm1vbmV0aXNlZF9wcm9jZWVkIjoiIiwidW5tb25ldGlzZWRfcHJvY2VlZCI6IiJ9″