Canstar congratulates OpenMarkets on their online share trading platform, which received our 5-star rating for outstanding value in 2016.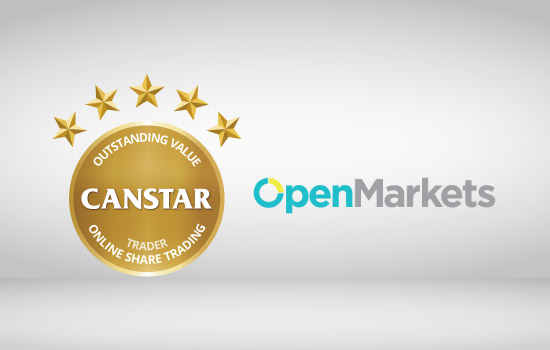 In 2016, the OpenMarkets online share trading platform has received Canstar's 5-star rating for outstanding value in one out of three investor profiles:
Trader: OpenMarkets IRESS Trader
The inclusions below represent a selection of what is covered. Additional conditions may apply to different features. Canstar is not making any suggestion or recommendation to you about this product. Please ensure that you read the product disclosure statement to determine all the current policy options and inclusions for the product you are considering.
Resources on offer for sharemarket investors
OpenMarket offers over 150 training videos in the Education section of their website, for investors to learn more about trading and investing in the stock market. That's entirely separate from the many tutorial videos available for learning how to use their platform. They also write a blog about the next big trends you need to know about.
Features on offer for Traders
Compared to our other 5-star winning products, OpenMarkets does not offer as much in terms of features, because of their incredibly low price. OpenMarkets is the new entrant for the 2016 rating and was the price winner across all profiles. Their online brokerage fee is $13.95 or 0.07%, whichever is greater, and they will waive their $125 monthly ongoing fee when a client spends more than $250 in brokerage within a month.
Key features of the OpenMarket IRESS Trader online share trading platform are:
Accessibility: Traders can access their account via the internet or over the phone. They can view their portfolio balance and their settlement account balance online. Traders can view and trade on live prices, and view and edit their watch list.
Market Information: Live quotes, company financial reports, company news and announcements, and technical analyst reports are available.
Application: Traders can sign up to this platform in an online application that requires no documentation. Trading is possible immediately upon opening an account.
Education: A dedicated education page, online live help, FAQs, searchable help page, and online seminars and video tutorials are available. Tailored education is an option.
Support: Email support is available. Phone training is available for customers.
Margin Loans: Margin loans are allowed.
Reporting: Past statements available online. Year-to-date and historical reports on interest and settlement of account, and individual stock or portfolio equity gains/losses, with optional reporting on CGT profit/loss summaries.
Markets: ETFs and warrants only.
About OpenMarkets
OpenMarkets Australia was founded in 2012. They specialise in technology-driven brokerage services for professional traders, advisers, intermediaries, and financial institutions. As of 2015, OpenMarkets was making $90 million worth of share trades per month.
OpenMarkets calls themselves "Australia's next evolution stockbroker", as they are the first stockbroker to work through cloud-based computing technology. In-house development means their platform can respond to a changing market. And their technology is open for third party integration, meaning you or your representative can adapt the platform to suit your needs.
Their call centre is local, not offshore.
Please note that Canstar is an information provider and in giving you product information Canstar is not making any suggestion or recommendation about a particular product. If you decided to apply for a product, you will deal directly with a financial institution, and not with Canstar. Costs and product information should be confirmed with the relevant financial institution. For more information, read our detailed disclosure, important notes and additional information.