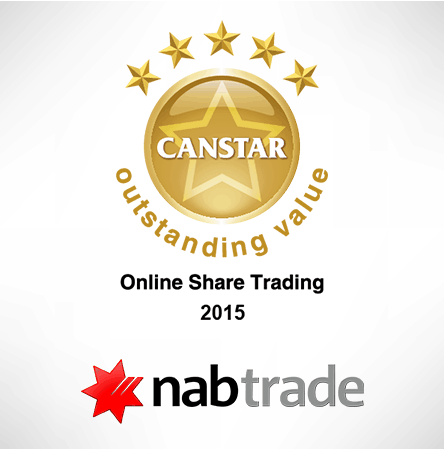 Each year Canstar researches and rates the Australian online share trading platform, market to determine which platforms and providers are offering outstanding value to Australian investors. This year we have assessed 42 platforms offered across 17 providers to determine which platforms offer the ideal mix of price and features for both casual and active investors, as well as traders.
Coming up trumps for both Casual and Active investors this year is nabtrade, with a five tsar performance. Canstar caught up with Wayne Richardson, nabtrade Product Manager, Equities, for a quick Q&A
Q: With financial technology such a fast-paced industry, what effort is involved in the background to stay at the forefront of the online trading sector?
A: Staying focused on our customers? needs has been the key to our success and has allowed us to create a single integrated global trading service.
We?ve been heavily focused on innovation in order to better satisfy the needs of our customers. This focus has led us to deliver a number of Australian firsts among the Big 4 bank brokers such as:
a fully integrated domestic and international trading service with direct market access – giving customers access to five markets, seven exchanges and over 10,000 global equities and exchange traded funds (ETFs)
free real-time streaming ASX data for all our customers
a leading research and insights centre, and
a comprehensive Global Scanner tool.
Delivering these initiatives and managing the intricacies of the platform has been challenging at times, but we?ve had success due to the agile nature of our teams who have worked closely with customers and vendors.
Q: nabtrade offers a number of different available investment markets and types (Aust/international shares, ETFs & ETOs). How has the investment habits of your online customers changed over time?
A: The biggest shift has been towards accessibility and information. Investors now want 24/7 access – on all their devices – and are hungry for the latest insights, ideas, trends and research.
To meet these growing demands, we now deliver Australia?s largest suite of buy/sell/hold research on both domestic and international securities amongst big 4 bank brokers, and our platform is available on all iOS devices.
But with more information now at their fingertips, people also want the tools to filter their investment universe, so we have developed an intuitive Global Scanner tool for shares and ETFs.
Q: Can you explain how your Global Scanner tool works?
A: Our Global Scanner tool combines over 10,000 tradable securities, covering over 90% of the world?s equities markets, into one database – which is available to customers via an easy-to-use web tool.
Using Global Scanner, our customers can apply different filters to quickly find securities that match their preferred criteria. For example, if someone wanted to invest in a technology stock in the United States, with a large market cap, a low PE ratio and with Buy research recommendations, they simply select these criteria and within seconds a list of investments matching their criteria is returned.
Q: What are some of the most commonly-used online charting tools that more frequent and sophisticated investors like to use?
A: Frequent traders tend to use charting overlays such as Bollinger bands to help determine appropriate entry and exit points. These people commonly validate their trade ideas using our Trading Central tool – a technical analysis tool that provides short and medium term company views by combining a chartist approach with mathematical inputs.
Our more sophisticated investors may also use similar techniques to identify entry points; however these are often combined with other sources of information. These include company financials and macroeconomic reports, prepared by NAB economists, which are published on our portal.