Canstar congratulates CMC Markets on their online share trading platform, which received our 5-star rating for outstanding value in 2016 and won our award for best platform.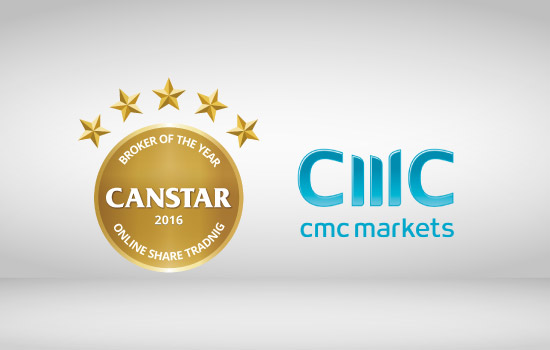 In 2016, the CMC Markets online share trading platform has received Canstar's 5-star rating for outstanding value in all three investor profiles, and has won our award for best platform:
Casual Investor: CMC Markets Classic Account
Active Investor: CMC Markets Classic Account
Trader: CMC Markets Active Investor Account and CMC Markets Premium Trader Account
The inclusions below represent a selection of what is covered. Additional conditions may apply to different features. Canstar is not making any suggestion or recommendation to you about this product. Please ensure that you read the product disclosure statement to determine all the current policy options and inclusions for the product you are considering.
Resources on offer for sharemarket investors
CMC Markets has a dedicated Trader Education page featuring seminars held in major cities across Australia, a blog, on demand videos, guided tours of the CFD platform, and the Trading Smart series.
Features on offer for Casual Investors
In terms of price, CMC Markets offers low online brokerage fees. At the time of writing, their Classic Account charges roughly $15 per trade compared with the lowest fee currently on offer, which is only a dollar cheaper at $14.
Key features of the CMC Markets Classic Account online share trading platform are:
Accessibility: Traders can access their account via the internet, mobile device, or over the phone. They can view their portfolio balance and their settlement account balance online. Traders can view and trade on live prices, and view and edit their watch list.
Market Information: Daily market reports, live quotes, buy/sell signals, company financial reports, company news and announcements, economic research and forecasts, and technical analyst reports are available.
Advice: Broker recommendations are available.
Application: Traders can sign up to this platform in an online application that requires no documentation. Trading is possible immediately upon opening an account.
Education: A dedicated education page, chat room forums, FAQs, searchable help page, and online seminars and video tutorials are available. Tailored education is an option. Educational workshops are offered in various cities.
Support: Email support is available. Phone training is available for customers.
Margin Loans: Margin loans are allowed.
Reporting: Automatic consolidated tax reports. Past statements available online. Year-to-date and historical reports on interest and settlement of account, CGT profit/loss summaries, and dividends. Equity gains/losses are reported for individual stocks and overall portfolio.
Alerts: Email and SMS alerts available.
Markets: CFDs, derivatives, shares, ETFs, foreign currency, Mfunds, options, unlisted managed funds, warrants.
About CMC Markets
CMC Markets was founded as a foreign exchange broker in 1989 in the UK by entrepreneur Peter Cruddas. He began with just a £10,000 investment in a small office, a desk, and a phone.
The company went on to launch the world's first online FX trading platform in 1996, giving clients access to markets previously only accessible to institutional traders.
In 2002, CMC Markets opened an office in Sydney, Australia. The CMC Markets online share trading platform has received a 5-star rating for outstanding value in Australia every year from 2011 – 2016.
CMC Markets is a proud sponsor of the NSW Waratahs rugby team.
Founder Peter Cruddas is keenly interested in helping disadvantaged and disengaged young children develop their potential. In 2006, he set up The Peter Cruddas Foundation, which has so far partnered with and supported over 40 charities.
Please note that Canstar is an information provider and in giving you product information Canstar is not making any suggestion or recommendation about a particular product. If you decided to apply for a product, you will deal directly with a financial institution, and not with Canstar. Costs and product information should be confirmed with the relevant financial institution. For more information, read our detailed disclosure, important notes and additional information.