For the past thirteen years, Vanguard Australia have produced an index chart tracking the 30 year performance of major asset class indices. The 2013 chart has just been released and demonstrates that despite stock market crashes, terrorist attacks, natural disasters, a succession of governments and a GFC, Australian shares have outshone the other investment classes.
The Vanguard data assumes no transaction costs or taxes and the reinvestment of all income, with a $10,000 investment in 1983 potentially achieving the following growth:
| | |
| --- | --- |
| $10,000 Investment in 1983 | Investment value in 2013 |
| Australian Shares | $268,733 |
| International Shares | $129,688 |
| US Shares | $190,702 |
| Australian Bonds | $183,877 |
| Listed Property | $168,900 |
| Cash | $105,786 |
Source: Vanguard 2013 index chart
"In the quest for better returns there is always the temptation to try and time markets in response to constant economic, social and political change," says Vanguard′s Head of Market Strategy and Communications, Robin Bowerman. "What our chart clearly demonstrates is that those who stay the course over the long term are rewarded for their patience and discipline." In other words, time in" rather than "timing" the market is a better long-term strategy for everyday investors.
The 2013 Vanguard Index Chart also includes a comparison of the best and worst performing asset classes over the past 30 years. This analysis presents no discernible pattern or trend, rather it shows how randomly the leadership, and wooden spoon, shifts among asset classes each year. This supports the case for diversification at an asset class level, as well as within an asset class, as a risk management strategy.
"There is a deep body of academic research that highlights that the single most important decision any investor makes is the asset allocation decision," says Mr Bowerman.  "Markets behave differently from each other therefore having an exposure to a range of asset classes can help ensure an investor benefits from asset classes delivering stronger performance while mitigating any impact from weaker assets."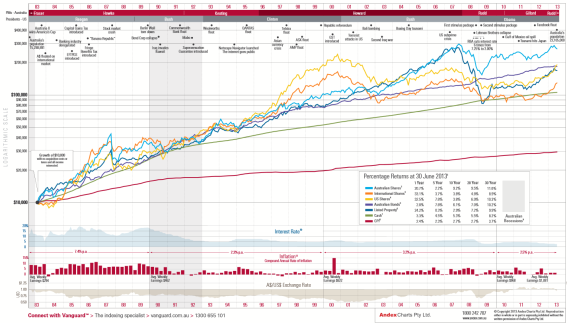 Above all, the chart and accompanying asset class table highlight the need for investors to have a good sense of perspective. While investment market fluctuations can be frightening at the time, they are generally a temporary blimp on the path to a better financial position.
This is the thirteenth year Vanguard has produced and distributed the Index Chart, with each edition tracking the performance of major asset class indices across the 30 preceding years. You can view the 30-year chart with accompanying table and commentary here.