With just two cash-rate changes in the last 12 months (a 0.25% reduction in May 2013 and the same reduction in August 2013), the Australian economy has not suffered any wildly shocking blows in the last year or so. Indeed, in a recent speech, Reserve Bank of Australia governor Glenn Stevens? comments reinforced expectations that the cash rate will not be cut again in 2014.
The two previous drops had the expected impact on the average deposit rate offered by financial institutions across the board, as this graph shows (i.e. the rates followed suit and dipped accordingly).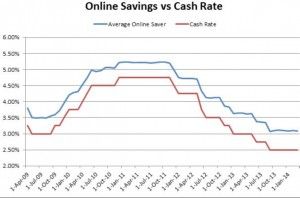 Source: Canstar
If more rate cuts follow in 2015, as has been predicted by several industry experts, we can therefore probably expect a similar reaction, with online savings rates dropping again too.
Even so, it is certainly worth shopping around for the best rate possible on your savings account. A quick analysis of the figures at Canstar headquarters revealed that the differences between lowest and highest account rate offered across various categories could vary quite significantly. Sadly, the double-digit returns on savings accounts are very "last decade", so we?re only talking small numbers here, but even so, this is what Canstar found in certain categories:
| | | | |
| --- | --- | --- | --- |
| Account type | Highest rate | Lowest rate | Difference |
| Cash Manager | 4.00% | 1.00% | 3.00% |
| Online Saver | 4.50% | 1.20% | 3.30% |
| Bonus Saver | 4.75% | 1.25% | 3.50% |
| Junior Saver | 5.74% | 0.05% | 5.70% |
The rates above are quoted from the deposit products listed on Canstar's database and are current as at 1 April 2014
Of course, as Canstar's star ratings also show, the best rate doesn't necessarily equal the best product. With so many features, fees and conditions to bear in mind when choosing the right account, it?s a good thing Canstar's team of analysts is here to do all the hard work!
The full Canstar Deposits Star Ratings Report for April 2014 is available for consumers to download now!