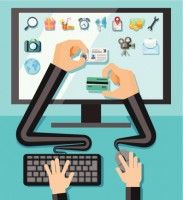 When it comes to being happy with our chosen financial institution, the online service offered can make a big difference;
Recent Canstar Blue research found that while 59% of customers surveyed use a bank branch, only 34% of them nominate a branch as their preferred method of communication with the financial institution. Instead, 42% of customers prefer to deal with their bank online.
"This demonstrates both the popularity and importance of online banking, and institutions which have online development low on their list of priorities should take note! In particular, online banking represents a massive opportunity for smaller institutions, to know that their commercial growth is not bound by their geographical reach."
When it comes to what customers like to do online, the most popular options are as follows:
| | |
| --- | --- |
| Checking my balances | 74% |
| Paying bills | 71% |
| Transferring money between my accounts | 67% |
| Keeping track of where I am spending my money | 48% |
| Paying friends and family | 19% |
Source: Canstar Blue annual banking customer satisfaction survey, 2014
So how do Australia's financial institutions rate when it comes to providing online service?
Having crunched all the numbers and assessed what each institution in the Canstar database is offering in online banking facilities, Canstar is pleased to announce the award winners in two categories: Online Banking Australia and Online Banking from a customer-owned institution.


Taking the coveted award for Online Banking Australia for the fifith year in a row is Commonwealth Bank. With such excellent features as the Netbank tool "My Spend", which enables customers to track their spending habits by categorising expenditure into such groups as groceries, fuel, rent and others, as well as the long list of possibilities for mobile payments, it's clear that Commonwealth offers customers outstanding value.
Not least of Commonwealth Bank's standout features is the introduction of cashless ATM withdrawals and cardless payments. The latter, through Tap & Pay, includes the option of embedding the required NFC technology within customers' own phones.
The merging of Netbank and the Kaching app has also created a highly intuitive mobile application device that succeeds in making customers' lives much easier.


This year's winner of the Customer-owned Online Banking award is bankmecu [now known as Bank Australia]. For the category of customer-owned we have included building societies, mutual banks and credit unions.
Having undergone a huge revamp in December 2013, this first win for bankmecu is a validation of the changes made within the insitution.
Aside from traditional elements such as the ability to perform essential tasks (i.e. internal, external and international as well as bill paying), a bonus feature is the simple online loan application system, which comes pre-populated with the individual customer's information – a great, time-saving initiative. The introduction of online international transfers up to $10,000 is another big tick for the bank.
Canstar's online banking awards are an invaluable starting point when looking for a user-friendly, comprehensive online banking experience.