Statement and transaction history
Whether you like it or not, there are a multitude of situations that arise that require you to go back over your banking transactions. Tax laws alone require 7 years of records. Keeping track of paper statements draws on a lot of patience and a large filing cabinet. The advent of internet banking helped enormously by allowing online viewing of recent transaction history.
Institutions are now making it much more convenient for customers by providing easier and more extensive access to statements and transaction history online. Statements can be emailed instead of posted. The ability to search transaction history is improving too, with complex searches possible over several years? worth of transactions. Data can also be downloaded in different formats to suit a variety of accounting software.
Mobile Phone Technology
The rise of smart phones has seen a new age of hand-held, on-the-fly banking emerge. Smart phones and, in particular, Apple iPhones, have made banking on the go a reality. The easy-to-use applications mean being stuck at the checkout with money in the wrong account is a thing of the past. Commonwealth Bank is stepping things up a notch with their upcoming iPhone application for property research.
The app will use a variety of sources to provide information on past sales history for more than 95% of Australian properties, as well as current listings and recent sales. To access this free information, users will simply need to point the phone?s camera at the property they are interested in. This is a prime example of the far reaching capabilities of banking websites as they utilize new technology.
Account Aggregation
It has been a long time since banks offered just banking products – many of us now have insurance, superannuation and share trading with our main financial institution. A lot of work has gone into getting this all on to one page – Commonwealth Bank has taken a leadership position in doing this on their site.
ANZ and Westpac have taken a different approach, using account aggregation tools that enable you to consolidate not just the balances with them, but also products with other banks. You don?t even have to be a customer with ANZ to use their Money Manager service. BOQ is trialing a similar service with a focus on reporting called BOQ My Budget, also available free to anyone.
HSBC and Citibank are using their worldwide presence to take a global approach to aggregation. With these multinational banks you can see your different accounts held across the world with them and transfer money immediately. Citibank?s Global Transfer service allows free transfers between Citibank accounts in 16 participating countries, with money being received almost instantly.
Graphing and reporting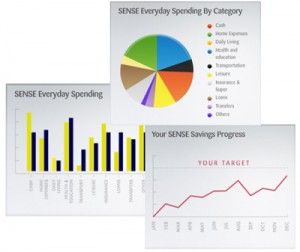 Internet banking has opened up new possibilities for graphing and reporting. We are starting to see a few banks take transaction and balance information to another level, presenting it in easy-to-digest graphs and tables. St George is doing it through its SENSE account – a transaction and savings package with automatic spend category and amount graphing. ANZ?s Money Manager and BOQ?s My Budget services are making this technology widely available. We expect to see some exciting developments in this space in the near future.
Education is power
Financial institutions understand and acknowledge that there is a large portion of the population who lack a solid financial education. As a result, we have noticed a determined push across the industry to increase the financial literacy of the general public. UBank has taken a refreshing approach with its Money Box section of the website (at right). It is a series of articles and YouTube videos tackling complex and topical issues presented in a lighthearted and easy-to-grasp manner.
Many institutions are creating microsites specifically designed to educate particular groups like first home buyers and young people. Groups such as these are in vital stages of their financial lives, so extra attention in the way of education can do wonders for setting them on the right track for the future. With website technology constantly improving, education sections are moving away from simple text, towards interactive tools and visual aids to help provide a better overall understanding of an often complex topic.
Better online applications
Being able to apply for a product online is not new. It is only recently, however, that some institutions are offering truly online applications with no paperwork to printout and send away. Applying for new products is becoming far easier, particularly from the secure login. The websites that are doing this best are making it very easy by pre-populating certain required details in the application form, based on the information they already know from your banking relationship with them.
This saves the odious task of typing the same information multiple times, when you know the bank clearly has your details already. Some even make products instantly available to people who have already passed the required ID checks in the past, skipping the majority of the application process.
These steps are part of the logical evolution of websites. The technology is there to make it happen and most people are now used to banking online. Making the process as simple and streamlined as possible is a win for everyone. Happier customers who have control of their banking needs are less strain on the labour-intensive banking channels – branches and call centers. Less strain on branches and call centers means more resources available to help customers when they really need it.
All clicks, no bricks
Most Australian banks, building societies and credit unions operate in an environment of bricks and clicks, that is, they have traditional bank branches in key locations but they also offer internet banking. The Commonwealth Bank is a good example of this. However, there are some banks that have chosen to operate online only, of particular mention are online players, UBank and ING DIRECT who have refined their online application processes to the point of being entirely paperless and, what?s more, only taking around 5 minutes for approval, even for new customers. With these two institutions offering some of the best savings rates on the market, paring their application processes to a minimum makes it possible for almost anyone to move their money to a high-interest account without doing any legwork.
Stay safe
When banking is taken out of the safe domain of ?bricks and mortar? branches, security must be a priority. All institutions have some form of security for their online banking portal. From the customer point of view, the main concern is becoming familiar with your responsibilities pertaining to security and making sure you know exactly when if ever, you are liable to lose your money for good if something goes wrong. Also quiz your institution on their protocol for returning your money in the case of fraud, as any length of time without access to your funds may cause a significant drain on your living expenses.