Housing affordability has deteriorated across the past year to the end of March, according to analysts from Moody's and Anglicare Australia.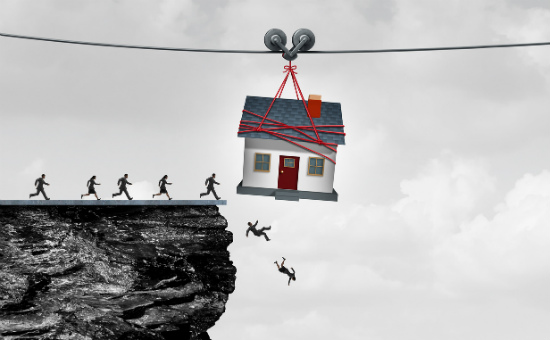 Based on the results of the recent report RMBS – Australia: Housing Affordability Worsening Amid Rising Property Prices, Moody's Investors Service has given a negative credit rating to Australian residential mortgage backed securities.
This negative credit rating was given due to the rise of house prices outstripping the effects of lower interest rates, combined with moderate income growth.
This report focused solely on the nation's five largest capital cities, and Moody's Senior Analyst Alena Chen says that the news is not good for hopeful home owners or home buyers.
"In the near term, we expect housing affordability to continue to deteriorate because of ongoing housing price increases," Chen said.
.@billshortenmp says the 'rigged' housing market is not a level playing field for young Australians – live now on channel 601 #auspol pic.twitter.com/IRVjaY9PIc

— Sky News Australia (@SkyNewsAust) April 27, 2017
Housing affordability for buying a home
Moody's noted that the percentage of the average income required to meet Australia's average monthly repayments on a home loan has increased to 27.9%, up 0.3% from this time last year.
This figure is based off two-income households, and means that these households are spending almost 28% of their monthly income solely on mortgage repayments.
There were 'credit negative' events in Sydney, Melbourne and Adelaide, where house prices have increased by up to 13% over the past 12 months.
Sydney – which was recently named the second most unaffordable city in the world – requires 37.5% of a household's income on average, easily making it the most unaffordable city in the country.
Melbourne lags behind in second place, requiring 30.3% of income to be reserved for monthly repayments, with Adelaide needing 23% of income.
While Sydney may be the most expensive, Melbourne suffered the largest overall deterioration, rising to 30.3% from the previous income level of 29.2%.
On the other hand, houses in Brisbane and Perth were 'credit positive' in this period. Households in Brisbane are currently spending on average 23.9% of their income on their mortgage, which represents a 0.3% drop from the previous year.
Median house prices in Perth fell by a significant 6.3%, which is good news for affordability. The amount of income required to pay off a monthly mortgage in Perth has fallen from 22% to 19.9% on average.
Chen says, "Perth is the most affordable city in the country (right now), and housing affordability in Perth is now better than at any time in the last 10 years.
"We expect new regulatory measures to restrict interest-only mortgage lending will have some impact on demand for housing.
"However, upward pressure on housing prices will likely continue in the near term amid the low interest rate environment."
Snapshot of housing affordability
Rental housing affordability not faring much better
Given the current state of the housing market, a lot of people have been encouraged to rent rather than buy.
But if Domain's recent State of the Market report and Anglicare Australia's latest rental affordability report is to be believed, then renting might not be as affordable as it used to be, either.
In a survey of 67,000 properties, Anglicare Australia has found that the Australian rental market is almost unaffordable for those on low incomes.
Over the past decade, rental prices have risen by almost 50% in major cities, whereas the minimum wage has gone up by 'only' 31% (Anglicare Australia).
This sharp increase in rental prices has caused some worrying trends for the less wealthy across Australia, including those on minimum wage and government welfare payments.
In Sydney, Brisbane, and the whole of WA, the ACT, and the NT, there was not a single property affordable to a single person living on Newstart or Youth Allowance payments.
Among the data revealed by Anglicare's report were key figures showing that:
Less than 2% of rental properties were affordable for those on government welfare payments
Only 2.83% were affordable for those on minimum wage
Single people on disability pensions can only afford 0.87% of rental properties
Only a few properties in total across Australia were affordable for a single person on Newstart or Youth Allowance: 3 in regional NSW; 6 in Victoria; 8 in Central Queensland; 5 in regional South Australia; and 6 in Tasmania
Single pensioners can only afford to rent 1.62% of properties
Home is where the heart is #rentalsnapshot2017 #everyoneneedsahome pic.twitter.com/CmZdP4CW9W

— Anglicare Australia (@anglicare_aust) April 27, 2017
Kasy Chambers, the executive director of Anglicare, believes that low support payments and soaring rents are creating a 'poverty trap' and has urged the government to take action in the upcoming Federal Budget this May.
"The Budget must include investment in public housing, more support for community housing options, and a commitment to winding back capital gains tax and negative gearing concessions," she said.
"We also need to see income support payments go up as a matter of urgency. Housing affordability is not a problem that can simply be left to the market."
However, the latest KPMG report showed that negative gearing is being utilised by some of Australia's poorest residents, and previous reports similarly found that negative gearing is not exclusively helping the wealthy.