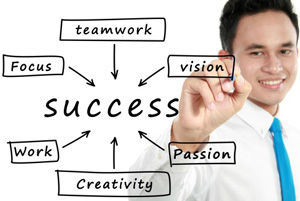 Each year the Financial Planning Association hosts Financial Planning Week – an event designed to raise public awareness of both financial planning in general and the potential benefits of personal financial advice. Canstar asked some questions of Mark Rantall, CEO of the Financial Planning Association (FPA).
"Currently, only 2 in 5 people in Australia receive financial advice – it is our job to change this so that all Australians can reap the benefits expert financial advice can provide," says Mark. "The FPA is a long-time advocate for sound financial advice delivered by qualified professional financial planners.
Many Australians do not know what designations to look for when seeking financial advice. We promote that every Australian looks for a Certified Financial Planner as this is the highest designation a financial planner can have globally. They are also members of the FPA and therefore sign a Code of Professional Conduct and will be held accountable if they do not put the interests of the client first, every time.
Financial Planning Week is one initiative in a broader campaign by the FPA to encourage, educate and empower Australians to discover the benefits of using a financial planner."
Mark observes that Financial Planning Week has continued to evolve over the thirteen years it has been running, to adapt to the changing needs of the Australian public. He points to the free information service – ?Ask an Expert? – that was introduced three years ago as one example
"The Ask an Expert initiative has been a resounding success with the general public," he says. "Last year, ?Ask an Expert? had nearly 10,000 hits to the website and we made a bigger push around social media to make it even easier to ask a question"
This year there are three ways the public can ask any burning financial questions:
The ?Ask an Expert? online forum, where consumers can put their questions to Certified Financial Planners at ask.fpa.com.au/
The FPA consumer website will be loaded with useful insights and jargon-free information as well as real life case studies to help bring the benefits of quality financial advice to life www.fpa.com.au
The FPA Twitter handle (@AustraliaFPA) will answer Tweets and post links to a range of financial content at https://twitter.com/australiafpa
"We understand that the first step is knowing where to find a qualified and trusted financial planner, that is why we promote this in the places those people who most need advice are," says Mark. "We also know that asking that first question or having that direct access can prove difficult for many. Therefore, a free initiative that provides a safe environment is very welcoming."
Mark advises that certain topics have an enduring popularity with consumers – and this year they have devoted a specific day of the campaign to each of the most popular areas, as follows:
Retirement (Monday): Making your money last, aged care, self-funding retirement, income streams and Centrelink entitlements
Saving (Tuesday): Childrens? education, holidays, saving for a home, childrens? weddings and other expected and unexpected events
Super and Investments (Wednesday): Accumulating and consolidating super, general wealth, shares and managed investments, different types of super funds, including SMSFs
Debt (Thursday): Debt management, debt reduction, debt consolidation, cash flow management, loans, budgeting and deductible vs non-deductible debt
Life Insurance (Friday): Life insurance, income protection, disablement, trauma, how much you need, what type of cover, protecting your income, assets and family and considerations associated with family planning (e.g. education costs)
"The FPA has chosen some of the most qualified financial planners in Australia to lead the discussion around each of these topics that the public is most interested in," says Mark. "Each Certified Financial Planner will blog and answer questions relating to their topic of expertise."
Finally, Canstar asked Mark to explain, in just two sentences, why the public should get involved in Financial Planning week.
"We want all Australians to experience the life-changing benefits that financial advice from a trusted professional can bring," he says. "By getting involved in Financial Planning Week, you will get the opportunity to reap the benefits for free."
Click here to find out more about Financial Planning Week.