A year is a long time and it's widely appreciated that 2016 wasn't one of humanity's finest years. Australia enjoyed a year of relative peace and calm, although first home buyers and retirees living off interest possibly felt the pinch more than others. Here's a quick review of some of the good, the bad and the ugly of 2016
Spending and debt
Australia a Nation of Debt. Australia holds plenty of debt: according to the Australian Debt Clock, both government and household debt have continued to climb in 2016. According to this neat Trading Economics graph, government debt as a percentage of GDP (gross domestic product) is currently almost 37%.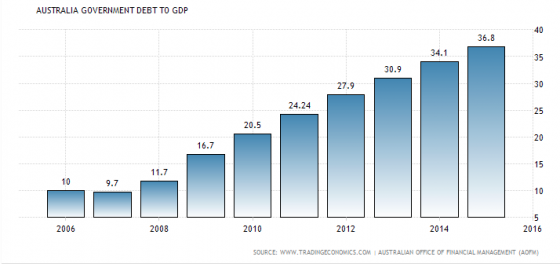 The federal government's recent mid-year economic forecast (MYEFO) confirmed that both federal debt and deficits continue to increase, with concern that Australia's AAA credit rating may not remain AAA in 2017.
"If Australia loses its AAA credit rating, there are only two people to blame: Malcolm Turnbull and Scott Morrison," thundered the shadow federal treasurer, Chris Bowen, in December.
"If family budgets are smashed by higher mortgage repayments following a rating downgrade, mums and dads from across Australia will have the Prime Minister and Treasurer to blame."
Housing
The property market goes bananas. Property markets in many parts of Australia continue to go crazy, most particularly in the hotspots of Melbourne and Sydney. The federal government's recent Housing Affordability Inquiry recommended no action, noting that Australia's housing market is, in effect, a two-speed economy.
This view was supported by CoreLogic's Tim Lawless, who in December noted the following:
"At one end of the spectrum we have Sydney and Melbourne where dwelling values are rising at more than ten per cent per annum, while in Perth, values continue to trend lower. In Canberra and Hobart, the pace of capital gains has accelerated with both cities seeing annual capital gains rise higher than 8 per cent over the past twelve months.
Brisbane and Adelaide have shown more sustainable growth with values tracking 4-5 per cent higher over the year. Across regional markets, the lifestyle and tourism-centric areas recorded an improvement in buyer demand which has pushed prices higher, while markets related to the resources sector remained soft and are likely approaching the bottom of what has been a dramatic downturn in values and transaction numbers."
Price increases have had wide ranging effects on Australians' wallets. First time buyers in particular say they are being priced out of the market. More and more people are borrowing to buy houses at five and six times their income. .
Foreign buyers said to be fuelling house prices. The percentage of home purchases by foreign buyers has been contentious throughout the year, and has fuelled talk of a housing bubble. The government cracked down on property purchases by non-residents during the year, forcing the sale of more than $92 million of property.
Credit cards and consumer lending
Credit cards are a hugely popular cashflow tool for Australians – but if the debt isn't managed well they can also be an expensive tool!
The government's banking inquiry elicited an admission that credit card profits are very lucrative, with ANZ's chief executive Shayne Elliott admitting profits from its credit card business were "well above" the bank-wide return on equity of around 12%.
"Returns on the cards business are higher than average, that is undoubtedly true," he said.
"It's not the highest, but it's one of the higher ones."
Deposits
Bank branches disappearing. Everyone loves doing business online, and this is reflected in the steadily declining number of bank branches in Australia, with the Australian Prudential Regulations Authority (APRA) showing that the number of outlets offering a branch evel of service around the country dropped below 6,000 in 2016, to approximately 5,900 (down from 6,200 12 months earlier).
Savers hit by rates cuts. Whilst home owners cheered at falls in their interest rates, retired people in particular were hit by rate cuts during the year. The official cash rate (OCR) was dropped by 0.50% over the year; 25 basis points in May and another 25 basis points in August.
This impacted Australians who rely on term deposits for their income especially hard. The OCR started the year at 2.00% and ended at 1.50%.
Regulation
Despite a factious parliament and a narrowly-won federal election mid-year, the government was busy enacting legislation and reviews. For example…
Fintech sandbox: In December the Australian Securities and Investments Commission (ASIC) announced a new FinTech regulatory sandbox. The regulatory sandbox will enable eligible FinTech businesses to test innovative financial services without facing the costs of regulatory licensing and will reduce the time to get their services to market.
Objective of superannuation legislated: Superannuation is a multi-trillion dollar industry but until recently it had no legislation objective. In November the government passed the Superannuation (Objective) Bill 2016, legislating the objective of superannuation as being 'to provide income in retirement that substitutes or supplements the Age Pension'.
Other
Brexit comes out of the blue. Many Australians were taken by surprise by Brexit, with Britons voting to pull out of the European Union. Globally, share markets saw around US$2 trillion erased from their value in one day. Although the markets bounced back up the actual withdrawal by the United Kingdom from the EU hasn't yet happened and there could be further ramifications. The fall in the UK£ Sterling made holidaying in the UK cheaper for those Aussies lucky enough to go.
Donald Trump voted president of the United States of America. Markets across the world had kittens at the spectre of America being run by the somewhat unpredictable Donald Trump. Like Brexit, however, markets largely bounced back.

Finally, we wish you a prosperous 2017.