Canstar recently caught up with Ian Irvine of the ASX about the benefits of mFunds to investors seeking diversification.
Diversification is key to most investment strategies. Choosing a managed fund can offer investors easy access to a range of different asset classes at once.
One option for managed funds is mFund, an unlisted managed fund available to investors through the mFund Settlement Service under the ASX Operating Rules.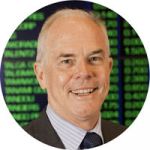 We asked the ASX Head of Customer and Business Development, Ian Irvine, about trends in the mFund space and the future of funds such as mFund.
How popular is mFund?
As of the end of December 2016, the ASX reports that mFund had:
56 investment managers
170 funds
$250 million invested via the mFund settlement service
The chart below shows that the number of mFunds admitted to the mFund Settlement Service has grown steadily in 2016. The blue portion of the graph shows the growth in the number of funds admitted, while the green line shows the fund investment value to the end of December 2016.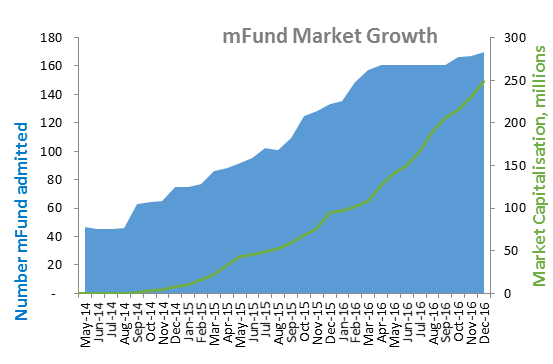 Q: With a growing trend among investors to be self-directed, including SMSFs, how have you seen this translate to numbers of Australians investing in mFund?
A: SMSF trustees tend to be early adopters, and a significant proportion of mFund users (80%) are SMSFs.
mFund is intended to assist investors [to] diversify investment portfolios and SMSFs.
In many cases, investors and trustees hold concentrated portfolios with a domestic bias to Australian shares. We see this with regard to SMSFs from published statistics from the ATO.
We also see from our own data that SMSF trustees are trending ahead of direct investors generally when using mFund.
The need to educate investors about mFund
Q: It's safe to say that the mFund has not yet reached critical mass, so what do you think is the key to unlocking the investor market?
A: mFund is initially seen as being incremental to existing investment holdings of other ASX investment products – shares, LICs, ETFs, etc. – and fits alongside these to assist with diversification.
The key to assisting investors and trustees is education and helping them grasp the benefits of asset allocation (what proportion of which asset class) and portfolio construction (which investment products to use to access those assets).
ASX provides a range of education access points – face to face seminars, webinars, online courses, and regular newsletters to assist investors better understand the options available and where mFund fits.
We also partner with investor organisation like SMSF Association, Australian Investors Association (AIA), and Australian Shareholders Association to deliver education.
What are the benefits of mFunds?
Q: What are the benefits of mFunds to SMSFs?
A: Many of the asset classes available with mFund are not easily obtained with a listed share – for example, fixed income from an active manager.
ATO statistics tell us that SMSFs hold around $228 billion of the sector's $620 billion assets in ASX product. That [means] around 38% of the value in the SMSF sector is with ASX.
The next largest asset holding is cash – $157 billion.
Helping trustees understand how to diversify, and manage risk while redeploying low-returning cash, [is] proving useful.
What does the future hold for mFund?
Q: What are the future development plans for mFunds, and how will that benefit consumers?
A: Initially, ASIC regulation allowed only simple managed investment schemes (MIS) available via a short form product disclosure statement (PDS) to be admitted to the service. If you like, these were 'vanilla' styled investments.
From February this year, we are able to admit long form products, which will allow products that can use other strategies to protect and enhance fund performance to be a part of the service.
This will provide greater choice for investors using the service and move to match the range of product more broadly available in the marketplace.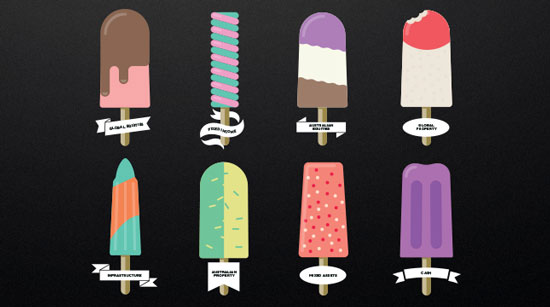 mFunds vs ETFs
Q: How do you see mFunds working alongside other similar products such as ETFs in an investor's portfolio?
A: mFunds do fit comfortably alongside other product structures such as ETFs and LICs and broaden the range of choice.
It is also interesting to note that as the managed funds available via mFund (a new idea to many ASX investors and trustees) are growing in usage, there is greater engagement with financial planners when making the decision on how to build portfolios and where and when to use mFund.
We estimate that around 60% of mFund transactions have an adviser involved.
These are planners who are accessing the ASX via a broker and who have chosen to deal with investors in a way those investors wish – i.e. via ASX.
This way, investors have the benefits the ASX brings – transparency, settlement certainty, low cost, and their investments held in the one place – under the one CHESS holder identification number (HIN).
Sometimes, you need an expert to sort through your finances, so how do you choose good financial planner? Find out here http://t.co/wSqvHEJW

— CANSTAR (@CANSTAR) April 17, 2012
Canstar compares managed funds based on a number of factors, including the cost to invest, long-term performance, and the features of the fund:
Discover more about investing trends in 2017 with the latest release of our managed funds star ratings:

The views, opinions, and positions expressed in this piece are the views of the interviewee alone, and do not necessarily reflect the views of Canstar.
Canstar is an information provider and in giving you product information and is not making any suggestion or recommendation about a particular product. The information has been prepared without taking into account your individual investment objectives, financial circumstances or needs. Before you decide whether or not to acquire a particular financial product you should assess whether it is appropriate for you in the light of your own personal circumstances, having regard to your own objectives, financial situation and needs. You may wish to obtain financial advice from a suitably qualified adviser before making any decision to acquire a financial product. Please refer to Canstar's Financial Services and Credit Guide (FSCG) for more information, and read our detailed disclosure, important notes, and additional information.