What should you look for in a landlord insurance policy? CANSTAR's industry insights into investment property ownership and case studies on the needs of landlords.
Taking on an investment property is a huge responsibility, not least because it involves trusting another person to take care of your property. You must be familiar with state, local and federal laws and regulations governing what you need to do in the landlord-tenant relationship.
It means being willing to be available 24/7 for your tenants in the event of an emergency. You may have to make repairs urgently and you definitely need to maintain your property regularly. That may mean consulting with and hiring professionals such as plumbers, lawyers and accountants.
Then there are the risks involved in renting out an investment property – which is where landlord insurance comes in handy. The majority of tenants are decent people who will pay their rent on time every month and treat your property as if it were their own, but there is always a risk that a bad apple could move in and leave you out of pocket.
What is landlord insurance?
Landlord insurance covers several must-haves for investment property owners that are not covered by other types of home and contents insurance policies:
Theft or burglary by tenants or their guests
Malicious damage or vandalism by tenants or their guests
Loss of rent due to tenant default
Legal expenses required to evict a tenant
A good quality landlord insurance policy protects you against a number of things that other home and contents insurance policies do not cover. And the good news is that because it is an investment expense, your policy premium is tax deductible.
There are also policies available to cover short-term rental landlords who use sites like Airbnb, Stayz and Flatmates.com.au to rent out a room in their own home, or a granny flat attached to their property. If home owners aren't covered and a renter or guest damages their property, they can face paying for expensive repairs on their own. Even worse, they could face expensive public liability claims if a renter is injured while staying on their property – which could amount to hundreds of thousands of dollars.
There are a few different options for short-term rental landlord insurance, including Airbnb's Host Protection Insurance program, and ShareCover home and contents policies for short-term rentals available from IAG and NRMA.
Compare Landlord Insurance with CANSTAR
What to look for in a landlord insurance policy
There are a few things it is crucial to check when purchasing landlord insurance – the terms and conditions, what is and isn't covered, and the excess that applies if you make a claim. These elements are often very different from policy to policy, so shopping around on the CANSTAR website and reading the product disclosure statements (PDS) for each policy is important.
Cost of landlord insurance
Price is obviously important because you don't want your insurance premiums taking a large slice from your rental income. There is a wide range in what you can pay for landlord insurance, so it pays to shop around.
Having said that, you often get what you pay for so you shouldn't assume that the cheapest insurance policy will provide the best value for money. You can avoid being caught out with a nasty surprise at claim time by looking carefully at both the price and what the provider is willing to cover.
Thankfully, landlord insurance is not prohibitively expensive. For example, our 2016 star ratings have found that those renting out a Sydney unit were only paying 1.5% of their rental income on insurance.
The cost of landlord insurance varies between the states and territories, and also varies by the risk associated with your property's postcode. Insurers base their prices on factors such as the risk of rental default in an area, the risk of damage by tenants in an area, and the risk of natural disaster in an area.
Inclusions and exclusions of landlord insurance
Beyond the essential inclusions, there are plenty of other features and inclusions you can look for in a policy. CANSTAR researches and rates policies for the following features and inclusions:
Does the policy have a weekly rent limit?
Accidental damage or damage caused by natural disasters and storms
Theft or burglary caused by tenant
Malicious damage caused by tenant to building and/or contents
Damage caused by tenant's pet
Public liability cover for injury to someone visiting your investment property
Rent loss due to insured events, prevention of access, rental default by tenant, death of sole tenant, damage caused by tenant, theft by tenant, tenants obtaining a financial hardship order, absconding tenants, tenant's failure to give vacant possession, or tenant eviction by court order
Re-letting expenses after a claim on rental loss
Removal of tenant's goods after a claim on rental loss
Change of locks after a claim on rental loss
Legal costs such as representation fees, related to tenant eviction by court order or claim for rental loss
Cover for professional tax audit fees
What to consider when choosing a landlord insurance policy
What you should look for in a landlord insurance policy depends on working out what insurance needs are important to you. Before you start looking, ask yourself the following questions, among others.
What level of insurance do you want? Building only or home and contents? Will you rent your property furnished or unfurnished?
If you rent out a furnished property, it would cost a lot to replace the lot if it was damaged, so contents insurance is a must. Landlords who rent out an unfurnished property might think home insurance for the building only will be enough to cover the property. However, building only insurance doesn't cover the contents, including carpets or other fittings you might have at a property. Considering how many cyclones and storms tear through Australia every year, you could end up paying for it if you chose building only insurance.
Will you let your tenants keep pets on the property?
From clawing the curtains to having an accident on the carpet, pets can do a lot of damage to the fittings of a property.
Some policies cover damage caused by pets, but some do not – so it's very important to read the whole PDS of a policy before signing up. If you're covered, you might be perfectly happy to let Fido or Fluffy live with your tenant.
Are there any specific risks (e.g. flood or bushfire) your property needs to have covered?
As many property owners know, flooding can be a major issue when it comes to choosing a place to buy or a place to rent. A river view doesn't always equal dream house.
How can you check if your investment property is in a flood zone? You should check your state government's flood maps for your area, or your local council's planning maps online. In general, properties near rivers or in low-lying areas are particularly prone to flooding.
Does the policy cover accidental damage or malicious damage, or just theft?
You might have wonderful tenants – but what about their friends or other guests who visit them? Hopefully you'd never need your optional extras cover for accidental breakages and malicious damage or vandalism, but if something did happen, it's priceless knowing you're covered.
Where is the property located?
The location of a property will affect how much the premiums cost to insure it. Not surprisingly, landlords in cyclone-ridden North Queensland pay the most to insure their properties, with Canstar calculating average premiums, as per the policies assessed for Canstar's 2015 Landlord Insurance Star Ratings, amounting to 15% of their rental income. Meanwhile, landlords in Sydney pay just 1.38% of their rental income in insurance. Tasmania and Adelaide have the cheapest average premiums for both houses and units. (Figures current at June 2015.)
Case Study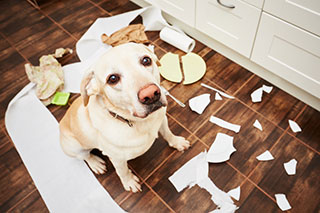 Ashleigh has an investment property in Geelong and is about to switch tenants. She had some trouble with her last tenant's dog and her landlord insurance policy didn't cover damage caused by pets. Her new tenant's bearded dragon pet seems fine so far, but she's still keen to switch policies just in case.
A policy with cover for damage caused by pets and damage caused by guests of a tenant would be a good fit for Ashleigh's situation. Ashleigh also uses the CANSTAR website to check for policies that allow her to make a claim online, because between work, kids, and a day of community volunteering, her life is fairly busy already.
CANSTAR's 2016 star ratings found that national winner Allianz provided outstanding value for landlords across the country, including a particularly impressive offering in Victoria, where Ashleigh's investment property is located.
Ashleigh has also been considering renting out the granny flat extension on her property as a short-term rental on Airbnb. She would do well to look into the inclusions and price of the different landlord insurance options for short-term rentals when choosing a rental website.