Suncorp's Trustbond has challenged the traditional rental bond system and has been awarded one of Canstar's 2018 Innovation Excellence Awards.
Suncorp's Trustbond was one of a select number of Australian products within the financial services industry recognised and celebrated by Canstar through its annual Innovation Excellence Awards for making life easier for consumers. Suncorp teamed with online reputation start-up Traity to create Trustbond, a first-of-its-kind surety bond designed to replace the cash bond, giving a landlord protection for the same things covered by a traditional bond for a lower initial cost to the tenant.
At the moment, applying to rent a property in Australia typically involves paying an upfront bond – in most cases four weeks' rent – which is held by the state's rental bond agency for a specific period as part of the lease agreement. In contrast, to secure a Trustbond the tenant is able to pay from as little as 12.5% of what the cash bond would have been for the term of the lease (up to two years). A 50% discount to the original fee is applied for the second renewal, and the third renewal onwards is free until the tenant leaves the property.
Trustbond eligibility is based on the 'digital reputation of renters, measured through data from social networking sites of renters' choice, such as Facebook, Twitter, LinkedIn, Airbnb, eBay and Uber. Renters are then assigned a Trustscore which determines whether the tenant is eligible for a Trustbond, and confirms the fee that applies.
Suncorp developed Trustbond to allow landlords and agents to gain confidence in renting to trustworthy people who may have been traditionally disadvantaged in the rental market, such as unemployed people or part-time workers, students, migrants or young people without a rental history. Trustbond was also designed to be convenient for people who do not want their cash tied up in large, upfront bond payments.
By enabling the use of an individual's digital presence in assessing bond eligibility and price, tenants are expected to benefit from increased affordability as well as better access to, and fairness in, the rental market. Trustbond is currently only available in South Australia.
Canstar Research commended Trustbond for reimagining the traditional rental bond system in many cases by reducing the cost typically involved in making an upfront bond payment and removing the need for a traditional reference check.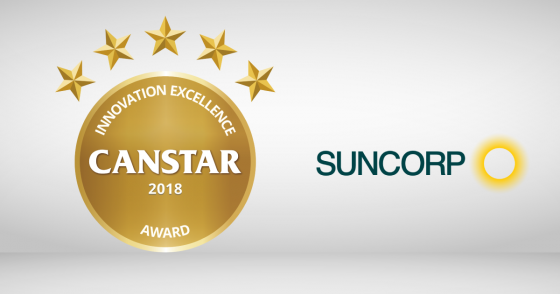 Canstar's Innovation Excellence Awards methodology
Every year we invite Australian financial institutions to apply for Canstar's Innovation Excellence Awards, putting forward their most progressive products.
When assessing each product, Canstar Research gives a 60% weighting to the degree of innovation, which largely measures how unique and disruptive the product or service is within the current market. The remaining 40% weighting examines how many consumers within the target market are affected, the product's affordability and ease of use and the extent to which the innovation improves or affects a consumer's daily life.