Just three years ago, Bitcoin's meteoric rise in value was the talk of the town. These days it barely rates a mention. We look at what's happening with Bitcoin, and what to be aware of if you're thinking about investing in the virtual currency.
Although Bitcoin has been around since 2009, it chugged along for many years trading at less than $1,000 (we'll stick with Aussie dollars here). That all changed in 2016, when the cryptocurrency began to climb in value. The fireworks really kicked off in 2017, when Bitcoin skyrocketed from $1,374 in early January, to reach $23,648 by mid-December.
A few factors were behind Bitcoin's extraordinary rise. Increased demand from China, where the yuan had fallen, was one driver. Added to this were concerns about a shortage of cash in India, where the government had suddenly withdrawn high denomination notes from circulation in a bid to end corruption.
Whatever the initial drivers were, Bitcoin's escalating gains didn't go unnoticed. FOMO (fear of missing out) soon took over, and ordinary investors were queuing to get a slice of the Bitcoin action.
A report by Accenture and the Australian Digital Commerce Association found that in 2017, Australians tipped more than $3.9 billion into cryptocurrencies – mostly Bitcoin. Those who entered the market early had a chance to pocket big gains. But plenty got their fingers burned. Close to half the Bitcoin trades made by Australians took place in December 2017. By the middle of that month, the Bitcoin bubble exploded and the cryptocurrency nosedived.
By February 2018, Bitcoin was worth just $10,188. At the end of 2018, Bitcoin was limping along at just $4,646, leaving plenty of investors nursing their losses.
Where is Bitcoin now?
In the intervening years, Bitcoin has recovered some of its value. In early June 2020 it was trading at around $14,218. However, it hasn't been a steady road. Bitcoin has remained volatile, lurching from as low as $9,673 to more than $12,000 on several occasions over the past six months.
Despite this volatility, there are a handful of managed funds that allow investors to indirectly tap into cryptocurrency markets. The problem is that most are pitched at wholesale investors, and require a minimum of $50,000 to invest. Micro-investing app Raiz is bucking the trend with the launch of what it claims to be the world's first retail fund offering exposure to Bitcoin.
Raiz's "Sapphire" portfolio will have a 5% allocation to Bitcoin, with the remainder spread across Australian and global shares, corporate debt and money markets – all via exchange traded funds.
Raiz CEO George Lucas said, "Although this latest portfolio offering from Raiz is very high risk, feedback from many customers has clearly shown that they have an appetite for an investment strategy that has an exposure to cryptocurrencies, and the Sapphire portfolio has been designed with this in mind."
According to Raiz, with governments printing more money globally due to the COVID-19 pandemic, cryptocurrencies such as Bitcoin may play a more important role in a portfolio in the future. But not everyone is convinced.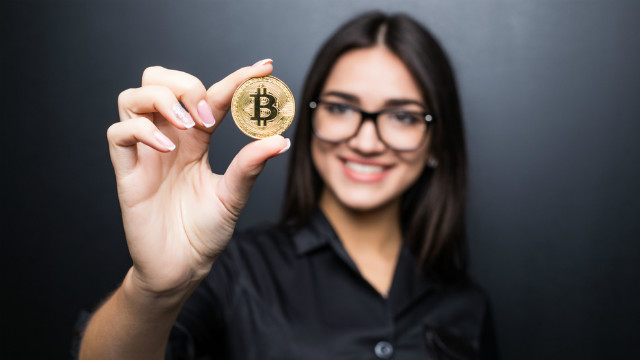 Will Bitcoin make a comeback?
Dr Shane Oliver, Head of Investment Strategy and Chief Economist, AMP Capital told Canstar it is impossible to know if the big gains in Bitcoin are behind us – or if another bout of super-sized returns lie ahead. "Bitcoin produces no income and so has no yield, which makes it impossible to value. Unlike gold, you can't even touch it,"he explained.
Dr Oliver added that for Bitcoin to enjoy a repeat of 2017, would require another surge in investor interest. Whether or not that happens is impossible to predict. Even if it did, Dr Oliver believes it could be short-lived because "while the supply of Bitcoin is limited, the supply of cryptocurrencies generally is unlimited, which will serve to keep their price down".
Bitcoin's meteoric rise, and subsequent plunge in value, may have left investors highly sceptical said Dr Oliver. "It showed that Bitcoin is not a safe haven, and not a reliable store of value particularly relative to cash, which by comparison is quite stable in value," he explained.
Plenty to be wary of with virtual currencies
Bitcoin's volatility may not be seen as a problem by everyone. Research by US stockbroker Charles Schwab found that while Baby Boomers and Generation X tend to stick to well-known companies, Millennials are more inclined to put money into crypto assets. That was certainly true of the 2017 Bitcoin craze, when 40% of the Australians who put their money into virtual currencies were aged below 29.
"Many of our investors are Millennials, who have time on their side when adopting an investment choice such as the (Bitcoin-inclusive) Sapphire portfolio," Mr Lucas explained. Raiz suggests an investment timeframe of more than five years for its new portfolio, and while this makes sense given the exposure to shares, when it comes to virtual currencies a long-term approach is no guarantee of decent returns.
Dr Oliver believes it is possible that at some stage, the blockchain technology on which Bitcoin is based could underpin a form of legal tender. However, if it happens, the currency will likely be run by central banks and governments, which won't be keen to give up their monopoly on legal tender. More tellingly, Dr Oliver said, "We may all end up using cryptocurrency, but it's unlikely to be Bitcoin or any of the other cryptos now floating around."
In the meantime, Dr Oliver suspects that Bitcoin and other non-government cryptocurrencies "will remain an avenue for occasional speculative frenzies, and a preferred medium of exchange for cyber criminals".
There is no doubt that cryptocurrencies can have a dark underbelly. In 2019, the NSW Cybercrime Squad warned that digital currencies are fast becoming the preferred choice for organised crime networks involved in money laundering, terrorism funding, and cybercrimes. As recently as May 2020, detectives from the NSW Cybercrime Squad charged a Sydney woman allegedly acting as an unlawful digital currency provider.
This all highlights that Bitcoin and virtual currencies in general, should be viewed in a very different light from mainstream investments. If you're keen to invest in virtual currencies, there is plenty to be wary of – no matter how long your timeframe.
As Dr Oliver cautioned, "Investors should be aware that Bitcoin generates no income and so has no yield, and no fundamental value. It's anyone's guess as to what it's worth. Bitcoin is highly volatile, and if investors are keen to speculate, only do so when the crowd is against Bitcoin, and sell out when the crowd has piled in – if it does."
---
About Nicola Field
Nicola Field is a personal finance writer with nearly two decades of industry experience. A former chartered accountant with a Master of Education degree, Nicola has contributed to several popular magazines including the Australian Women's Weekly, Money and Real Living. She has authored several best-selling family-focused finance books including Baby or Bust (Wiley) and Investing in Your Child's Future (Wiley).
Main image source: Igor Batrakov (Shutterstock)