When teaching children to invest successfully, we must first understand the psychology of not just children, but adults too. You see, most of us are driven by instant gratification, not delayed gratification, and we pass this on to our children.
Some of you may have seen or watched the Stanford Marshmallow Experiment by psychologist Walter Mischel that focused on delayed gratification in children in 1972. As part of the study, children were offered a marshmallow and were asked to wait between 10-15 minutes. They were told if they did not eat it, they could have two marshmallows when the researcher returned to the room.
This study was able to evidence that children who were prepared to wait and experience delayed gratification tended to have better life outcomes, educational attainment and other various life measures. The reason it is so important to bring up the relevance of this old study is that in today's fast-paced society, it is imperative we teach our children about delayed gratification, now more than ever, and also the benefits of delayed gratification.
A lot of children believe that money grows on trees, or it simply comes out of a hole in the wall. They are not taught the true value of money, the work that goes into acquiring it and how to manage it successfully. More and more young children are lacking the financial literacy that they require to successfully invest during their adolescence or even in adult life at a later stage, because they simply were not taught to experience delayed gratification or taught the true value of money and how to manage it in their formative years.
You see the psychology of money is more important than actual money itself. Money isn't necessarily about what you know; money is more specifically linked to how we behave, and behaviour is hard to teach. It takes time, persistence and a feeling of enjoyment and pleasure associated to the learning that reinforces the benefits of the behaviour to become an ongoing habit. In short: you need to start teaching them from a young age!
The good news is you CAN teach your kids the value of and how to manage their money. Read on to find out how.
Work and reward
First and foremost, you can teach your children the value of money by showing them how to work for it. Set chores around the house and show them you need to complete "this" to be rewarded.
Splitting and savings
Show your child how to split their money, say spend 20% save 80%; this is how they can grow their funds and earn interest. All kids are online from a young age on mobile phones, tablets, laptops etc. The world is online to their generation. So, setting them up with an online savings account that could offer bonus interest if they deposit $X amount a month increases the desire to SEE their money grow. You can teach them to spend a bit, but invest the rest, and watch their 'money pot' increase.
For some children, especially younger kids, they like to see "something physical" – much like adults. In this case, switch out the online account for a see-through jar and have them put their money in there.
Wants vs. needs
This is where the delayed gratification psychology plays a big part. Discuss wants VS needs. What is the difference? Kids need to have an understanding of the difference. Parents can teach this to kids as they do their everyday grocery shopping, and show them things like: "We have a budget of $x amount – these are the things on my list we need, and if we buy other items, it will take us over the budget and we may not be able to go to 'do that activity' on the weekend, like the movies etc".
Savings Goals
Set up a savings goal with them. Most kids want extravagant items these days, like a tablet, PlayStation, Xbox, pushbike etc. Everything is getting more and more expensive. Teaching your kids the way money works and working towards saving for something they want can be more beneficial, as you can allow them to make their own mistakes and spend all their money on something they WANT, but then they have nothing left to spend. What happens when they NEED something else? This is when you can explain to them the difference between them wanting something and needing something and the implications of their spending choices and how fast money goes nowadays.
What investment options are best?
Robo advisors and micro-investment platforms
This is a great way to encourage younger kids to invest. They can see the money grow; they can see what happens if the market drops. These platforms offer a great introduction to the foundations, research and tools you need to invest. Like most investments, patience is a better strategy. It teaches kids that investing in something for a longer-term can have more benefits in the long run.
Fractional Property Investing
What better way to introduce your older children into the market than with fractional investing… Platforms are available for entry-level investors who are aiming to enter the investment market with minimum capital required for fractional investing. Fractional property investment is gaining traction across Australia and for good reason – it enables you to buy a portion of a property, so you get all of the benefits of owning a property (or part of it at least) without the upfront expense and the ongoing hassle of covering expenses. Think of it as property crowdfunding.
In closing, it's also so important to remember that kids need to make money mistakes so they can constructively learn from them and establish better habits. It's time to start equipping them with this knowledge now so they have a strong financial future…it's never too early to start.
If you're comparing Online Share Trading companies, the comparison table below displays some of the companies available on Canstar's database with links to the company's website. The information displayed is based on an average of 6 trades per month. Please note the table is sorted by Star Rating (highest to lowest) followed by provider name (alphabetical). Use Canstar's Online Share Trading comparison selector to view a wider range of Online Share Trading companies.
Main Image Source: Shutterstock (A3pfamily)
---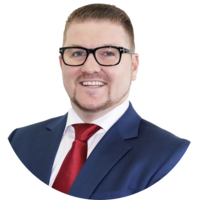 The driving force behind Infinity is CEO Graeme Holm – aka the Money Mentor – an acclaimed financial educator, motivational speaker and author of such titles as The Money Mentor: How to Pay Off Your Mortgage in as Little as 7 Years Without Becoming a Hermit. Graeme is a self-described Housing Commission kid from Wollongong, where he was raised by his grandparents and single mother. Coming from a humble background, Graeme – who began his career in finance aged 18 – is extraordinarily motivated and passionate about sharing what he's learned about money with ordinary Australians.
---