Not sure how the recession will affect your portfolio? Mark Tanner is an Associate Lecturer at the University of Queensland Business School and personal financial advisor. In this article, he answers your questions around the recession and your investments.
Q. How has Covid-19 impacted young Australian's ability to invest for retirement?
A. The major determinant for people to invest is their ability to earn an income and save some of this income for investment purposes.

COVID-19 has impacted young people's ability to invest by reducing their income and employment. This impact has been greater for younger workers than old workers.

For example, looking at the most recent employment data from the ABS, the total employed persons (aged 15 – 65) has declined by 3.3% but when you investigate the data this drop in employment has affected young people much more severely. Whereas the number of persons employed aged 15-24 has dropped 6.8%, it has only dropped 1.55%, 2.1% and 1.3% for people aged 33 to 44, 44-54 and 55 and over. And it is widely agreed that these statistics are not fully representing the full decline in employment due to the Job Keeper packages being received by companies at the moment.
The reduction in income and employment for young people has a greater effect on their investing for retirement versus older worker, because of the effect of compounding. It is critical for young people to be able to invest in their twenties to gain the benefit of compounding later in life. Thus, the policy of allowing people to make withdrawals from their superannuation hurts young people more due to their lost compounding. This is assuming a rate of return of 5% – the withdrawal of $10,000 in super for a 55 year old cost them $16,289 in retirement saving at age 65 versus a 25 year old will give up $70,400 of retirement savings at age 65.
Additionally, it is likely returns from investing will be lower for longer as a result of the recession, hurting young people due to sequencing risk. This is where there is a sequence of low returns in a row during a particular period of time. These challenges from COVID are on top of an already challenging environment for young people, who have been experiencing a casualisation of their employment (in part driven by the gig economy), soaring rents and house prices and declining or exceptionally low wage growth. These factors have been making it incredibly hard for young people to get a mortgage and then get into the property market and building their equity by paying down their mortgages.
Q. What advice do you have for investors to minimise their losses during the recession?
A. The key to minimising your losses during a crisis depends on the preparation you take before the crisis. In order to successfully navigate a recession or crisis, it is important that you are in a position to be able to survive through a shock to income (e.g. reduced hours or loss of a job) and be in a position where you do not to have to sell any investments during a crisis. If you don't need to sell, then you don't need to realise a loss, and the value of your assets has the opportunity to recover.

The preparation that needs to be undertaken before the crisis is to have 12 months of expenses saved up as an emergency fund, so that you know you can live if you lose your job. It's prudent to limit the amount of debt you have so that you know you can service your debt if you lose your job or if your income is reduced. For couples, a great strategy is to only take out the debt that can be serviced by one income.

The other key to success is to realise that it is exceptionally hard to resist your emotions. In a crisis, fear pervades the media and the market. It is very hard to resist the urge to sell assets due to fear and uncertainty about the future. One key step to take is to have a professional adviser – whether this is an accountant or financial adviser to remove the emotion and provide advice.
Q. How will the recession impact investors across the board?
A. The recession will impact investors in different ways depending on their financial position. For some investors with cash reserves and stable incomes, it will be a great opportunity to buy into falling markets (property, real businesses and listed markets), and secure good quality assets at reduced prices.
It will be a different outcome, for investors that have considerable leverage and then are hit with a job loss or a reduction of income. They may be forced to sell due to leverage, and other commitments and a lack of income to service those commitments. Selling these assets will wipe out what equity they had built up and will then set them back.
The recession will mean lower returns for longer and will affect young people as it will result in lower super balances come retirement. Young Australians will either have to work for longer or they will need to make higher levels of contributions to offset the lower accumulated earnings.
For retirees, the recession and lower rates, will force them to search for yield (underway since 2009). This will continue to force retirees to seek returns in riskier assets, which is a terrible outcome. Whereas, pre-retirees will likely to put off retirement for longer due to reduced income (or unemployment) and lower earnings in their super.
Q. What should the everyday Aussie be doing with their money right now?
A. Sound investment advice does not change through the economic cycle or the ups and down of the asset market cycle. You should have a plan set out as to how you can meet your future goals. These goals are almost always achieved by consistently reducing their debt, contributing to super and investing in other assets.
You should focus on the following key principles:
Make sure that you have protected your single most important asset – yourself. Make sure you have high quality underwritten Life, Disability, Income and Trauma insurances (to protect against misfortune e.g. sickness or accident);

Build up cash reserves (or an offset account) so you have an emergency fund to see you through tough times like these (in case of misfortune e.g. loss of a job);

Pay off your non-deductible debts (credit cards, car loans and the mortgage on your home) as quickly as possible; and

Pay yourself first: make regular contributions towards low cost, highly liquid, highly diversified investments.
If you have enough liquidity and sufficient experience, now may be a good time to look for investment opportunities (distressed sales of assets). But I would caution that you should do so safely. If you don't know whether you have the experience, don't take the risk.
If you're comparing Online Share Trading companies, the comparison table below displays some of the companies available on Canstar's database with links to the company's website. The information displayed is based on an average of 6 trades per month. Please note the table is sorted by Star Rating (highest to lowest) followed by provider name (alphabetical). Use Canstar's Online Share Trading comparison selector to view a wider range of Online Share Trading companies.
---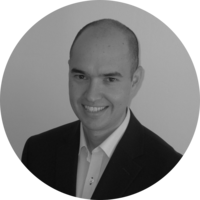 About Mark Tanner
Mark is a Financial Planner and an Associate Lecturer in Finance at The University of Queensland Business School, who has 15 years' experience in Personal & Corporate Finance Advisory roles and University Lecturing roles. Mark has a successful financial planning practice More Life Planning – dedicated to helping their clients live their best lives by removing financial constraints. Mark's in the process of completing his PhD in Finance at the UQ Business School, focusing on investor behaviour during financial crises.