The COVID-19 pandemic and the resulting economic downturn have caused a lot of uncertainty for investors. In particular, record low-interest rates and share market volatility have cast some doubt around the returns that investors can expect.
By contrast, the property sector has been assisted by low-interest rates, government packages supporting the housing market and pauses on loan repayments being offered by lenders.
While these measures can't last forever, they are supporting the housing market at this time.
CUA home loan specialist Joel Dooner says there are a range of considerations when buying an investment property or looking at whether the loan you have for an existing investment property is still right for you. Two of the key factors to consider are the choice of mortgage product and lender.
"The type of mortgage you choose will depend on your investment situation and comfort level," says Dooner.
"Each type of product has its advantages and in a competitive lending market, investors have a lot of choice.
"A lot of borrowers are reassessing their loans at the moment to make sure the loan is right for them and delivering good value. We are seeing both investors and owner occupiers shopping around for a better deal."
Is an interest-only loan the right option for you?
While most borrowers opt to cover principal and interest with their mortgage repayments, many investors choose an interest-only loan, particularly if they are building a property portfolio and are focused on capital growth.
Interest-only loans carry a higher interest rate than principal and interest loans, but the monthly repayments are lower as there is no principal being paid.
It's important for investors seeking an interest-only loan to thoroughly research prospective properties – they need to feel confident they are likely to increase in value over the intended investment timeframe.
You must also be able to demonstrate to your lender that you have a viable exit strategy, such as selling the property or other assets, should your circumstances change and you can no longer meet your loan obligations.
Should you choose a variable or fixed mortgage?
A number of borrowers are using the current environment to lock in low-interest rates on their mortgage. This might mean refinancing your investment property from one lender to another to find the best rate.
The main benefit of a fixed-rate mortgage is that you know exactly what your repayment amount will be from month to month, as your interest rate won't change over the term of the fixed rate.
While the interest rate on a variable home loan will change over time, some variable loans come with additional features or flexibility which might benefit the borrower. For instance, some come with offset features, redraw facilities, or the freedom to make extra repayments without penalty – features that are typically not available on fixed-rate products.
Dooner says investors should also look closely at the exit conditions of a fixed contract, to understand if they might impact how quickly you could sell the property down the track. Early termination fees – or break costs – on a fixed-rate loan might are also important to understand if you want to refinance the loan.
If you can't choose between fixed or variable, you could do both – split the loan, with a portion at a fixed rate and keep the rest on a variable rate. Interest rates are at record lows, meaning now is a good time to consider the options around potentially restructuring your loan.
Consider your choice of lender
Your choice of lender might be the most important decision you make. The market is currently very competitive when it comes to enticing borrowers to switch lenders, meaning there are good deals available.
"If you're building an investment property portfolio, you've potentially got more at stake and more debt than the average owner-occupier," says Dooner.
"It's important to have a strong relationship with your lender, to know you can trust them and they will work with your investment goals."
Dooner suggests investors should look beyond the interest rate to the experience a lender provides in terms of their digital offering, transparency on fees, loan incentives and even the culture of the organisation.
"There's a lot going on in the market right now, so it's worth chatting with a few different lenders and getting a feel for their culture," he says.
He suggested it is worth looking at the various incentives being offered to borrowers, such as CUA's current $2,000 reward – in the form of a digital prepaid Mastercard – for eligible borrowers who refinance from other lenders.
Other considerations for property investors
Property investors need to make sure to do their homework. In particular, the uncertainty and government policy responses to the pandemic mean it's worthwhile being extra vigilant.
Adjustments to Australian Government support programs, international and interstate border closures, business restrictions and social distancing measures could all impact the residential property market.
Another consideration is whether you'd be able to cover your investment property costs if you lost your job, or if your tenant lost theirs.
Engaging a property manager with strong market expertise to manage your investment property may be a wise investment in this climate, as high vacancy rates in some cities and regions mean it is more important than ever to find a reliable tenant … and keep them!
---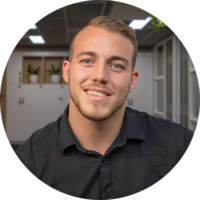 Joel Dooner is a home loan specialist at CUA's Hornsby branch and is also an adviser on the iM CUA app. CUA is Australia's largest customer-owned banking organisation, providing banking and insurance to more than 560,000 Australians.