Financial planning is a lot more than just investing your money or looking at your super. A good financial adviser will help you identify what you want out of life and smart ways to grow your wealth so that you can achieve your aspirations.
They should work with you to understand your lifestyle goals, develop a tailored financial strategy to help you achieve these goals, and then partner with you through the implementation of the strategy to help you to keep focused on building your personal wealth. As an outcome, you should have a clear and easy path to follow that takes you from where you are now, to where you want to be.
Providing clarity on your financial situation
A financial adviser will help you get crystal clear on your current financial situation. This may involve simplifying your finances, such as budgeting and cashflow planning.
It is common for a financial adviser to ask you to complete surveys where they get to know you, your financial situation, and your attitude to risk so that they can better understand your needs.
It's helpful to know the value of your assets, liabilities, income, and expenses. Your financial adviser should be able to provide you with financial position and budgeting tools to make this process easy for you.
Helping you identify your future dreams
A good financial adviser will really take the time to get to know you personally and learn about what's important to you. They'll want to know about your future dreams and lifestyle goals and provide guidance on what's going to be achievable.
It's a good idea to have a think about what you'd like the future to look like before you come in. For example, do you want to start or grow your family? Send your children to private school. Travel more. Retire early. Or all of the above!
As an outcome, you should expect to identify a series of achievable short, medium and long-term goals.
Helping you identify what you need help with
Focusing on your long term goals is exciting, but are there things that you're currently doing with your money that you could be doing better?
A good financial adviser should be able to identify key areas of your (financial) life that need some improvement. Are you spending too much? Are your taxes too high? Are you paying too many bank fees? Or have you forgotten to review your insurances to make sure you're not paying for it twice?
Taking care of these less exciting areas could make a significant difference in helping you feel more secure about your financial future.
Developing a strategy to meet your goals
Once you have clarity on your financial situation and set your future goals, your adviser should develop a financial strategy to help you reach your goals. This includes, but is not limited to identifying suitable investments, their allocation, tax liabilities, and insurance requirements. Beware of cookie-cutter strategies, this should be tailored to your specific circumstances.
Depending on the scope of advice, you should be presented with a couple of options to select from that all utilise your financial resources in the best possible way. Your adviser should model each strategy so you can clearly see the outcome, such as the difference between buying an investment property or investing in shares. That way, you will have the clarity and confidence to make an informed decision about which path to take.
In addition to presenting opportunities to you to grow your wealth, your adviser should also take time to ensure you understand the risks and downsides of your financial strategy. They'll also work with you to mitigate any risks and protect your financial position.
Once you've made a decision on which path to take, your adviser should make a formal recommendation to you by providing a written 'Statement of Advice' (SoA). This SoA document is very important and its contents are strictly guided by the Australian Securities and Investments Commission (ASIC). Make sure you read and understand the SoA and ask your adviser if you have any questions or need clarification on any points.
Guiding you to reach your goals
The next step is implementing the recommendations you agreed with your financial adviser. This stage may involve documentation for cashflow management, investments, and life insurances. Your financial adviser should take care of most of the paperwork, but you'll need to respond to requests for information in a timely manner so that they can help you.
Your financial adviser may also begin to contact your other advisers and other professionals that need to be consulted in the implementation process, such as accountants and mortgage brokers.
This step can be overwhelming and time-consuming if you're doing it alone. It's also where a lot of people get stuck. But with the help of a good financial adviser, the process will be made as seamless as possible and much of the legwork will be done on your behalf.
Giving you peace of mind
The financial planning process will give you control and confidence in your future and relieve you from the stress and anxiety of constantly worrying about your financial position.
However, market dynamics and legislation changes can present opportunities and threats to your financial plan so it's important that it is reviewed regularly. Covid-19 is a prime example of this! Your life changes too and you may need help to prepare for important life events and major lifestyle changes such as starting or growing a family, buying properties, starting a business, changing careers, losing a job, or retiring.
It's, therefore, a good idea to continue to work with your financial adviser to review the market and your circumstances to ensure your strategy stays relevant, you make the most of any opportunities and mitigate any threats that may present
If you're comparing Online Share Trading companies, the comparison table below displays some of the companies available on Canstar's database with links to the company's website. The information displayed is based on an average of 6 trades per month. Please note the table is sorted by Star Rating (highest to lowest) followed by provider name (alphabetical). Use Canstar's Online Share Trading comparison selector to view a wider range of Online Share Trading companies.
---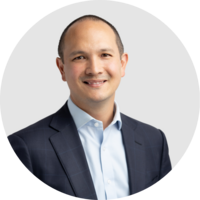 Brenton Tong is the Managing Director of Financial Spectrum. Brenton holds a Bachelor of Commerce with a major in Accounting and Law, as well as an Advanced Diploma of Financial Planning.
He is completing his Masters of Business Administration and is enrolled in the Fellow Chartered Financial Practitioner programme (FChFP). Brenton is a Senior Associate Member of the Financial Services Institute of Australia, a Practitioner Member of the Association of Financial Advisers, and a member of the Association of Independent Financial Professionals.