No matter whether you're a beginner investor or have been trading for years, even the most confident investor can benefit from sound financial advice. Here's why.
We consult experts regularly about areas where we lack expertise, such as seeing a specialist for a health issue, or mechanic to service your car. However, the majority of Australians don't seek advice when it comes to making the most of their money. Why wouldn't you want to live your best life possible? While there is a lack of trust in the advice community, there is also a void of understanding of what a good financial can actually help with.
A good financial adviser will help you identify what you want out of life and smart ways to grow your wealth through so that you can achieve your aspirations. They should work with you to understand your lifestyle goals, develop a tailored financial strategy to help you achieve these goals, and then partner with you through the implementation of the strategy to help you to keep focused on building your personal wealth.
In other words, good financial advisers are so much more than simply putting you into investments – they help you create your future. They help you build a clear and easy path to follow that takes you from where you are now, to where you want to be. Just about everything that we do every day has a financial impact, so it can help immensely to get help with all aspects of your financial situation to ensure that you're making the most of the money that you're earning.
You'll have more clarity and control over your money and the freedom to do what you want, when you want, without worry. All of this leads to less stress, better relationships and more happiness. Now, who wouldn't want that?!
But it's really important you that you seek a financial adviser who is not obliged to recommend specific investment products, does not receive commissions and is empowered to provide objective advice across the full suite of investment options. That way, you can be assured you're getting the best advice and recommendations for your unique personal situation. Financial advice isn't about investing, it's about making good financial decisions.
Should I go to a financial if I'm not earning or investing much money?
Many people think that they don't have enough money to make seeing a financial adviser worthwhile. They may think it's that it is only high-end investors who could benefit from financial advice. However that view is so far from the truth. Whether you are starting out in your first job or nearing retirement, whether you have loads of money not enough, you can benefit from financial advice.
Not only do financial advisers have more experience and knowledge around money matters, but also they can also help remove emotion around financial decisions. They can help you take a rational approach towards investment rather than an emotional one, particularly at times like these when the market is really volatile. There are many simple but powerful ideas that can be adopted into everyday life that may improve your long term financial prospects, or take the pressure off what you're feeling today.
At Financial Spectrum, we work with a lot of young professionals who want to get more out of their money, but don't know where to start or what sort of help is out there. When you're not sure what to do or how to start, you fall into the inertia trap. You just keep doing what you've been doing and may miss opportunities to save, invest, and move closer to the lifestyle you want. The earlier you start the more power you have to create your dreams, but it's never too late to make a difference.
What should I prepare before going to a financial advisor?
It is common for a financial planner to ask you to complete surveys where they get to know you, your financial situation, and your attitude to risk so that they can better understand your needs. If you want to be well prepared, a general understanding of your income and expenditure, assets and liabilities is a good start.
Do I need a clear idea of my goals/what I want before coming?
It's a good idea to have a think about what you'd like the future to look like in 5, 10, 20+ years time. Perhaps you want to buy or renovate a home. Start or grow your family. Send your children to private school. Travel more. Retire early. Or all of the above! The more clarity you have, the more you'll get out of the session with your adviser.
But don't worry if you don't have clear goals. A good financial adviser will be able to guide you through the goal-setting process so you get clear on what you want out of life.
What if you have no idea at all what you want to get out of life? A good financial adviser can still help you make good financial decisions and put you in a position where you'll have the resources to back up the decisions when you finally work out what you want to do.
What documentation should I prepare?
To get the most out of your time with a financial planner, it's a good idea to know the value of your assets, liabilities, income, and expenses. If you have any financial products such as super, insurance, or shares, a print up or statement will help too.
Your financial adviser should be able to provide you with the financial position and budgeting tools to make this process easy for you.
What happens in a financial planning consultation?*
A financial adviser will help you get crystal clear on your current financial situation. This may involve simplifying your finances, such as budgeting and cashflow planning.
A good adviser will really take the time to get to know you personally and learn about what's important to you. They'll want to know about your future dreams and lifestyle goals and provide guidance on what's going to be achievable. As an outcome, you should expect to identify a series of achievable short, medium and long-term goals.
Once you have clarity on your financial situation and set your future goals, your adviser should be able to develop a financial strategy to help you reach your goals. This includes, but is not limited to, identifying suitable investments, tax minimisation strategies, debt restructuring and insurance to protect the wealth that you build, as well as tips and tricks to follow that will help you manage your day to day finances better.
If you're comparing Online Share Trading companies, the comparison table below displays some of the companies available on Canstar's database with links to the company's website. The information displayed is based on an average of 6 trades per month. Please note the table is sorted by Star Rating (highest to lowest) followed by provider name (alphabetical). Use Canstar's Online Share Trading comparison selector to view a wider range of Online Share Trading companies.
---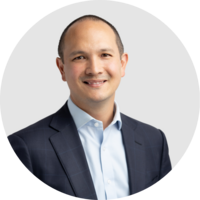 Brenton Tong is the Managing Director of Financial Spectrum. Brenton holds a Bachelor of Commerce with a major in Accounting and Law, as well as an Advanced Diploma of Financial Planning. He is completing his Masters of Business Administration and is enrolled in the Fellow Chartered Financial Practitioner programme (FChFP). Brenton is a Senior Associate Member of the Financial Services Institute of Australia, a Practitioner Member of the Association of Financial Advisers and a member of the Association of Independent Financial Professionals.