FinTech Australia and EY Sweeney have partnered once again to launch the annual EY FinTech Australia 2017 Fintech Census.
The census survey seeks to discover new insights into key issues in the fintech space, so FinTech Australia is calling on the fintech community to fill out this year's census questionnaire – you have until 3 September!
Last year was the first survey of this kind in Australia, and FinTech Australia Vice-Chair Stuart Stoyan says the 2017 census will be even more important because it will provide "trend-based information about the industry".
"There is no question that Australia's fintech industry has undergone tremendous growth and change over the last year and we want to capture this in our census," he said.
"We encourage all members of the fintech community to take the time to fill out this questionnaire as by doing this they will be helping to create a stronger industry."
EY and Fintech Australia say the main purpose of the census is to understand the size and composition of the Australian fintech landscape, discover key challenges facing fintech companies based in Australia and identify areas where further policy development or investment might be needed.
The census results will be released at the Collab/Collide summit as part of Australia's first fintech festival, Intersekt, in Melbourne from 27 October to 3 November.
New questions in 2017 fintech census
The 2017 Fintech Census has expanded and updated the questions from last year, seeking to gain greater insights into the following areas:
How Australian fintechs can be best supported to expand overseas.
How improved gender diversity can be created across the industry, along with gleaning more fine-grain detail as to where fintechs are located.
The views of fintech on which policy responses they think will be most effective to grow the industry, with survey respondents being able to choose from a range of policy levers including open banking, an expanded regulatory sandbox, reduced barriers to banking licences and making the research and development tax incentive more accessible to start-ups.
The fintech landscape in Australia: 2016 findings
The inaugural 2016 census revealed some interesting findings about Australia's fintech landscape, including that last year there were over 350 fintech companies across the nation, with the most prominent base being in NSW (54%).
A key external challenge of "building partnerships with banks and other financial institutions" was identified by 41% of respondents, and 76% agreed that government mandated open data protocols would be effective to improve the industry.
As for global competitiveness, 64% of Australian fintechs said this industry will be able to compete overseas.
The most prominent types of fintech identified in last year's census were lending (25%) and personal finance and asset management (21%), while regtech was only at 4% and digital currency at 1%.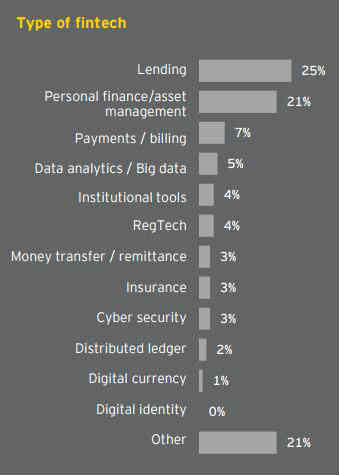 Source: EY and FinTech Australia, EY FinTech Australia Census 2016: Profiling and defining the fintech sector