Contributed by Robbie Sampson, CEO, Orbit Remit
Today there is an abundance of options available to Aussies when it comes to transferring money overseas.
However, every year we are essentially throwing away money on unnecessary transfer fees by not doing our research. Last year Aussies spent in excess of $5.8 million in unnecessary fees[1] that they may have avoided by finding a more suitable transfer service — that's equivalent to about 3,000 return trips to Italy, Canada or India!
With so many options in the market, where do you start and how can you ensure you're making the most money-savvy choice?
Here are five tips for cheaper international money transfers.
1. Shop around and do your research
It may seem obvious but with so many money transfer companies in the market, all claiming to offer the best deal, it's worth investing time to suss out who's who.
It's easy to just stick with the same channel you've always used – but you shouldn't get complacent. Choosing to transfer money overseas without doing your homework can be costly.
When shopping around check online and recent news reports for the latest on each company, including deals and special offers, as well as the company's social media page for any feedback and comments from customers. Online review sites, such as TrustPilot, are also a great way to get a non-biased review of a particular provider.
There's nothing more valuable than a recommendation from somebody you trust. Speak to friends and family about their experience with transferring money overseas and any specific feedback on the companies they've used.
2. Read the small print and beware of hidden costs and fees
Don't be blinded by the glitz and glamour of a great deal and what the company advertises. Embrace your inner cynic and check the small print.
Consider the fees before choosing a money transfer service. Some transfer companies will offer a flat fee for all transfers, regardless of whether it's $9 or $9,000. Fees charged by other services are calculated as a percentage of the amount being transferred, so make sure you do the math and work out the best deal.
Also beware that hidden costs can crop up later down the line with some providers charging the person you're sending the money to a fee to receive the funds. A $5 fee might not sound like much, but if that's charged on every regular payment it could equal up to a month's worth of electricity or groceries.
Don't be afraid to get in touch with the company directly to clarify any discrepancies – this will also be a good test of their customer service.
3. Check the exchange rate at the time of transferring
Make sure you know the exchange rate you're getting at the time of transferring. Most reputable online money transfer services will have a currency exchange rate calculator on their website. Always check this before transferring as it will differ between companies.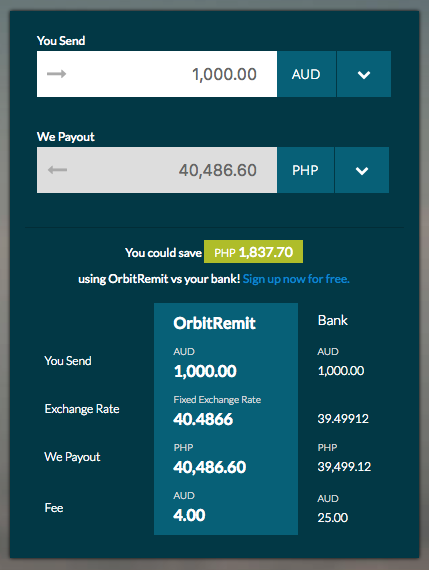 4. Consider an online service for convenience and security
Not only can online transfer companies offer a competitive exchange rate, but a truly digitalised offering could mean faster and more efficient registration, as well as the ability to easily send money overseas. For example, international bank transfers can take up to 3-5 business days, depending on the provider, but with the likes of OrbitRemit which is solely online, transfers can reach recipients within the hour, often within minutes.
If you are a regular transferrer, look for a company that offers a mobile app (that's free of charge), so you can send and keep track of your money on the move.
Getting the most bang for your buck when transferring money abroad
Shopping around before choosing a money transfer service could save you huge amounts of money and time. Remember to do your research and understand exactly what fees you are being charged and why to ensure you're getting the cheapest money transfers.
[1] Calculation based on fees charged on OrbitRemit customer transactions in 2017 vs. fees using traditional services like the big four banks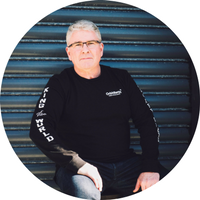 Robbie Sampson is the Co-Founder and Chief Executive Officer of global money transfer service OrbitRemit. Founded in 2008, OrbitRemit operates in 39 countries around the world and employs 40 staff across offices in New Zealand, the United Kingdom and Australia.
Sampson brings a lifetime of entrepreneurship to OrbitRemit, having been self-employed his whole life. Under his guidance, OrbitRemit has experienced tremendous growth since inception, now processing more than half a billion in global monthly transfers each year.