Written by Simon Millard, Head of Western Union, Australia
Evolving with disruption
The money transfer industry globally has entered a period of significant change, spearheaded by the evolution of mobile technology and growing demand for digital tools that help us manage our money faster and smarter.
Digital disruptors such as peer-to-peer lending services, mobile apps and blockchain have shifted the market, offering borderless accounts combined with speed and transparency.
Powering these disruptors are new technologies like artificial intelligence, big data and robotics, which are changing the customer experience; providing unprecedented insights into customer behaviour that help deliver a more seamless money transfer experience.
For incumbent players in the market, this new reality presents an opportunity. Businesses should consider leveraging these new technologies to offer customers greater choice and improved services.
So, how do we best go about this?
Collaboration, not competition
Industry disruption does not necessitate a battle between the incumbents and the disruptors, but instead presents an opportunity for collaboration to drive real change and better outcomes for customers.
Importantly, collaboration has the potential to foster financial inclusion, creating new opportunities for the world's two billion "unbanked" – those that make little or no use of formal financial services. More than ever, technology is helping businesses serve this often-ignored segment of the market.
The World Bank predicts the value of global remittances will grow by 3.4% to USD$616 billion in 2018. In order for the industry to continue to thrive, businesses will be better served by coming together to redefine the future of money transfers.
According to PWC's Global FinTech Report, the most widespread form of collaboration with fintech companies is joint partnership, which can allow incumbents to strengthen their capabilities and introduce solutions or products into the market more quickly.
As consumer preferences continue to evolve, providers that offer greater choice will come out on top. Money transfer businesses should think about expanding their mobile and online offerings, kiosks and self-service, providing more account-based options, and delivering more integrated solutions for business customers.
Harnessing the power of our peers
New partnerships and collaborations will drive this innovation and growth, and allow businesses to learn from new entrants to the market and introduce new technologies to their operations. Over the next three to five years, 82% of financial institutions expect to increase their partnerships with fintechs, in order to enhance efficiencies and respond to changing customer needs.
At Western Union, we're committed to integrating new technologies into our business and we are already working with new partners in our bid to bring our customers greater choice, ease of use and accessibility.
We continue to make strategic investments and partnerships including with our mobile app, and have also launched a money transfer bot for Facebook Messenger in the US. This acts as a digital-and-physical gateway for money movement, bringing access, convenience and leading-edge technology to tech-savvy and highly digital-based customers.
Western Union recently invested in the Digital Currency Group (DCG) in order to assess the potential of blockchain technology and keep at the forefront of developments in this space. In 2017, we also announced an alliance with BP in Australia, enabling international money transfers through in-station kiosks to significantly reduce transaction times.
But forging new partnerships and operating in an increasingly borderless world is not without its challenges and businesses now face an enhanced degree of compliance as well as multiple layers of complex regulation across the markets in which they operate.
Collaboration runs across the ecosystem. Western Union works closely with law enforcement around the world and in Australia, and is a founding member of the AUSTRAC Fintel Alliance; a cooperative group comprised of partners from the public and private sectors committed to fighting financial crime.
Where to next?
The entrance of fintechs into the money transfer market shows no signs of slowing down, with Australia considered particularly fertile ground for technology and startups thanks to our quality education, government support and well-established financial sector.
Innovation and evolution must be at the heart of any money transfer business if it is to thrive in this new age of digital disruption. Businesses need to continue to invest in new innovations and platforms to meet the changing needs of customers. New technologies and new partners allow us to disrupt our own strategic model, rethinking the future of our business and the way we serve our customers.
Continued innovation and collaboration, coupled with an unwavering commitment to compliance, will ensure we're one step ahead in meeting our customers' needs. We once thought of compliance as a cost, then as an investment, and today we feel it gives us an edge.
The global money transfer landscape is evolving and shows no signs of slowing down. While digital disruptors significantly challenge the status quo, they also present new opportunities for businesses to leverage new technologies and collaborate, not compete, with fintech players.
About Simon Millard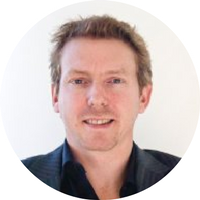 Simon Millard is the Country Director for Australia at Western Union, a company that has been helping people to move money around the world for more than 160 years. Simon has been at Western Union for over 7 years.