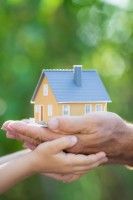 Tax accounting firm, H&R Block, has warned parents to be careful when helping their children into their first property, particularly if it involves the sale of an investment. According to the firm, the combination of rising house prices and Boomers beginning to reach retirement and possibly wanting to free up some cash has resulted in more parents selling their own homes or investment properties to their children.
"Many parents are resorting to selling their investment properties as a means to helping get their kids into their first property," says Regional Director of H&R Block, Mr. Frank Brass. "But there are hidden traps that they need to be aware of."
The main trap, according to H&R Block, is when an investment property is sold at a below-market value. This can result in a lower capital gains tax (CGT) payment which, if discovered by the Australian Taxation Office (which calculates CGT on the market value of the property – not the sale price) could result in an additional tax bill as well as a penalty of up to an additional 100% of the tax payable.
If the property sold is the parents? principal place of residence this is not a problem, of course, as the principal place of residence is exempt from Capital Gains Tax.
It?s worth noting that stamp duty is also charged on the market value of the investment property, not the sale price.
In other words, an attempt by parents to saver their kids a bit of cash could backfire significantly if an investment property is involved.