With at least 26 homes and 41 outbuildings destroyed or badly damaged in the current South Australian bushfires and hot temperatures forecast for the next few days, the Insurance Council of Australia (ICA) has declared the bushfires to be a
catastrophe
.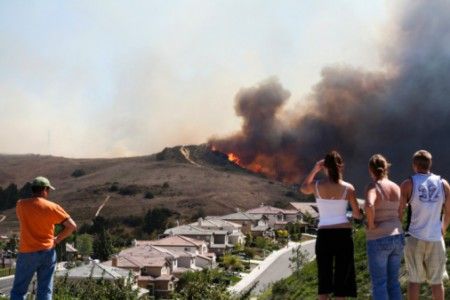 The ICA CEO Rob Whelan has said that with the declaration of a catastrophe insurers will escalate their response and claims arising from the bushfires will be given priority by insurers. Home owners are urged to contact their insurer as soon as possible.
He also urges anyone affected by the bushfires to avoid taking risks, and only re-enter their properties once authorities have declared it safe to do so.
Recover centres are currently open at Golden Grove and Willaston to provide food, financial assistance and emergency accommodation.
A Recovery Hotline for the SA Bushfire has been established and is open on 1800 302 787. The hotline is for people who have lost their home, suffered trauma or other loss – or for others wanting to provide financial donations to support affected communities.
Emergency grants are available for those affected by the fires, and provides up to $280 per adult and up to $140 per child, to a maximum of $700 per family. For more information, call the Recovery Hotline number above.
Assistance from financial institutions
A number of banks have offered support to customers affected by the SA bushfires. NAB, Westpac, ANZ and Commonwealth Bank have all released statements regarding the SA bushfires and the support they have offered to provide.
All of the Big Four banks are offering assistance with home loans and credit cards, from waiving payments for up to three months to waiving fees and charges associated with these products. NAB, Westpac and Commbank are also waiving costs and charges should victims wish to withdraw term deposits early. Westpac is offering a discounted interest rate for customers wishing to purchase replacement goods lost in the fire.
There is relief for businesses as well, with existing business customers being able to restructure loans without incurring the usual bank establishment fees.
Affected customers should call their respective bank?s hotline to discuss assistance options available to them.
Commonwealth Bank – 1300 720 814
Customers of smaller financial institutions should also call their institution to make enquiries as many will also have assistance in place.