Break-ins and robberies are many people's worst nightmare, and most would be willing to pay for peace of mind. A home security system is an investment in your family's safety, but is it a worthwhile one?
What is a home alarm system?
A home alarm system is an alarm system designed to detect unauthorised entry into your home or dwelling, and they work by securing the inside of your house with devices such as door and window sensors and outdoor motion sensors.
When the door or window to your home is closed, the two parts of the sensor join together, which creates a security circuit. Once the circuit is armed, if it is broken by opening or breaking the door or window, the circuit triggers a high-decibel alarm.
Back-to-base home alarm systems will also send an alert to the security company monitoring the alarm system. These monitoring companies will then respond with your preferred action plan, which may include:
Calling you to check if it is a false alarm (an owner triggering their own alarm accidentally)
Sending a patrol guard from the security company to visit your home
Contacting the relevant emergency personnel such as the police or the fire department
An alarm system is not a replacement for home insurance, but it does give you an extra layer of protection from unwanted intruders.
Shopping around for a home insurance policy?
Whether you're looking for home, contents or combined cover, you can easily compare from 100+ policies with Canstar.
How does a home alarm system work?
A typical home alarm system usually includes the following parts, which all work together to secure your home:
A control panel: This is attached to your wall and typically features a touchpad where you enter a passcode to arm and disarm the system. The control panel powers and communicates with each of the other components.
Door and window sensors: These sensors communicate with the control panel when the security system is armed at the control panel, and this circuit is broken the instant a door or window is opened or broken.
Motion sensors (interior and exterior): These sense motion around your home and trigger an alarm if someone walks past the motion sensor. This creates an invisible zone that cannot be breached without sounding the alarm.
Security cameras (CCTV): These allow you to watch and record blind spots outside your home from your computer or smartphone. Security cameras are not always included in a home alarm system, but they can usually be added for an extra cost.
High-decibel alarm: These alarms are loud enough to notify all your neighbours and frighten away a would-be intruder.
How much do home alarm systems cost?
Home alarm systems are not cheap. You'll find that a full system can easily cost anywhere from $300 to install equipment such as a door and window sensor up to nearly $3,000 for equipment and back-to-base monitoring, according to NRMA Insurance.
Installing a CCTV security camera alone can cost around $250 according to ServiceSeeking.
Depending on whom you buy your home alarm system from, there can also be monthly fees of around $30 ($2/day) for a back-to-base service to connect the alarm system to the monitoring company, according to NRMA Insurance.
If you want to take the DIY approach to installing a wireless home alarm system, Bunnings can help you out there:
Source: Bunnings Warehouse
Is it worth getting a home alarm system?
The cost of an alarm system is nothing compared to the cost of a burglary. According to the Australian Institute of Crime, the average cost of a burglary in Australia is $2,400, which is much more than the cost of installing the alarm system in the first place. So you could be saving yourself hundreds of dollars if you installed one and it prevented a burglary.
In addition to this, many insurance providers offer reduced premiums or a discount on premiums for home and contents insurance for home owners and renters who install home alarm systems.
For some insurers and certain suburbs, you can't even get a quote for a large amount of contents insurance (e.g. $120,000 – $150,000) if you don't have an alarm system for your home.
It is worth checking with your insurance provider if they offer such a discount. At the least, installing an alarm system can enable you to negotiate for cheaper contents insurance premiums.
If that weren't enough proof that a home security system is a good idea, every state and territory police service in Australia recommends that residents install an alarm system to prevent burglaries.
Pros and cons of home alarm systems
You are alerted whenever someone enters your home without the passcode.
The alarm sound often frightens burglars away.
The police may be dispatched if there is an intruder.
You could save money on your contents insurance premiums.
You have to remember to arm it every time you leave home.
You also have to disarm it whenever you get home.
The police can charge you for repeated 'false alarms' if you accidentally set off your own alarm.
It can lead to a false sense of security.
According to some sources, 1 in 2 burglars (51%) will still enter a home if it has an alarm system or sensor lights (77%), so it may not work on more experienced thieves.
Are home alarm systems worth the money?
Despite what you might have heard in the news, property crime has been steadily decreasing in Australia since 2001, according to the Australian Institute of Criminology. One of the biggest reasons for this is the increased usage of alarms and security screens in the past 5 years.
The main reasons for this drop, according to a survey of 994 property offenders, are (AIC, 2015):
Improved security
Changes to policing methods
Increased affluence (higher income and more jobs in lower socioeconomic areas)
Increased imprisonment for offences
Changes in drug use patterns
Less availability of a market for stolen goods
Improved community responses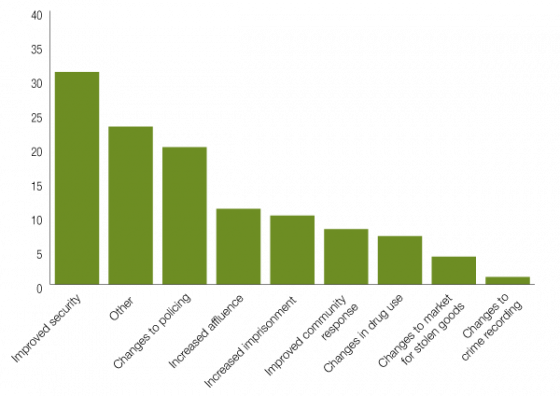 Burglars and thieves are opportunistic by nature, and according to the FBI, homes without security systems are up to three times more likely to be burglarised. 60% of attempted burglaries on homes with security systems are unsuccessful, as burglars will tend to run away once the alarm goes off.
However, buying a home alarm system does not mean you should drop your guard. The FBI also state that almost 90% of burglaries occur when someone is at home, which is when your alarm system is likely to be unarmed. Remain vigilant and follow our other home security tips to minimise your chances of being robbed.
It would be best if you did plenty of your own research before committing to a particular system. There are plenty of them out there, but you'll want the absolute best to guarantee your family's safety.
A visit from a home security professional can take less than an hour, and this is one highly effective way to evaluate your home's security and to safeguard your home. Don't forget the other – even more effective – way of protecting your home: a good guard dog.
If you're comparing home and contents insurance policies, the comparison table below displays some of the policies currently available on Canstar's database for an Australian aged under 50, seeking cover in NSW or ACT for a cost to replace building and contents of below $550,000. Please note the table is sorted by Star Rating (highest to lowest), followed by provider name (alphabetical) and features links direct to the providers' websites. Use Canstar's home insurance comparison selector to view a wider range of policies.