How happy are you with your home insurance provider? That's the question we asked over 5,500 Aussies across a total of 32 providers, to determine which insurers have the most satisfied customers across various states.
Canstar canvassed the opinions of home insurance policyholders in New South Wales, Queensland, Victoria, South Australia, and Western Australia to uncover just how satisfied they are with their provider, and to help narrow down the factors they really value from their insurer.
Canstar recently launched its Most Satisfied Customers Awards as part of its mission to empower consumers to find the right financial products for them. They complement the Star Ratings and Awards that are calculated by Canstar's expert researchers.
Canstar's Group Executive of Financial Services, Steve Mickenbecker, said the Customer Satisfaction Awards were a way for people who are shopping around to get a sense of which providers had hit the mark for other customers.
"People are very good judges of when they have received good service and when their expectations have been met or exceeded," he said.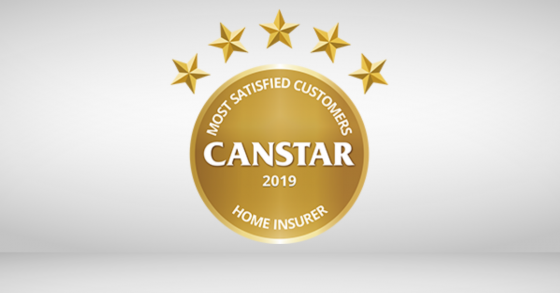 Who won in each state?
The winners of Canstar's 2019 Most Satisfied Customers – Home Insurer Award are:
New South Wales – Budget Direct

Queensland – Youi and NRMA

South Australia – RAA

Victoria – RACV

Western Australia – RAC
Canstar's analysis of the survey results showed that customer service was the most important driver of satisfaction for home insurance policyholders overall, although people in different states did prioritise factors in varying orders. Policyholders from South Australia also placed a high value on communication, for example, while Western Australians put more emphasis on the value for money they get from their provider than customers in any other state.
Mr Mickenbecker noted that customer service may have proved important to policyholders overall because "when you buy insurance, you're buying a promise, and delivery of that promise is essential.
"Good customer service can act as confirmation that the promise is likely to be fulfilled, or is being fulfilled in the event of a claim," he said.
In all but one state (Victoria), cost emerged as the factor least likely to have a bearing on overall customer satisfaction, suggesting providers may need to offer more than competitively-priced premiums to keep their customers happy.
The result showed that customers in South Australia were the most satisfied across the board.
Long-serving customers happiest with their provider
Canstar's survey revealed some other interesting insights about home insurance customers around the country. While the majority of respondents had been with their current provider for between one and five years, those who had been with their provider for more than 10 years proved the most satisfied overall.
Mr Mickenbecker said these results were not necessarily surprising.

"If you've been with your insurer for that long, there's a reasonable chance you've made a claim, and the fact that you're still with that insurer suggests you're happy with the way they dealt with it – hence your overall satisfaction level being that little bit higher," he said.
"If on your first claim you were dissatisfied with the claims process, you may well have moved to another provider".