Canstar
caught up with IMAN Australian Health Plans about their award-winning Working Visa Health Cover policies in 2017.
We caught up with John-Paul Kelly, General Manager International Visitors at IMAN Australia about IMAN Australia's win and what workers need to know about working visa health cover.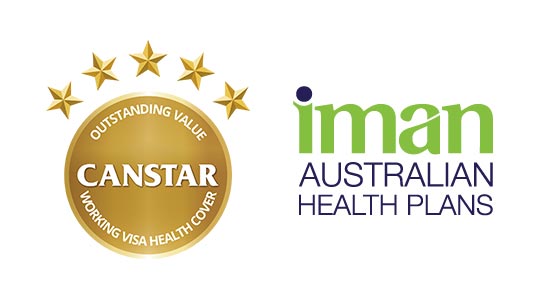 Q: How far in advance of arriving in Australia should workers start to organise their health insurance cover?
An Overseas Visitor on a working visa must take out an OVHC [working visa health cover] policy.
The application can be received and confirmed prior to the policy becoming active (up to 2 years in advance). The start date of the policy can be adjusted to align with the date the worker arrives in Australia or the visa start date.
On average, we see workers organising their health insurance 1-2 months in advance of arriving in Australia.
Q: What are the payment options for Working Visa Health Cover?
Payment options include credit card and direct debit.
Q: What is the most common claim from Working Visa Health Cover customers?
The most common claims fall within Hospital, GP and Specialist Consultations.
Q: Based on your experience, are many foreign workers aware that if they extend their Work Visa in Australia, they also need to extend their health cover?
Do you receive many enquiries from customers looking to extend their health cover to match their Visa extension?
IMAN OVHC is deemed ongoing and continuous until cancelled; therefore, validity of cover is not an issue. However, if the customer extends their Visa, they are also made aware that their health cover will need to be extended.
Q: Are there different levels of Working Visa Health Cover available?
Five levels of health cover are available as part of the IMAN OVHC offering:
Budget Visitor Cover – Our lowest priced hospital cover
Value Plus Visitor Cover – Medium level hospital cover plus access to doctors for day-to-day health needs
Basic Visitor Cover – High level hospital cover plus access to doctors for day-to-day health needs
Mid Visitor Cover – High level hospital cover, access to doctors, and extras including physiotherapy, chiropractic, and osteopathy
Top Visitor Cover – Most comprehensive health cover, including hospital, medical, and a wide range of extras such as dental, optical, physiotherapy, chiropractic, osteopathy, podiatry, natural therapies, and preventative care
All five levels of cover meet the Department of Immigration working visa requirements.
Canstar congratulates IMAN Australia on its outstanding achievement. Further information on the Award, methodology and star ratings results can be accessed here:
Compare working visa health cover policies here:

Canstar is an information provider and in giving you product information Canstar is not making any suggestion or recommendation about a particular insurance product. If you decided to apply for an insurance policy, you will deal directly with an insurance provider, and not with Canstar. Premiums, coverage, benefit limits, and product information should be confirmed with the relevant insurance provider. For more information, read our detailed disclosure and our Financial Services and Credit Guide.
The inclusions mentioned represent a selection of what is covered at the time of writing. Additional terms and conditions may apply to different features. Additional fees may apply to the product. Canstar is not making any suggestion or recommendation to you about this product. Please ensure that you read the product disclosure statement (PDS) to determine all the current options and inclusions for the product you are considering.