The cost of a funeral typically ranges from $4,000 to $14,000. Funeral insurance is one option to cover this cost, but if for some reason funeral insurance is not for you, there are four other broad options you can consider:
Funeral bonds

Funeral bonds are an investment product whereby funds can only be withdrawn after your death to pay for your funeral. You can invest in a bond directly through an investment company such as a friendly society or life insurance company, or via a funeral director. You can pay in full for the funeral bond or you can pay in instalments. Many require a deposit of between $500 – $1,000, followed by a monthly payment plan.
As with any investment, it is important to ask about the details, particularly in relation to the costs of paying by instalment. A major attraction of funeral bonds is that they are not included in Centrelink?s assets or income test for the Age pension (subject to limits). Funeral bonds can be assigned to your family or directly to the funeral director of your choice. If you die before the funeral bond is paid in full, you will only receive back what you have paid in.
Pre-paid funerals
For some people, planning the details of their own funeral is important. Pre-paying with their funeral director of choice can help to financially enable this. You can go all the way – choosing what type of coffin and flowers you?d like, the type of service, burial or cremation or any other must-have requirement your family perhaps may not think of. Alternatively you might choose to pre-pay with your funeral director but leave the details to your family to work out when the time comes. Generally the funds that you pay are held in trust by the funeral company; the funeral director should be able to explain how the money is held and what happens if the company is sold or ceases business in the meantime. Ask also if the money is indexed – a $6,000 funeral today could cost a lot more in 10 or 15 years? time.
Some other questions to ask are whether the amount can be paid off in regular instalments and what arrangements they have in place if you move to another state. Also be aware that you may not get your money back if you change your mind.
Dedicated savings account
If you have the discipline to put regular money into either a term deposit or online savings account reserved for one purpose only, then using this option to save for your funeral may well provide the most cost-effective result.
That will depend, of course on your age ; the more years you have up your sleeve the more money you will accumulate. Check out our deposit account comparison tools to give you an idea of what type of account and rate or return you could expect.
As with any other savings account you hold, the earnings on the money in this account will be subject to tax at your marginal tax rate and will count towards Centrelink?s income and assets tests.
Tin under the bed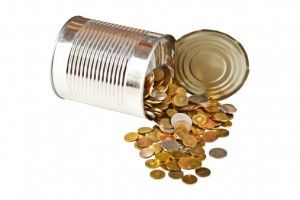 The age-old trick of using a biscuit tin as a collection point for savings and loose change from the household budget, clothes washing and behind-the couch hiding spots still has a great many fans. This hangover from the Depression era really has only one real advantage: that any money saved is officially ?secret?, therefore not known to either Centrelink or to the taxation department. The two main disadvantages of this strategy are that firstly, your money is earning no interest and therefore not keeping pace with inflation and secondly, it is vulnerable to theft.
With so many options around today for pre-paying your funeral, the tin under the bed must surely be a last resort.