'Black cards' have been a mystery for years, with only the wealthiest people qualifying for access to the card. We go through what it takes to join the financial elite.
What is the AMEX Black Card?
The American Express Black Card is a charge card or "cash card" made of anodised titanium (a hard, silver-grey metal that is strong, light, and used in corrosion-resistant alloys). The card offers exclusive privileges including a 24/7 concierge service, has no set spending limit, and is available by invitation only. It is not a credit card at all, but is rather a charge card or cash card, meaning cardholders have to pay off their balance in full every month.
The American Express Centurion Card, known informally as the Black Card, is one of the most prestigious cash cards in the world – and most people would be lucky to even catch a glimpse of it. Customers can only qualify for this card after they have met certain criteria.
For years, the American Express Black card was an overblown rumour … until 1999, when American Express confirmed that the elusive card was indeed real. However, just because it exists doesn't mean it's within arm's reach (or indeed several thousand arms' reach) of the average consumer.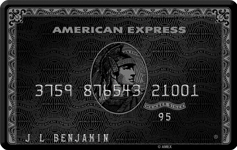 "There had been rumours going around that we had this ultra-exclusive black card for elite customers. It wasn't true, but we decided to capitalise on the idea anyway."

– Doug Smith, Director, American Express Europe (in an interview to Snopes.com)
The table below displays a snapshot of American Express platinum or higher credit cards listed on Canstar's database.
How to get the American Express Black Card and become a black card member
You cannot apply for the American Express Centurion Card online and is not listed among their other charge cards on their website. While the exact eligibility requirements for the Centurion Card have never been explicitly stated by American Express, the word on the street is that prospective candidates must:
Be an active American Express cardholder for at least 1 year
Hold an American Express Platinum credit card
Pay an initiation fee of $5,000 in Australia or $7,500 in the USA, as well as the annual fee of $5,000 in Australia or $2,500/year in the USA (additional annual fees apply for supplementary cardholders: $2,500/year for a supplementary Centurion Card, plus additional annual fee of $175/year for supplementary Platinum Cards or $45/year for Gold Cards)
Spend at least $250,000 per year on cards
Be able to pay off the card in full each month (because it is a charge card, not a credit card)
Be especially wealthy, with a substantial net worth
Have a spotlessly clean credit rating
What does American Express define as "substantial net worth" or being wealthy enough to afford the Centurion Card? Well, a report in 2011 revealed that the average household income for Centurion Card members was $1.3 million and the average cardholder held assets of $16.3 million. Along with these conditions, it still comes down to American Express personally choosing each new member individually.
What benefits does the American Express Black Card offer?
American Express Centurion Card members supposedly have access to some significant perks including:
Hotel and flight upgrades to premium tier status
Complimentary comprehensive for travel insurance (Australian cardholders enjoy this privilege no matter how they pay for the travel; in other countries, coverage varies)
Concierge service available worldwide 24/7
Instant access to key seating for events and concerts
Rental car hire upgrades to premium status with luxury vehicles
Standing reservations at select restaurants
No preset spending limit ("credit limit")
Access to Centurion airport lounges
But as many commentators have pointed out, many of these benefits – even having no spending limit – are available from the American Express Platinum Card for a fraction of the cost ($1,200/year annual fee).
Of course, the Black Card carries the added perk of being known as a huge status symbol among the elite, and the lack of a preset spending limit or "credit limit" on this charge card means the cardholder's imagination is the limit. The largest Centurion Card purchase recorded as of 2016 was USD $170 million paid for the famous painting "Nu couché" by Modigliani, purchased by Liu Yiqian using the card to circumvent Chinese money transfer laws. Other extravagant recorded purchases include a cardholder who charged $52 million on the card to purchase their own private jet.
So if you see the elusive black card anywhere, take a photo – because chances are good that you will never see another one again.
Considering a premium credit card? Compare a snapshot of the current market offerings for premium credit cards in the table below, based on products on Canstar's database sorted by Star Rating (highest to lowest), then by provider name (alphabetically). The Star Ratings shown are based on a monthly spend of $5,000.