Woolworths launched its new collectables range today in a bid to attract and retain more customers, as competition for market share heats up in the supermarket sector.
Woolworths' Discovery Garden collectables – a range of 24 plant seedlings contained in little biodegradable pots – were made available today. Customers could get one seedling kit for every $30 spent in store and online.
According to Woolworths, customers could also collect bonus seedling kits for every $15 spent on certain fresh fruit and vegetables, such as beetroot, carrots, kale, chives and spinach within a $30 shop.
Both Woolworths and Coles have launched various collectables campaigns in recent years and have singled out the Lion King Ooshies and Little Shop campaigns in particular as having helped to drive profit.
Canstar money expert Effie Zahos said the market in the grocery world was getting tougher for Woolworths and Coles, given that they now face competition from Aldi as well as its fellow German giant Kaufland which is set to arrive soon, and possibly Lidl too.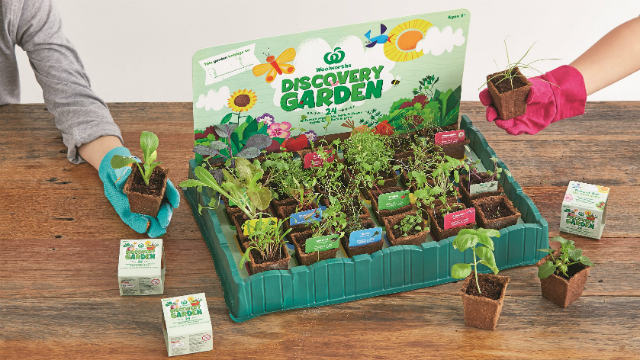 She said the new arrivals were a good sign for consumers because it would hopefully lead to more choice and competition in the pricing, quality and variety of items on offer, but for Woolies and Coles it could mean their market share may fall.
"They may see collectables as a way to get customers and hold onto them, getting recurring business and traffic flow back into the stores or online," Ms Zahos said.
"We've seen it can work well with Woolworths' Lion King promotion, which drove strong revenue, offsetting weak growth in its liquor arms and Big W."
"While you don't like to think you shop at a particular supermarket because of the collectables, clearly it's working for them."
Woolworths reported at its FY19 results that the Lion King campaign had helped drive its annual profit after tax up by 7.2% to $1.75 billion.
But Ms Zahos added that collectables were not for everyone and some people may simply be feeling a bit of "collectables overload".
"Savvy shoppers probably won't care what collectables are out there because they'll shop at the supermarket that has the best deals, look at catalogues and compare online," she said.
Collectables campaigns have been scrutinised in the past by financial commentators and parents for being used to tap into the "pester-power" of kids to get their Mum or Dad to spend more at the shops.
Woolworths said its Discovery Garden collectables would be available from today until Tuesday, 22 October or while stocks last.
What is in each Woolworths Discovery Garden seedling kit?
Seed mat: a small number of seeds of the same plant type are embedded in paper
Soil pellet: a brown dehydrated growing medium pressed into a compact round shape
Pot: a small seedling pot for putting the soil and seeds into
Seed label: a coloured cardboard label that will identify what's growing in each pot
What can I get with Woolworths Discovery Garden collectables?
Vegetable seeds: beetroot, bok choy, cabbage, carrot, kale, lettuce, onion, radish, tomato, spinach
Herb seeds: basil, chamomile, chives, coriander, cress, dill, oregano, parsley, rocket, thyme
Flower seeds: dianthus, pansy, snapdragon, viola
Free interactive storybook in store or online
Collector trays and other merchandise available for purchase