In this report we research and rate travel money cards to find what's on offer for Australians heading overseas.
There are a limited number of travel money card providers in Australia, although the market will no doubt be vitalized by both Qantas and Virgin entering the fray later this year; both companies have announced upcoming changes to their frequent flyer programs, including new chip-enabled cards that double as a pre-paid travel card. For the purposes of this report we identified five cards in the market that filled our criteria and rated them based on the CANSTAR value proposition. We compared in excess of 120 features of each card. To compare the cost we took into account exchange rates and transaction costs across four major currencies (US dollars, British pounds, the Euro and New Zealand dollars). For further details, please see the methodology document attached to this report.
Some benefits of a travel money card:
Provides the ability to lock in your exchange rate before travel.
Provides the ability to load multiple foreign currencies in a single travel money card.
Can reload card via your smartphone.
Cards can be replaced if lost or stolen.
Debit card functionality without being linked to your bank accounts.
Allow you to carry a minimal amount of cash (although be aware that not all places will allow you to pay for goods or services by card).
Provides an online exchange rate for comparison.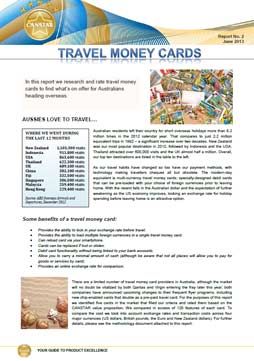 June, 2013
Download Report as PDF (773 KB)