Joshua Callaghan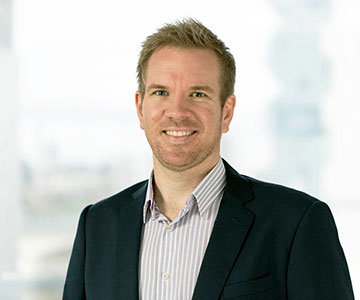 General Manager, Wealth
As the National Client Manager for Superannuation, Insurance and Investments my role is to develop deep relationships with the institutions in those industries to act as their conduit to our research team and to utilise the research to provide value back to them. While my role involves many early morning flights around the country I am always energised by the warm welcome Canstar receives in Australia's leading financial firms and the quality of conversation we get to enjoy with the business leaders within those firms.
The Canstar Distribution Team is made up of banking, wealth and digital professionals that are all focussed on profitably growing their respective business verticals. As the client face of Canstar, if we're not in the office we'll be flying around the country meeting with financial organisations and presenting awards.
I originally cut my teeth in retail banking while studying a Bachelor of Commerce in Financial Planning and Investments. After spending a few years as a branch manager and completing my degree I made the move into head office as a Product Manager and found my passion. At Suncorp I headed up their retail fixed interest product before taking that knowledge to design and launch flexiRates. After spending a couple of months volunteering here and overseas I then started a role at GBST heading up a team of developers and designers to build Australia's leading retail stockbroking CRM, FrontOffice. After completing my MBA in this time I left for London to become the National Product Manager for Direct Life Insurance with Barclays. Family circumstances cut this shorter than expected but on return I built a product management team at GlobalX and developed a product framework and strategy for their business. The experience from these roles plus my passion for all things finance is what has bought me success in my role at Canstar.
Away from work there's nothing more relaxing for me than a wine and a movie but family life has meant that I spend most of my spare time playing with my son or socialising with other families. Playing music, mountain biking and camping are all activities I try to prioritise to keep myself in balance.
Almost no other organisation in Australia has the breadth and depth of interaction with financial services as Canstar and as a result, provides employees with a unique opportunity to understand the industry in a way that could only otherwise be achieved through many roles at many organisations.