The ASG is calling for both parents and the Australian government to recognise education as a financial priority in the same way that focus is given to other major life events such as saving for retirement.
A recent white paper released by the Australian Scholarships Group (ASG) week, which surveyed 1,000 Australian parents to understand their behaviours and attitudes towards education in comparison to other life events such as saving for a holiday, purchasing property, investing in retirement savings, getting married or having children, found that while there is strong intent among parents to save for education, the reality is quite different.
In response, the ASG is urging the Australian federal government to recognise education as a major life event in a manner similar to the way retirement is viewed and treated in policies and government outcomes.
What we think it's important to save for
The ASG survey of 1,000 parents uncovered the following priorities in terms of savings: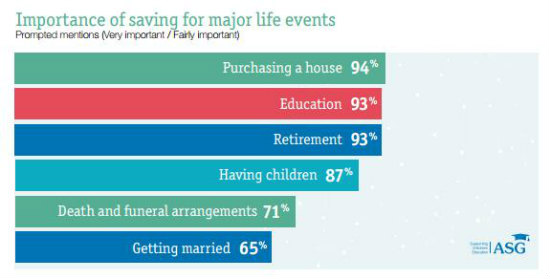 In reality though, it turns out that we're far less likely to save for those important life events than perhaps we would like to be. The survey respondents reported the following actual savings levels in terms of education costs: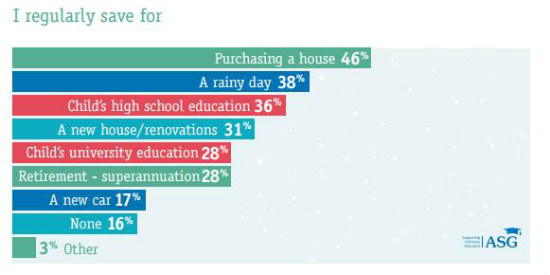 "The results highlight the gap between this perceived importance of saving for education and how families are actually planning, prioritising and saving for future education costs," said John Velegrinis, CEO, ASG.
"Education policies have been a topic of conversation for many years, however, few have focused on preparing and supporting individuals and families to meet the growing challenges relating to the cost of education. With 85 per cent of parents agreeing that the government should help them pay for their children's education, more can be done to incentivise savings and benefits," added Mr Velegrinis.
What does the government pay towards school costs?
Taxpayers, via both federal and state governments, already do contribute significant amounts of money per student to help cover the cost of primary, secondary and tertiary education in Australia.
According to Federal Minister for Education and Training, Simon Birmingham, the federal government's total investment in Education and Training for 2016-17 is more than $41.8 billion, representing an overall net increase of 6.1 per cent, including:
• $8.6 billion for early education and care – a 9.6 per cent increase
• $17.6 billion for schools – an 8.0 per cent increase
• $12.3 billion for higher education – a 0.9 per cent increase
• $3.3 billion for skills – a 7.7 per cent increase
In 2013-14 total government funding for a student going to a public school was $16,177 while for a child attending a non-government school it's $9,327. School by school funding figures are broken down to a per student basis on the MySchool website.
A student attending Geelong High School received $1,927 of federal government funding and $8,408 of state government funding (total government contribution of $10,335)
A student attending Geelong Grammar School received $3,872 of federal government funding and $677 of state government funding (total government contribution of $4,549)
Government also provide capital grants in addition to per-student allocations.
Are tax-deductible education savings a priority?
While the ASG survey of parents found a high level of interest in further government contributions towards education costs, this level of concern would appear to be somewhat more muted in the community overall.
According to the national survey of more than 1,000 people, conducted by I-view Omnibus poll for one of the country's leading professional bodies, Chartered Accountants Australia & New Zealand, education policy ranked behind health, jobs and economic growth in order of importance.
According to the national survey of more than 1,000 people, healthcare ranked well ahead of other policy areas as the preferred focus for the Government. When asked to rank three policy priorities for the next term of Government, 61% of survey respondents nominated that issue, compared to 46% who chose jobs, 38% economic growth, 37% education and 33% housing affordability.