Canstar has awarded Travelex Cash Passport a 5 star rating for outstanding value. Here's what customers love about the card and how to make the most of it.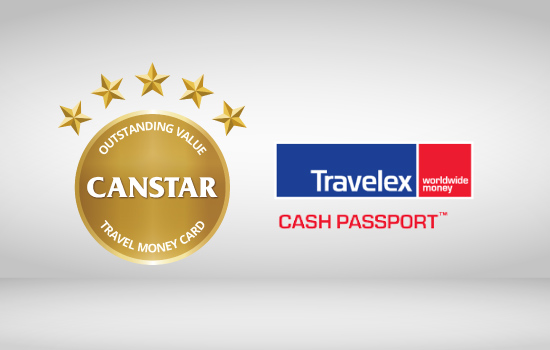 Each year Canstar researches and rates the price and features of Travel Money Cards available for Aussie travellers. This year the Travelex Cash Passport has won the 2016 Award for Outstanding Value Travel Money Cards – congratulations!
As well as terrific features, the big benefit of the Cash Passport is the exchange rates. Over the period assessed by Canstar, Cash Passport offered the top average exchange rate across all currencies we considered for the rating.
Canstar caught up with Travelex for a quick Q&A on what customers love about the card and how travellers can get the most out of it.
Q: There are a terrific range of currencies available. What are the most popular currencies with your travellers?

A: USD & EURO are the two most popular currencies. In the last week alone we have seen growth in sales of our top two currencies on the card of 25% vs last year.

Q: What is a typical amount of money for travellers to load when they're heading overseas?

A: Customers can load up to $5,000 AUD initially online (with an overall max of $100,000 on the card.

Q: Do you have any tips on how travellers can make the most of their Cash Passport while they're away?

A: As well as being accepted by millions of merchants (where you see the MasterCard symbol), you can get cash into your pocket by using your Travelex Cash Passport card at an ATM whilst abroad. The best thing about this is Travelex do not charge international ATM fee's so you can get the best of both worlds, cash and card, that way. If you need extra funds when you're away, you can reload your card at Travelex.com.au. Reload online and your funds are instantly applied to your card.

Q: From your customer research, what are the card features that your customers tell you are most important to them?

A: Having no international ATM fees. Accessibility is always a major point, which is why having the option of using the card at millions of locations worldwide that have the MasterCard acceptance mark, is one key benefits of the Travelex Cash Passport. Security is also very important and a major reason why people take larger values of money on their card. The Travelex Cash Passport is not linked to your bank account and is Chip and PIN protected for security.
Canstar congratulates Travelex on its Cash Passport win. You can read the Canstar Travel Money Card ratings report here and see the full list of ratings here.