As Mount Agung in Bali poses an imminent threat of eruption, many Australian travellers have been left stranded on the island or forced to make last-minute changes to their holiday plans.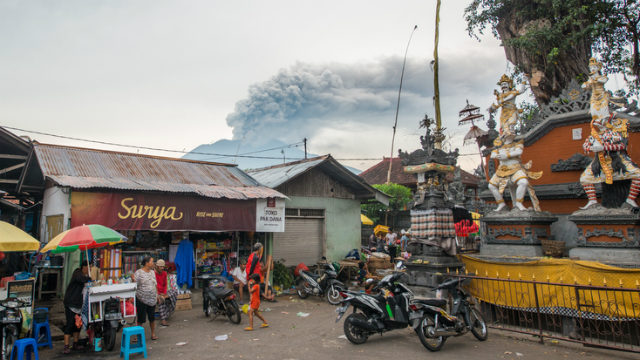 Flights in and out of Bali's Denpasar airport have been cancelled, with Virgin Australia saying their flights would be cancelled up until Thursday 30 November and advising customers to visit their website for updates on flights after that date.
There are reports school leavers who travelled to Bali as part of their schoolies celebrations as well as holiday-makers have been forced to extend their stay due to cancelled flights with doubt over their ability to claim money back through their travel insurance provider.
Some insurers have stated their cut-off date for coverage was policies booked as early as 21 September, when the Indonesian Government raised the volcano warning to a level four, with insurance policies taken out after this date not covering any impact from the volcano ash cloud.
Canstar's Group Manager of Research and Ratings Mitch Watson said travellers should get in contact with their insurers to make sure they were covered and understand the correct process to receive their refunds.
"Generally when travel warnings are announced, a lot of insurance policies are void, so it's important to monitor destination warnings prior to travel," Mr Watson said.
"Check your cover to make sure it includes natural events and cancellations – some policies don't cover these as standard and they need to be added on.
"This highlights the importance of taking out travel insurance when booking the flight to ensure you are covered prior to warnings being announced."
Due to the significant volcanic ash and current weather conditions, Denpasar Airport is currently closed. As a result we have cancelled all flights between Bali and Australia today and Thursday 30 November. More info is available on our Travel Alerts page. https://t.co/LD8rC5LZdZ

— Virgin Australia (@VirginAustralia) November 28, 2017
How to lodge a travel insurance claim for disruptions caused by the Bali volcano
For those who have had their travel plans disrupted by the volcanic activity, Mr Watson recommends taking the following steps:
Contact the airline to determine their cancellation policy – many will offer the opportunity to change dates or claim a travel credit. This will help you determine whether you will need to approach your insurer to have your flights reimbursed.
Contact your insurance provider to determine your coverage and make sure you are following the right procedure. Most insurers have a 24-hour helpline.
Keep all receipts for purchases made or expenses incurred due to the Bali volcano.
File all claims as soon as possible after arriving back in Australia – many insurers require lodgement within two weeks.
The airlines can be contacted using the numbers below:
Qantas: 13 13 13; +62 21 25556300
Virgin: 13 67 89; +61 7 3295 2296