Commonwealth Bank's credit card travel insurance has won a 2016 Canstar Innovation Award. Here are some details about this innovative product.
Australia is responsible for a number of world-changing inventions, from Google Maps and the pacemaker to the black box flight recorder. We're just as creative with our banking, superannuation and insurance, having invented the plastic bank notes many countries now use and the wi-fi we use for our online banking.
Every year, Canstar looks for the products being launched in the area of financial services to make our lives easier and more convenient. The products that Canstar judges to be the most innovative in their field are awarded a Canstar Innovation Award.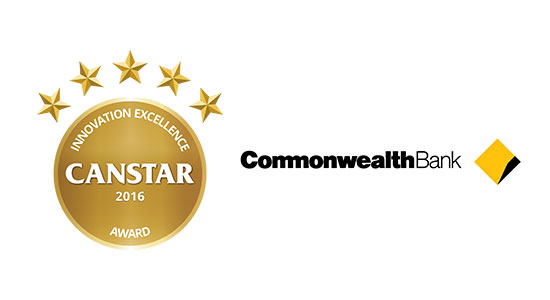 What is the product?
Australians love to travel overseas and CommBank has tapped into that enduring trend, teaming up with Allianz Global Assistance to recreate user-friendly travel insurance. Cardholders can now activate the comprehensive international travel insurance included with their credit card simply by logging in to their usual online banking portal, NetBank, and activating the cover. They can also buy additional policy benefits at competitive prices, such as cover for cruises and ski trips or a higher rental vehicle excess.
The policy is available for CommBank customers with a Gold, Platinum and Diamond credit cards, and uniquely, no minimum spend is required on the credit card in order to activate the cover. Cardholders can even activate their policy while they're already away on holiday (3-day waiting period applies).
CommBank has done away with many of the traditional pitfalls of credit card travel insurance. Cardholders do not to meet conditions such as being aged under 80 years old or having a top-level credit card. Travellers also do not need to pay for their flights and accommodation using their card, so it's no problem if you choose budget airlines or frequent flyer point redemption.
Standout features
Free. The travel insurance policy is included with the credit card and there is no cost to activate it unless you purchase extra additional policy benefits. There is no minimum spend to activate the policy, and cardholders do not need to have pre-paid their travel expenses using the card.
User-friendly. Cardholders can activate the policy using their usual online banking portal, NetBank.
Comprehensive. Cardholders are covered for unlimited medical cover, travel delays and alternative travel arrangements, and lost or damaged luggage and personal goods. The policy will cover the cardholder, a spouse, and up to 10 dependents. Travellers can upgrade or extend the cover as needed.
Certainty. Cardholders receive a Certificate of Insurance with a unique policy number, so they can be sure they are protected and know whom to call if something happens.
Safety net. Cardholders can phone from overseas to activate their travel if they forget to activate before they go. If they forget to activate it at all, a safety net of Base Cover for emergency medical and hospital expenses and personal liability cover applies automatically.
Canstar's verdict…
CommBank's credit card travel insurance is fundamentally different to what other providers currently offer for Australian travellers. It is comprehensive yet easy to activate, and at no additional cost, it's a great innovation for the traveller's budget.