According to the Reserve Bank of Australia (RBA), Aussies are likely to spend more than $96 billion on their credit and debit cards in the lead up to Christmas. Many hundreds of million dollars, therefore, will be spent on interchange fees (the fees that banks charge each other for the use of credit and debit cards).
The Payments Systems Board is currently looking into the issue off interchange fees – and the level at which they are currently charged.
According to analysis by Tyro Payments Limited, interchange fees typically cost consumers 1 percent of their purchase price – with fees in excess of this tending to be absorbed by retailers.
In a submission to the PSB, Tyro Payments CEO Jost Stollmann implored the RBA to "again lead the regulatory world by eliminating interchange fees that the banks charge each other and force onto merchants and consumers".
"At a time when Australian banks are enjoying record-breaking profits, greatly assisted by the growth in electronic fees, it is unjustifiable that cost efficiencies haven't been passed onto small businesses and their customers," he said.
"In an increasingly cashless society, it is the big banks who are the real winners."
Tyro Payments advises that interchange fees on different card types tend to be as follows: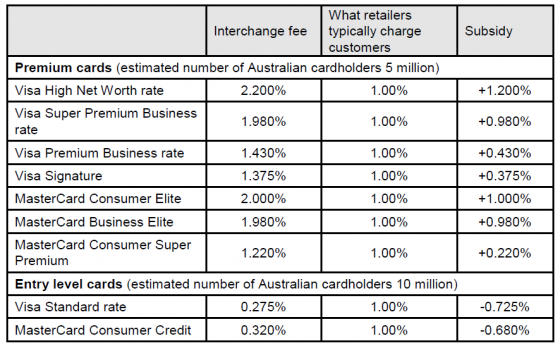 "Low-income Australians and small-to-medium business owners have been the losers as interchange fees for small businesses are up to 10 times higher than for big retailers5 while low-income consumers pay 6.7 times more than high net worth individuals with premium credit card schemes," said Mr Stollman.
Board orders consultation
At its November meeting, the Payments System Board approved a consultation paper seeking stakeholder views on some proposed changes to the Bank's standards applying to designated card systems. The Board advised that the paper will coincide with the announcement of further details on the Government's proposed legislation to ban excessive surcharging and give the Australian Competition and Consumer Commission enforcement power in this area.