Yesterday Commonwealth Bank led the charge and removed the $2 fee to use a 'foreign ATM' which saw the other majors quickly follow suit, but Australia's finance media haven't exactly reacted with universal praise for the banks.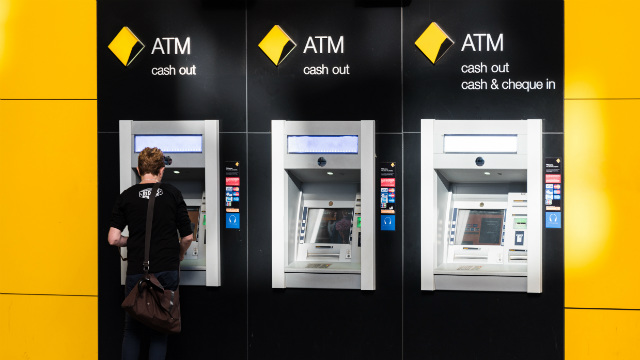 ATM fees have been cut at CommBank, NAB, ANZ and Westpac ATM machines, while St. George Bank, Bank of Melbourne and Bank SA have also killed fees.
This move could save consumers up to half a billion dollars in fees a year, with Reserve Bank data showing that Australians made 250 million withdrawals from ATMs other than the ones they bank with.
ABA says abolishment of fees will make banking more affordable
The Australian Bankers' Association (ABA) welcomed the announcement from the Big 4 to cut ATM fees.
"It's a boon for customers and makes banking more affordable for everyday Australians," said ABA Chief Executive Anna Bligh.
"This is the latest in a suite of initiatives by banks to create better products and services for customers and boost customer choice, including reducing interest rates on credit cards and offering fee-free transaction accounts."
Ross Greenwood: "The banks aren't stupid"
A number of commentators were quick to downplay the so-called consumer-focused news that came out of this move by the big banks.
Channel Nine Finance Editor Ross Greenwood said it is naive to assume the scrapping of ATM fees has much, if anything, to do with helping Australians.
"Don't think though for a single minute that the decision by the banks to scrap the $2 fee is a generous idea designed to help consumers," he said.
"Political and reputational risks are the key reason that Commonwealth Bank moved first."
"ATM usage is collapsing around the country because of contactless cards and phone apps," he said.
"Our use of cash is free-falling.
"The Banks aren't stupid.
"They're cutting fees in the area of their business that's already shrinking.
"If banks let customers freely use each other's machines, then they can cut the total number of machines in the network – that saves them money."
Kohler dubs the ATM fee announcement a "big PR win"
Editor of the Australian Business Review and Publisher of The Constant Investor, Alan Kohler, dubbed the removal of ATM fees as a "big PR win" for the banks.
Kohler also agreed the Banks are cutting away an area of business that is already on a steep decline (cash), saying the "beautiful thing about paywave…is that the banks charge everyone 1.5%".
"So not only is the cost of yesterday's magnanimity not very much, and declining, probably to nothing, it's being replaced by something far better," he said.
"The coming cashless society is great for banks because, so far at least, they are more in control of digital money than they are of cash — until bitcoin becomes a real money alternative rather than a plaything for speculators.
"And making ATM withdrawals free for non-customers won't slow down the arrival of a cash-free world."
Are the banks trying to avoid a Royal Commission?
"It sure looks like Treasurer Scott Morrison's little chats to the bank bosses, who'd prefer to avoid a Labor-promised Royal Commission, are starting to have an impact on our beloved banks," he said.
Mr Morrison welcomed the announcement of fee-free ATMs, but indicated there is more work to be done to improve Australia's banking system.
"It's important that we take action now right across the full suite of issues that are needed to ensure our banking system is fairer, is stronger and is more competitive," he said.
Labor MP Katy Gallagher said Commbank's removal of ATM fees was clearly related to the pressure of a possible Banking Royal Commission.
"There is no doubting that Labor's calls for a Royal Commission has led to this decision being made by the Commonwealth Bank today," she said.
"This is yet another reminder to Malcolm Turnbull and Scott Morrison that they need to abandon their defence of the big banks and take up the side of consumers by establishing a Royal Commission."