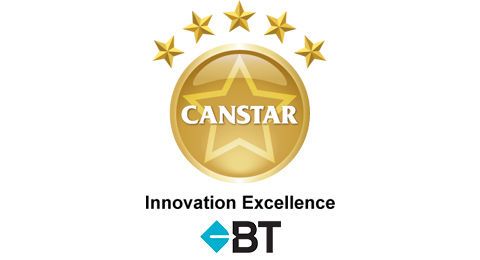 Each year Canstar highlights financial innovations within Australia that we believe represent excellence in their field. An innovative product should be a first in the market – even perhaps open up a new market. The degree of innovation should also be sufficient to have a real impact for both consumers and competition. And, of course, something that?s truly innovative can?t help but have that "wow" factor and the overall impact the product could have.
In 2015, Canstar is please to congratulate BT for winning an Innovation Excellence award for what is a first for Australia: Key Person Income.
What is BT Protection Plan – Key Person Income?
Insurance giant BT has introduced a first for Australia – Key Person Income, a policy designed specifically to help small business in what can be a time of great need. Quite simply, this insurance protects the business revenue, should the owner or key revenue generator – for example a sales person or experienced tender specialist – have an accident or illness which temporarily affects business cashflow. Small businesses depend heavily on the skills and specialist knowledge of their owners and key employees. If these key income generators are out of the picture, even for a little while, the business can suffer a severe financial hit and, in some cases, be unable to continue.
Until the launch of Key Person Income, Australian businesses had only been able to insure against the negative impact of severe or permanent disability, death or a trauma event. The reality though is that businesses are also at significant risk of having their staff impacted by short-term disability.
It?s a gap in the marketplace that has been identified and filled by BT. For small business owners, a Key Person Income policy can provide certainty and peace of mind. Key Person Income can provide a monthly benefit to the business for up to 12 months if the insured key person is unable to work due to sickness or injury.
The benefit can help to maintain cash flow, allowing the business to continue meeting expenses and loan repayments. The business may choose to use the benefit to fund the recruitment and training of a replacement. With this financial support, the business owners can maintain control and the value of the business is not jeopardised.
Standout features of Key Person Income
Some standout features of BT?s new Key Person Income insurance are:
• Continual cover. BT?s Key Person Income offers worldwide cover, 24 hours a day, with a benefit period of 1 year.
• Waiting period. The choice of 30 or 90 day waiting period provides options for the business.
• Range of sickness benefits. This policy pays a benefit for partial or recurrent disability, plus elective surgery. It also provides a two-tiered disability benefit based on returning to work for 10 hours per week subject to duties criteria. It also provides a death benefit.
• Affordable cost. To insure a non-smoking male, aged 40 for a benefit of $10,000 per month, the total cost to the business would be less than $738 per year, or $2.15 per day. (Based on male, non-smoking accountant from NSW. 30 days waiting period, 1 year benefit period and indemnity cover.)
• Extras. CPI increase of 3% automatically applies to the monthly benefit and there is a 5% discount on the premium if the insured person is covered by another BT Protection Plans policy.
Canstar?s verdict …
The BT Key Person Income protection plan is unique in the Australian marketplace, allowing small business owners to insure against the income of both themselves and their key employees. Income protection insurance has been available in the personal space for many years; this product extends that coverage concept to the more than two million small businesses in Australia.