Rising Stars: Canstar's Australian Property Market Report 2022
Welcome to Rising Stars: Canstar's inaugural Australian Property Market Report powered by Hotspotting. Using a series of forward-looking indicators the Rising Stars report forecasts the prospects for annual price growth in each of the nation's major market jurisdictions.
It ranks 14 jurisdictions nationally – comprising eight capital cities and six regional states and territories – based on five key metrics. These are sales volumes, quarterly price growth, vacancy rates, rental growth and infrastructure spending.
Each of the 14 market jurisdictions is ranked from one to 14 on each of the five metrics. These rankings are then used to determine an overall ranking for each of the jurisdictions.
We have also identified 110 'Rising Star' suburbs across the country. These have been selected based on outperformance in each of the five metrics.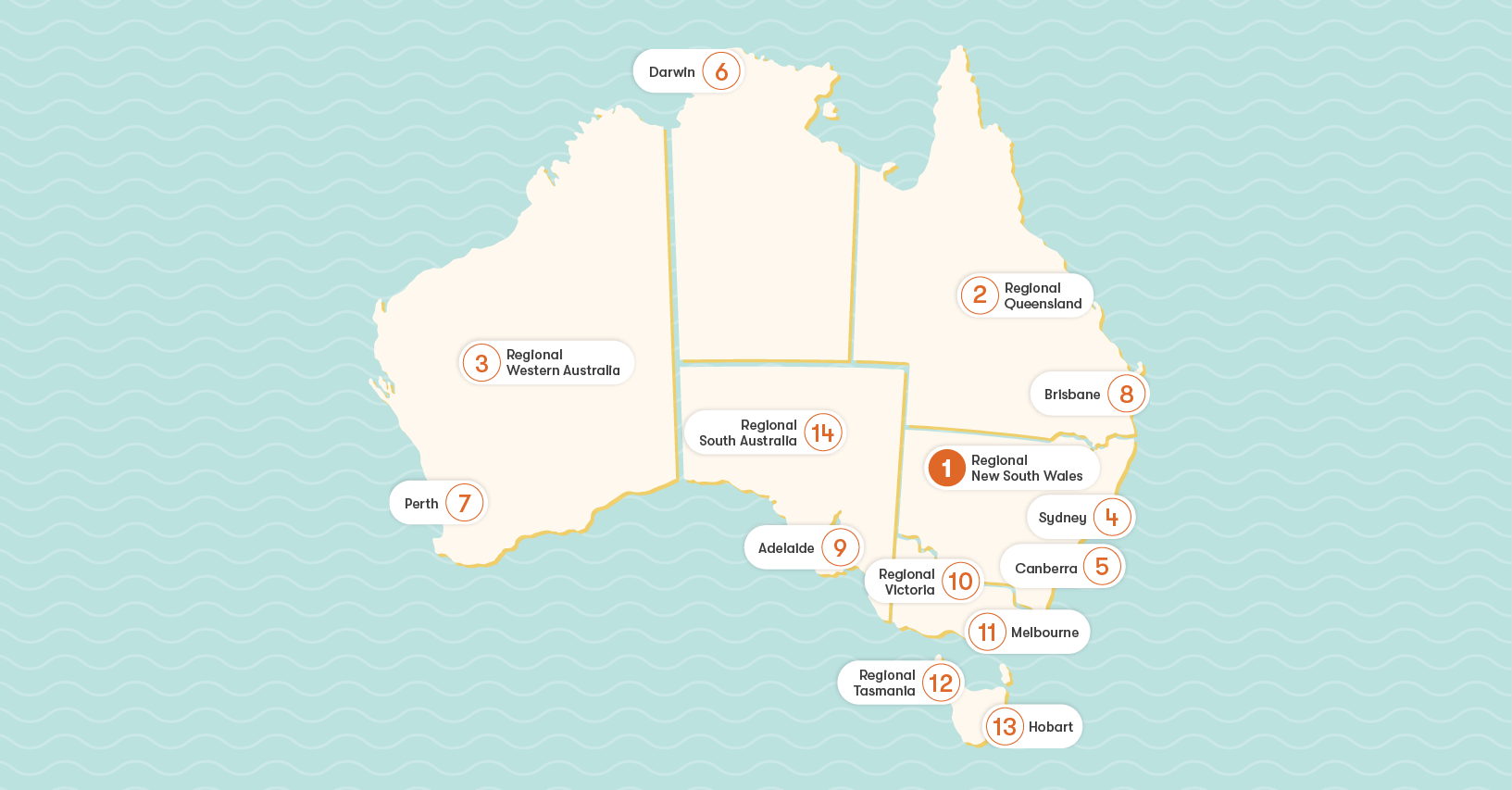 In the battle between eight capital cities and six regional areas, Regional New South Wales has come up trumps ranking first in Australia when it comes to prospects for future capital growth. This result is largely thanks to the 'Exodus to Affordable Lifestyle' trend which is creating high demand and rising prices in the smaller capital cities and major regional centres.
It's perhaps not surprising then that Regional Queensland and Regional Western Australia take out the next two spots in our inaugural Rising Stars Property Report, as they too have benefited from the trend. Queensland has also become a popular destination for interstate migration with many Sydneysiders and Melburnians making the move up north.
Sydney is ranked fourth overall, making it the highest-ranked capital city, despite the fact that it defies everything that economists tell us should happen in the housing market. It is followed by Canberra which is sometimes referred to as the Goldilocks of the Australian real estate scene – not too cold, not too hot, just right.
Interestingly, despite the fact that it secured the 2032 Olympics, Brisbane is in the bottom half of the rankings coming in eighth overall for 2022. But, longer term, its prospects are good and it is eventually likely to become one of the strongest markets in the nation.
After several years of major price growth, the Apple Isle may have passed the peak of its growth phase and as a result, Regional Tasmania and Hobart have ranked 12th and 13th respectively. Last among all 14 jurisdictions is Regional South Australia even though it has been performing well in the past year.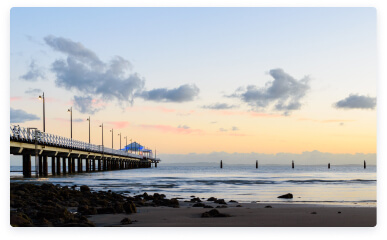 Brisbane .
Ranked 8th
Brisbane's potential for future price growth, now being boosted by elevated infrastructure spending thanks to the 2032 Olympics and a major uplift in sales activity, is greatly enhanced by the affordability comparison with the two biggest cities – Sydney and Melbourne. It has the potential to become one of the strongest markets in the nation.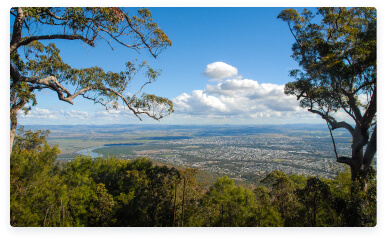 Regional Queensland .
Ranked 2nd
All roads don't lead to Queensland, but for real estate consumers, a lot of them do. Lots of people are vacating Sydney and Melbourne and many of them are heading north to Brisbane and Regional Queensland. It scores points for control of the pandemic, an appealing climate, an enviable lifestyle and a good level of affordability.
---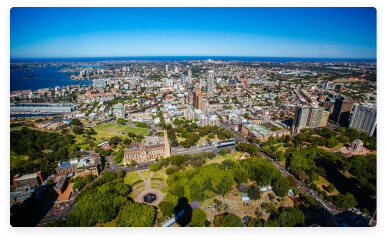 Sydney .
Ranked 4th
The Sydney market embodies all the apparent contradictions of residential real estate in the pandemic era. Its economy has suffered multiple lockdowns and other restrictions and many Sydney residents have sold and headed elsewhere in the nation. And yet the city's market has delivered a significant uplift in sales activity and prices.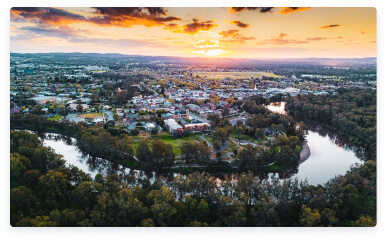 Regional New South Wales .
Ranked 1st
Regional New South Wales has landed in the top spot thanks partly to the 'Exodus to Affordable Lifestyle' trend, which is seeing residents of the biggest cities relocating to smaller cities and regional areas. Many regional locations in the state are experiencing exceptional growth as a result of this trend. Vacancy rates are extremely low and rents are rising in many locations.
---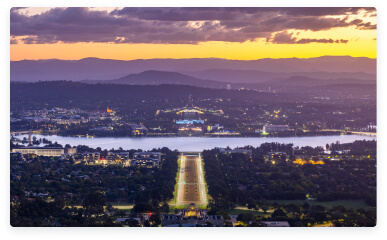 Canberra .
Ranked 5th
The Canberra property market is known for its steadiness. It seldom delivers a runaway boom and it never crashes. The fact that it's the national capital is a major advantage. It consistently has the nation's highest average incomes and the lowest unemployment. Vacancies are always among the lowest in Australia. But, it is an expensive city.
---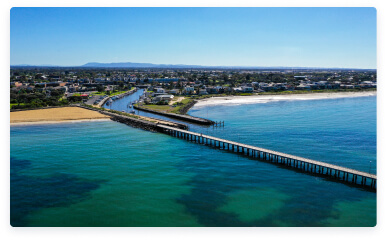 Melbourne .
Ranked 11th
Despite being the place in Australia most disrupted by COVID-19, the Melbourne property market has remained strong throughout the past 18 months. It has delivered price outcomes that are below par for the pandemic boom but remarkably good in the circumstances. There continues to be high demand for locations that offer relative affordability.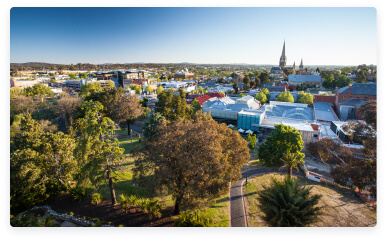 Regional Victoria .
Ranked 10th
Key regional centres in Victoria have featured among the most prolific property markets in Australia over the past three to four years. It got on its growth path ahead of the pandemic boom that has swept the nation and many of its locations have had exceptional growth already over multiple years. There are still locations with the potential to excel on price uplift in the near future though.
---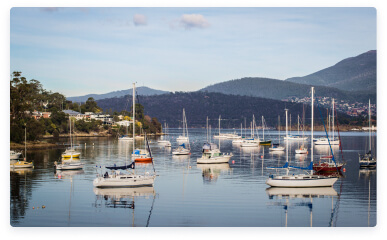 Hobart .
Ranked 13th
Hobart has been a national leader in price growth over the past four to five years. But after several years of major price growth, the data is now suggesting that Hobart, and Tasmania generally, have passed the peak of a remarkable growth phase. Some suburbs have doubled their property values in five years and others have gone close to that rate of growth. Our analysis suggests the Hobart boom is starting to fade.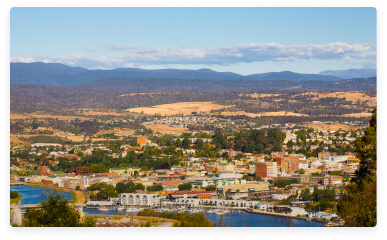 Regional Tasmania .
Ranked 12th
Like many other states, Tasmania has benefited from the 'Exodus to Affordable Lifestyle' trend and is likely to continue attracting these types of buyers who are interested in moving away from the big cities. But there is mounting evidence that Tasmania's regional market, after several years of big growth, has passed its peak and is starting to taper.
---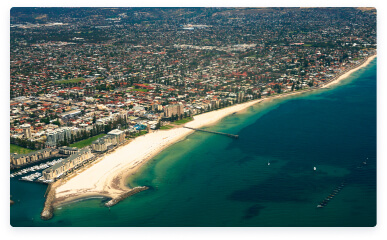 Adelaide .
Ranked 9th
Adelaide is one of the nation's most consistent markets. It presents as a safe place to own real estate – and, increasingly, as a market likely to deliver good capital growth. We have yet to see the full impact on prices and rents from rising sales volumes and very low vacancy rates. Adelaide is likely to transition from solid to spectacular growth in the near future.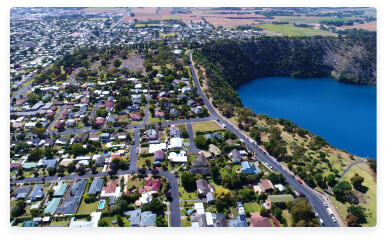 Regional South Australia .
Ranked 14th
The irony about the ranking of Regional South Australia, last among the nation's 14 market jurisdictions, is that this market has been performing very well in the past year. In fact, overall, it's the strongest market seen in Regional South Australia any time in the past decade. Even though sales are up, prices have grown in most locations and vacancies are generally low it has ranked as the least compelling market.
---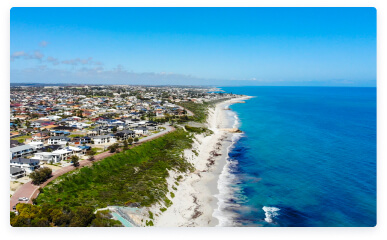 Perth .
Ranked 7th
Perth has the most volatile market of the state and territory capital cities but after several years in the doldrums, Perth is back on a growth path. It hasn't yet delivered growth at the same levels as other capital cities, but it's recording price uplift at a level that would, in 'normal' times, be considered boom-type growth.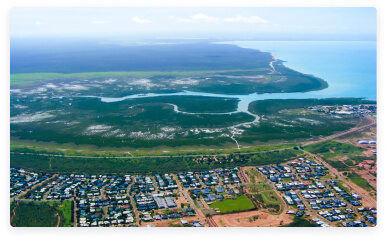 Regional Western Australia .
Ranked 3rd
Things are starting to turn around for property markets in Regional Western Australia. The Western Australian economy is rising, underpinned by its dominant resources sector, and that is lifting demand in areas north of Perth. As a result, we are now seeing the first signs of strong price growth in the capital city in 10 years.
Check out Regional Western Australia's Top 5 Rising Star suburbs
---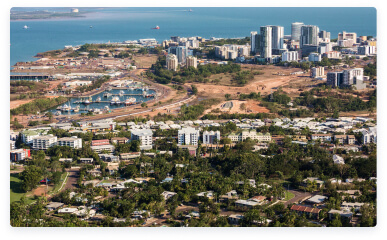 Darwin .
Ranked 6th
The Darwin market has been doing it tough for much of the past decade. Back in 2012/2013, it was a national leader in price growth alongside Perth but since fell into a deep and lengthy slump. Prices in many suburbs throughout the Darwin metropolitan area are lower than a decade ago. But recovery is undeniably underway.
Important Information
---
To the extent that any advice is contained in Canstar's Australian Property Market Report (Powered by Hotspotting by Ryder), such advice is general and has not taken into account your objectives, financial situation, or needs. It is not personal advice. Consider whether this advice is right for you, having regard to your own objectives, financial situation and needs. You may need financial advice from a suitably qualified adviser. Consider the product disclosure statement (PDS) and Target Market Determination (TMD) before making a decision about a financial product. Contact the product issuer directly for a copy of the PDS and TMD. For more information, read Canstar's Financial Services and Credit Guide (FSCG), and read our Detailed Disclosure.
This report has been prepared as a guide only and is not a recommendation about taking any particular action. We recommend that you seek professional advice from a suitably qualified adviser before electing to make any property investment decision.
All information about performance returns is historical. Past performance should not be relied upon as an indicator of future performance. The value of your investment may fall or rise. Forecasts about future performance are not guaranteed to occur.
A property investment may not be suitable for all people and the information in this report does not take into account your individual needs or investment risk profile. There are no certainties in property investment and as with any investment, there are always risks and variables that need to be taken into account.