New research shows that sticky-fingered thieves are stealing almost $2 billion a year from shops, with meat, baby formula and phones among the most commonly stolen items.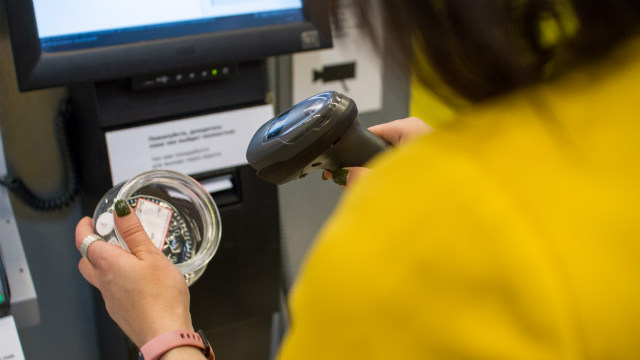 The Australia and New Zealand Retail Crime Survey of 9,000 stores conducted by Aptus Research revealed that crime cost the sector an estimated A$3.37 billion in the 2017-18 financial year across the two countries, which was just under 1% of total revenue. Customer theft – shoplifting – was the largest reported cause, at 57% of all losses due to crime, with that figure having jumped 16% in two years. The report stated that self-service checkouts were "particularly vulnerable" to shoplifting, by a group of thieves called "SWIPERS" – Seemingly Well-Intentioned Patrons Engaging in Routine Shoplifting.
The study's lead researcher, University of London's Dr Emmeline Taylor, said this showed that for shoplifters, the potential "reward greatly outweighs the risk".
"Thieves now tell me that it's easy to get away with petty theft," Dr Taylor said. "There are multiple factors that could be contributing to this, including the introduction of self-service checkouts, and changes in criminal behaviour.
"Thieves are becoming more brazen. We have seen this in the recent 'steaming' technique used by gangs to overpower mobile phone shops in broad daylight, often intimidating staff and pushing customers out of the way to reach the stock.
"Many people think that retail crime is a victimless crime – that the large retailers build expected losses into their profit margin – but it couldn't be further from the truth. We calculate that A$3.37 billion is enough to employ 85,000 supermarket checkout staff for a year."
Telecommunications stores suffered the highest average value of theft – estimated to be 'more than $1000' per incident.

Meat, baby milk formula, and face creams were the items most commonly stolen from supermarkets.

Supermarkets typically report losses of 'under $20' per incident but that those incidents were occurring more frequently.

Self-service checkouts continue to be vulnerable to theft. Retailers are responding by introducing more point-of-sale video analytics, including cameras that film customers at each individual machine.

Criminals were becoming more organised. There is a large resale market for goods, including stolen food and champagne being sold to restaurants, and baby formula being sold to China as part of the 'daigou' phenomenon (when people export stolen goods for sale in China).
Why stealing at self-service checkouts is making retailers crack down on security
The report cites a 2018 Canstar Blue survey, which found that 7% of the 2,200 shoppers surveyed "admitted to stealing an item without scanning it, while 9% admitted to not paying the full price by scanning the item as a cheaper alternative; a technique known as 'discount theft'". The report said that these so-called "SWIPERS" were a strong trend in shoplifting at self-service supermarket checkouts, and that many of them might not "perceive it as real theft". It also classified them into four main groups:
Accidental thieves – people who don't know they are stealing or don't realise until after they leave the shop.

Switchers of labels – those who change bar codes or stick-on labels so they can scan an item for a lower price, such as swapping labels on meat.

Those compensating themselves – stealing to make up for the amount they have spent at the shop, as a reward.

Frustrated shoppers – those that steal because they claim to have become frustrated with the process of self-checkout, such as those who want to avoid triggering alerts for purchasing age-restricted items that require assistance from an employee.
"A quick and smooth transaction at the self-service machines can enhance overall customer satisfaction but any glitches, however minor, create opportunities for customers to justify underpaying – or not paying at all – for their goods," the report said.
"Worryingly, there appears to be a normalisation of this type of behaviour."
To combat "SWIPERS", the report found that some retailers have begun using security officers as well as introducing new technologies, such as "bird's eye view video analytics, artificial intelligence to distinguish between products rather than relying on weight alone, and installing new customer-facing camera systems in the self-service checkout area".
For example, the report observed that "cameras that film customers at the checkout and play the footage back to them in real time are becoming more common", although it noted that while this may deter some "opportunistic" shoplifters, it would be less likely to deter "more organised criminals who use the self-service area to exit the store".
What other ways are shops losing revenue due to crime?
Other significant causes of revenue loss due to crime included fraud, "with some (businesses) estimating this to be as high as $45 million in the last financial year".
Supplier fraud – which involves fraud in the buying, selling or payment of supplies to a business – cost the industry $200 million in the 2017-18 financial year, while dishonest employees are costing retailers around $880 million a year, the report said.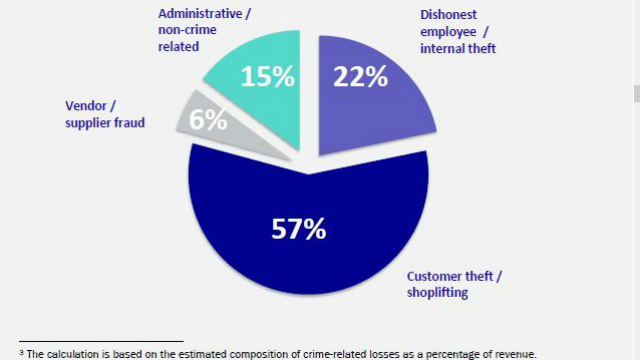 Violent crimes included almost 4,000 robberies in Australian retail settings – more than 1,500 of these involved the use of weapons, most commonly knives but also syringes and firearms.
"Verbal abuse and aggression are becoming increasingly problematic in retail stores," the survey findings report states. "Supermarkets continue to report threats of sabotage and product contamination."
The survey also revealed that just 20% of respondents felt "that they are receiving sufficient support from law enforcement to tackle retail crime".
What sorts of items do shoplifters steal?
According to the report, retailers felt that theft of merchandise was common across the entire sector, but particularly from for fuel and convenience stores, discount department stores, pharmacies and hardware stores. "Theft of cash was not as common, signalling a shift away from cash towards electronic payment and mobile commerce," the report said.
Shoplifters were taking an average of between two and five items per incident.
The items most commonly stolen from different types of retailers included:
Apparel shops – lingerie and branded apparel, sportswear, jewellery

Supermarkets – meat, formula, face cream

Pharmacies – vitamins, perfume, cosmetics

Telcos – smartphones, phone accessories, tablets

Discount and department stores – branded apparel, phone accessories, cosmetics, sportswear, toys and games
There were two categories of thieves, the report stated impulsive, opportunistic amateurs, and skilled professionals who planned what to steal.
"There are also clear indicators that Australian stores are being targeted by micro-gangs who steal to sell on to other markets. For some, the buyers are mostly smaller businesses such as restaurants and cafes that are buying stolen produce such as alcohol, meat and gourmet items to serve to their customers.
"Other markets include online sales to individuals and international shipments as has been the case with the high demand for baby formula in China. Australian police have estimated that approximately A$1 million worth of powdered milk was stolen in 2018."
The report stated that it was based on findings from companies operating more than 9,000 stores with an annual turnover of about A$95 billion in the last financial year, representing almost a quarter of the industry in Australia and New Zealand.