Global credit ratings agency Standard & Poor's (S&P) have downgraded the credit ratings of 23 Australian financial institutions due to concerns over house price growth and a potential housing correction.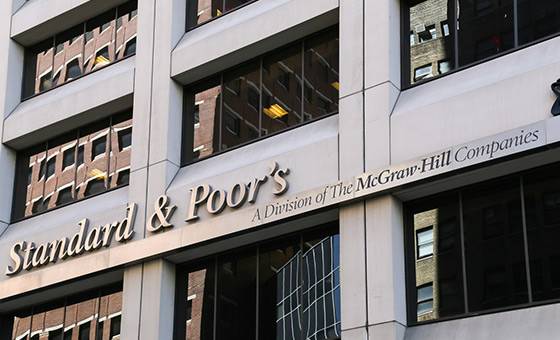 While Australia's 'Big 4' banks (ANZ, CBA, NAB, and Westpac) maintained their ratings, the 23 institutions hit with ratings cuts include some well-established brands such as:
AMP
Bank of Queensland (BOQ)
Bendigo Bank
Adelaide Bank
Credit Union Australia (CUA)
The banks each took a hit to their credit rating due to S&P's concerns over high levels of exposure to the property market among banks, which leaves them vulnerable to a housing correction or market crash.
Fast-rising property prices have led many Australian banks to borrow more in order to provide bigger mortgages.
The risk of a housing correction means that there's the very real possibility of a situation in which Australia's smaller banks wouldn't be able to pay out their larger-than-usual outstanding debt (one of the factors behind the GFC).
In fact, a housing correction may be more than a possibility, with reports last week showing Australian property prices have dropped this month.
[CHART] $AUD rallies: recovers from earlier headwinds created by S&P downgrade of 23 domestic financial institutions #ausbiz pic.twitter.com/jt5J14CmLl

— CommSec (@CommSec) May 22, 2017
S&P: Banks exposed to "elevated" risk of a "sharp correction" in property prices
In a statement concerning the downgrading, the global ratings agency said the strong growth in property prices and private sector debt over the past four years has led to "economic imbalances" in Australia.
"To reflect the increased risk [of a sharp fall in property prices], we have lowered our assessment of the stand-alone credit profiles of almost all financial institutions operating in Australia," S&P said.
"With residential home loans securing about two-thirds of banks' lending assets, the impact of such a scenario on financial institutions would be amplified by the Australian economy's external weaknesses, in particular its persistent current account deficits and high level of external debt."
The move was preceded by Australia's "economic risk" score being bumped up a point from 3 to 4, on account of the economic imbalances.
S&P Global Ratings Director Sharad Jain said Australia's economic situation had only become more risky since October last year, when S&P downgraded our country's banking sector to negative watch.
Mr Jain pointed out that the banking sector is currently exposed to an "elevated level of risk of a sharp correction for property prices".
"To reflect the increased risk, we have lowered our assessment of the stand-alone credit profiles of almost all financial institutions operating in Australia," he said.
The 'Big 4' banks avoided downgrades due to S&P's belief that they are "too big to fail" and would be bailed out by the government if such a correction was to occur.
America's largest banks were bailed out by the US Government in the wake of the subprime mortgage crisis that caused the GFC.
However, S&P emphasised that the situation facing Australian banks remains "relatively benign by global standards".
Could Australia lose its AAA credit rating? @Ross_Greenwood with Money Minute. #9Finance pic.twitter.com/PaYd7rApA0

— 9Finance (@9Finance) May 17, 2017