The Government insists
bulk-billing rates
are at an all-time high, but the Opposition claims we're paying more for our GP visits – so who's right?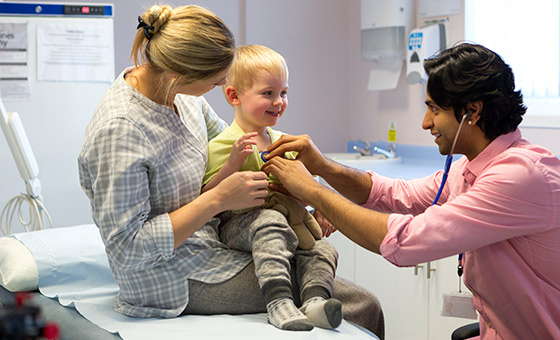 This week has seen releases from both the Minister for Health Greg Hunt crowing about our record-high bulk-billing rates, and the Shadow Minister for Health Catherine King attacking the Government for making GP visits more expensive.
While this may sound contradictory, it's a rare case in which both sides of politics are right, because higher bulk-billing rates and higher GP costs aren't actually mutually exclusive.
Here's a break-down of the overall situation.
Bulk-billing rates are higher than ever
As the Minister for Health pointed out, GP bulk-billing rates for the March 2017 quarter were higher than those of any March quarter since Medicare was implemented in 1984.
The quarter saw patients access a total of:
1 million bulk-billed Medicare services (7.3 million more fully subsidised services than were received in the same period 12 months earlier)
2 million GP services (an increase of 3.6 million)
$16.3 billion in Medicare services (an increase of 2.8%)
Minister Hunt used these figures as proof of the Government's "rock solid commitment to Medicare and improving access to medicines".
He emphasised that "Medicare is not only here to stay, but will be strengthened into the future".
"Universal access to medical services, public hospitals, and medicines through Medicare and the Pharmaceutical Benefits Scheme is something that Australians hold dear," he said.
Minister Hunt also reiterated the government's recent Budget commitments to healthcare, which include:
$2.4 billion in additional funding for Medicare over the next 4 years
Restoration of the indexation of the Medicare rebate, starting with GP bulk-billing incentives from 1 July 2017
A $957 million package which will see the bulk-billing incentives for Pathology and Diagnostic Imaging, including blood tests, x-rays, scans, and pap smears all retained
Introducing indexation for targeted diagnostic imaging services including mammography, fluoroscopy, CT scans, and interventional procedures from 1 July 2020 (for the first time since 2004)
The cost of a GP visit is also on the rise
While Minister Hunt is correct that more of us are being bulk-billed than ever before, it's also true that Australians who don't have access to a bulk-billing GP are paying more for that GP visit than we used to.
Shadow Minister for Health, Catherine King, cited statistics from the Department of Health that show that, between the December 2014 and March 2017 quarters, the national average cost of a non-referred GP visit increased by $7.80.
When broken down by state, the increase was as much as $11.10 over that timeframe.
March 2017 quarter average out-of-pocket cost
December 2014 quarter average out-of-pocket cost
$ increase
Australia
$36.77
$29.00
$7.80
NSW
$36.22
$27.68
$8.50
VIC
$36.28
$28.30
$8.00
QLD
$37.24
$29.55
$7.70
SA
$31.35
$25.99
$5.40
WA
$39.14
$31.87
$7.30
TAS
$36.74
$30.79
$5.90
NT
$45.21
$39.42
$5.80
ACT
$44.22
$33.07
$11.10
Source: Department of Health, 2017
King blamed this increase in GP costs on the Medicare Rebate freeze, claiming that the measure was introduced by the Coalition government in 2014; however there are two crucial points to take into account:
The first Medicare freeze was actually introduced by Labor in 2012 in an attempt to reduce government health spending.
The Coalition government has, as mentioned above, committed to restoring indexation of the Medicare rebate, starting with GP bulk-billing incentives, from 1 July 2017.
King criticised "the Government's failure to drop their freeze immediately", and claimed that the Government "continues to rip billions of dollars out of Medicare".
This overlooks key health measures from the Budget, namely the $2.4 billion in additional funding for Medicare pledged by the Coalition over the next four years.
What do the GPs think?
The Royal Australian College of General Practitioners (RACGP), the body representing over 90% of the country's GPs, applauded the Government's decision to end the Medicare rebate freeze.
In a statement, the RACGP described the move as "a genuine commitment by the Australian government to reinvest in preventative health and general practice".
RACGP President Dr Bastian Seidel described it as "a clear win for over 85% of Australians who receive preventative health services from their GPs each and every year".
"It's also a win for all taxpayers, as GP health services not only cost up to 10 times less than similar care in a hospital, they also help reduce expensive hospital admissions," Dr Seidel said.
Dr Seidel also said Australia's health system is "far too hospital-centric", and that "we need to work towards fewer procedures".
"On Budget night Minister for Health, Greg Hunt, was spot on when he said 'the Holy Grail is to transform avoidable hospital admissions into avoided hospital admissions'," Dr Seidel said.
"We could not agree more and that is one of the many keys to delivering Australians the finest healthcare system in the world."