More than 30,000 primary school children in Victoria will get their eyes checked at school and receive free glasses if they need them.
Kids to receive free glasses at school
The Victorian Department of Education has announced that more than 30,000 students from Prep to Year 3 will be receiving free eye tests and free glasses if they need them.
The Glasses For Kids program will be run in 250 schools in some of Victoria's most disadvantaged communities.
The program launched at Melbourne University's optometry school by giving two students from Carlton Primary School their first pair of glasses, and is currently being trialled in 24 schools around Gippsland and Melbourne.
Almost 1 in 2 Aussies – around 12 million Aussies – have long-term eye conditions such as short-sightedness or long-sightedness.
Optometry Australia's President, Kate Gifford, says, "Children often suffer eye disorders without knowing it, impacting their education, social and physical development."
But many struggling families avoid taking their children to the optometrist to get an eye test because of how much it would cost if they needed glasses. The Glasses For Kids program gives families a helping hand by providing free glasses.
It is also helpful that the eye test is performed in schools, so parents don't have to travel into town to see an optometrist. Some tests will be performed by final-year optometry students from Melbourne University, providing practical experience before entering the workforce.
Free glasses achieve immediate results
Needing glasses but not having them doesn't just mean kids can't see the board as well. It can make it hard for them to concentrate in school, getting tired more quickly, and leading to poor results and bad behaviour.
It even impacts on whether they are able to play sport and games with other kids, and therefore whether they make friends.
Minister for Education James Merlino says the results from the 24 school trial have already been "astounding".
"At one school, we tested 330 kids and 125 of them needed glasses. Once received, their teachers reported an immediate improvement in behaviour and academic performance."
Other initiatives to help disadvantaged families in Victoria
Apart from Glasses For Kids, the Victorian Government also aims to empower disadvantaged families through programs including the following:
School Breakfast Clubs in 500 primary schools give 25,000 children a free breakfast so they can concentrate in class, learn, and reach their full potential.
The Doctors In Secondary Schools Program provides regular access to healthcare at school for more than 70,000 Victorian high school students in 100 schools.
Funding 180,000 students to go on school camps and excursions through the $63.8 million Camps, Sports, and Excursions Fund.
The Affordable School Uniforms Program has provided more than 210,000 school uniform items to 50,000 Victorian families over the past 2 years.
Premier Daniel Andrews says, "Whether it's making sure kids have a full stomach, access to a GP or the chance to go on excursions – we're making sure every student has the chance to make the most of school."
Free eye tests for kids outside school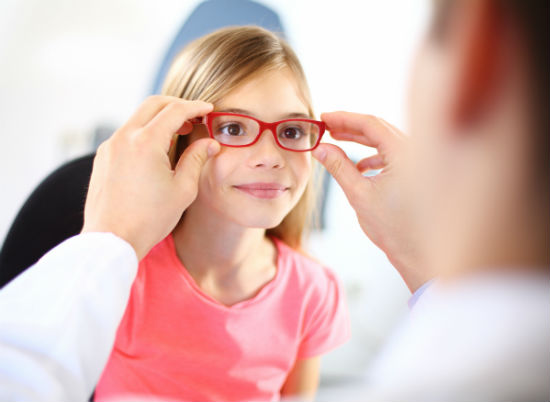 As we have previously reported, Medicare currently makes it free to get your child's eyes tested at any optometrist in Australia. A quick and simple eye test can help you get glasses for your children before they start doing poorly in school or NAPLAN, having trouble with sports, or making fewer friends.
Glasses covered by private health insurance