Crown rot and cereal cyst nematode are the two major threats to Australian grain crops this winter, and growers have been warned to stay vigilant against both.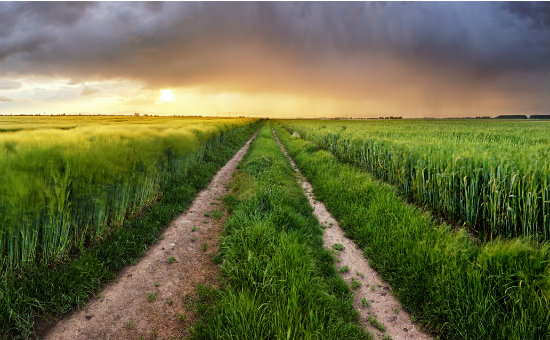 The winter season can be tough on Australian farms, and the Grains Research & Development Corporation (GRDC) has issued warnings to growers concerning two of the more prominent risks to their cereal crops.
Crown rot
The fungal disease known as crown rot is consistently one of the most pressing disease threats that growers in New South Wales and Queensland face throughout winter.
It prevents water from properly circulating within crops, which can kill crops incredibly quickly; the disease is estimated to cost growers roughly $97 million in losses every year.
The GRDC says that based on soil tests carried out through northern NSW and southern QLD, they can confirm that crown rot risk levels for the coming season are similar to last year's, with 26% and 49% of paddocks having medium or high risks respectively.
Wheat, barley, and durum paddocks are particularly susceptible to the disease, which can cause yield losses of more than 50% in worst case situations.
However, the GRDC points out that even at low inoculum levels, losses of up to 25% are still possible if climate conditions are favourable for the fungus.
Senior Plant Pathologist for the NSW Department of Primary Industries, Steven Simpfendorfer, warns growers to take proactive action against crown rot, and to develop long-term risk-reduction plans for the disease.
"There's nothing you can do in-crop to limit crown rot infection; most of the management decisions are upfront in terms of crop and variety selection and stubble management," he said.
"But in terms of assessing inoculum levels, growers can look from late tillering onwards to see if there's browning of the outer leaf sheath. This will become very apparent from flowering to grain fill if the crop is under moisture stress.
"Immediately post-harvest is a good time to visually assess the crop – if you can see the basal browning on the stubble residue, then that's a heads up on what your inoculum levels are for the coming few years."
Watch the GRDC's videos on crown rot and how to identify and manage it for more information:
Cereal cyst nematode
Cereal cyst nematode (CCN) is a plant pathogen and an obligate parasite of cereal crops such as wheat, barley, oat, and triticale, and is mostly found in South Australia and Victoria.
If afflicted by CCN, crops can see a yield loss of more than 70% in certain cases. Affected crops can be hard to discern because CCN looks so similar to the signs of nutrient deficiency and/or herbicide damage.
Despite growers making use of resistant cereal varieties and non-host crop rotation in the past to control CCN, GRDC's Manager of Diseases, Dr Friday Obanor, says that the threat is still one to be mindful of.
"The widespread adoption of resistant cereal varieties and non-host rotations has significantly reduced the problem, but if susceptible varieties are grown in continuous rotation, CCN numbers could easily increase again in certain areas," Dr Obanor said.
The pest can affect areas which are hundreds of metres in diameter, and apart from affected plants having a stunted, yellowed appearance, most of CCN's symptoms manifest in root systems, making root inspection crucial to identifying CCN infection.
CCN control is achieved by avoiding or minimising susceptible cereal crops and grass weeds within the rotation.
If CCN is detected in a paddock, a 2-year break is required before growing a susceptible cereal.
Good disease breaks for CCN include grass-free pulse crops, oilseed crops and legume pastures, resistant cereals, and chemical fallow to remove susceptible hosts before nematodes have produced viable eggs.
There are many wheat, barley, oat, and triticale varieties now available that are resistant to CCN. Check current cereal disease guides to determine the resistance rating of varieties (see State Government websites and National Varieties Trial Online).
CCN can be identified in spring when the cysts become visible on the roots of affected plants.
Once a crop is affected, very little can be done to protect that crop.